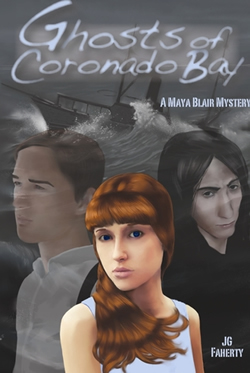 Zombos Says: Good
In the dark depths of the ocean, the Black Lady settled to the bottom in a cloud of silt and muck. The fish and lobsters, the only living witnesses, hurried out of its way. In the eternal blackness, the spirits of the dead howled with grief and anger. All except two.
"You snore enough to wake the dead."
I turned over in my sleep. At least I think I was sleeping. It's always hard to tell when you're sleeping when you're half-asleep.
"C'mon with you, I don't have all night."
Something small and wispy, like a feather, brushed against my forehead. I turned the other way.
"Juju beans! I don't have time for this."
Something large and hard whacked my forehead. I opened my eyes.
"Finally," said the butterfly-winged elderly woman standing over me. Her long gossamer cloak fluted across my bed. I rubbed my eyes. Thinking of the word fluted hurt my head.
I looked at the Clocky alarm clock on my nightstand. It glared back with a god awfully early hour.
"Okay, I'll bite," I said, "you're either an undigested potato, too much plum sherry, or Tinkerbell's mom.
"Great, another comedian. Take a whiff." She leaned in close to me and pulled my head against her bosom.
"Toothpaste?" I sniffed. "And is that a hint of soggy mint floss caught between braces?"
She nodded and waited. I removed a bit of gossamer fuzz from my cheek, looked back at Clocky, looked back at her bosom, and waited to wake up.
"I'm the Tooth Fairy!" she finally said, flapping her wings in exasperation. "And don't you use 'long in the tooth' in a sentence or I'll deck you one. It's bad enough I've got people like you gumming up the dreams of the youth of today. Don't get me started on that stupid Rock movie, either. And do you have any idea how hard it is to keep leaving quarters under pillows in this economy?"
I folded my arms. "Look here, what's this hallucination about?
"You, you ninny! You crushed Zombos Junior's heart by telling him I don't exist."
"Wait a minute," I said, thinking back. "You mean yesterday? Can I help it if Zimba kept his pillow-teeth in her drawer? He saw them and asked what gives."
"Ewww! That's pretty creepy? Even I don't keep the teeth."
"What could I say? Then he puts two and two together and it snowballed into no Easter Bunny or Santa Claus. I couldn't stop it. Childhood ends sometime, right? Bang or whimper, it's all the same. Why don't you go and bother those young-adult-supernatural authors who write dark fiction? Hell, times were Tom Swift, Nancy Drew, and the Hardy Boys were as real as you could get. Now it's sex and murder and mayhem. That'll put a damper on anyone's childhood."
"All right, fine, I will. Name me one."
"JG Faherty. He wrote Ghosts of Coronado Bay. It's a Maya Blair mystery story."
"Tell me about it." The Tooth Fairy pulled a steno notebook and pencil from a pocket in her cloak, and then sat on the edge of my bed, waiting. I reluctantly pulled myself up more, made my pillows a little more comfortable to rest my back on, and told her about the book.
"Maya Blair's a young girl with a gift for seeing ghosts. It started with her seeing her dead grandmother, Elsa, who drops by regularly for chitchat. Between high school, working at her parents' diner, being a virgin and not really liking it all that much, she's got a lot on her mind. But she's got morals and scruples in spite of the peer pressure and the machinations of Gavin Hamlin, the evil ghost come back to find a needed key to unleash a dark power. He and the scurvy crew of the Black Lady went down during a terrible storm in 1900 something, but Coronado Bay's maritime museum pulls up artifacts from the sunken wreck, bringing Hamlin and his evil designs along with them, back to the surface.
"Now Maya not only see's the ghosts, but she has a weird ability to make them whole again, solid I mean, so they appear like everyone else—except for the clothes, since those are out of date. One of the ship's crew, Blake Hennessy, is bent on stopping Hamlin from finding what he's looking for, because he knows Hamlin's up to no good and a powerful sorcerer to boot. He and Maya eventually hook up, though she's definitely not Nancy Drew, so it takes her a while to realize Blake's cold touch is not from anemia."
The Tooth Fairy looked up. "Not seeing the darkness yet."
"I'm getting to that. When Hamlin finds out a virgin's blood can make him solid again—enough to touch and hold onto things—he starts murdering girls for their blood. He learns about Maya's abilities and how her virgin blood would be like Chateau Lafite Rothschild 1982 compared to the Sangria he's been sampling. The murder scenes are short, brutal, and bloody. Maya has to keep Hamlin at bay, along with the cutthroat crew of the Black Lady, who would love to skinny dip in her blood, too."
The Tooth Fairy's eyes widened. "Ooh. How does she stop them?"
"Can't say. That would ruin the story for you. But, not only does she have to balance fighting evil with avoiding her jocky-jerk ex-boyfriend who tries to manhandle her, with working at the diner when she rather bowl or hang out with friends, and with keeping up with school work, she's got the hots for Blake and Hamlin—until Hamlin shows his true colors—heating things to frisky-see for her."
"Sounds like she could use some help," said the Tooth Fairy.
"And she gets it. From her close friend Lucy, who's much more loose in the girdle--if you catch my drift-- than Maya, and an unexpected enemy turned friend when needed the most. She's also got a knack for martial arts and knows how to take the ballast out of a sailor's pants with one good kick." 
 "So this writer, JG, does she--."
"--She's a he," I corrected, "but he captures a young girl's challenges in today's world pretty well. Maya's as believable as any high schooler with boys and books and youthful hopes on her mind can be, minus the supernatural gravitas of course.  And JG brings on the gravitas with electrical discharges Hamlin can control to his benefit and the threat of serious physical harm to Maya and her friends. Once the ghosts are around Maya, they can hit, hurt, and kill like any other living thing."
The Tooth Fairy closed her notebook. Tucking it, and the pencil, back in her cloak she said, "All right, then, I'm off to see JG Faherty to get to the bottom of this." In a shimmer of sparkles she was gone.
"Good, give him my regards." I slumped down and slid beneath the covers. The smells of chocolate and hard-boiled eggs made me sniff back to wakefulness. I slowly pulled down the covers from my eyes and looked up. Standing over me was a big furry bunny holding a basket filled with variously colored eggs. He didn't look very happy.
Damnit, Zimba, who keeps pillow-teeth meant for the Tooth Fairy. Now I'll never get to sleep.