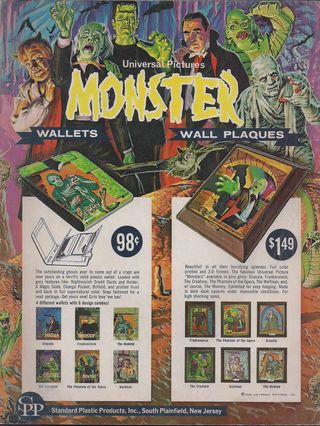 It doesn't get much cooler than these Captain Company items. The colors, the poses, the Universal monsters; grownup monsterkids still salivate at the sight of them.
While I've seen the vinyl wallets now and then (especially after the re-issues), I don't recall seeing any of the wall plaques.
Note to Phil Kim and the new Famous Monsters of Filmland: maybe it's time to resurrect the wall plaques. I'd even update them if I were you. Add Freddy, Jason, and Chucky (but for godsakes, not the remake versions!) And add a backlight so they glow in the dark. Just a thought.
Thanks to Professor Kinema for supplying this back cover ad from Famous Monsters of Filmland #29.