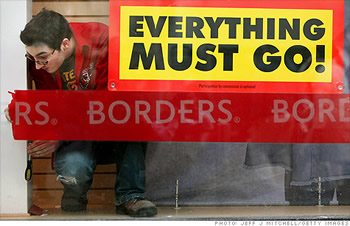 Do you remember the Night Gallery episode, They're Tearing Down Tim Riley's Bar? It's the matching bookend to Rod Serling's Twilight Zone episode, Walking Distance.
They aren't horrific in the usual sense of the word, but they're both terrifying nonetheless. Both are about time marching on and how change happens around you, through you, in spite of you, and how you don't change--because you can't or won't or just plain get your butt stuck in the middle.
A transcendental fly, mired on some decade by decade sticky paper, you keep wiggling your little life's butt--and go nowhere. The kicker is you're still moving, even though you're ass isn't. You have no choice. Time's beating it's chronological fly swatter, hard, around you, swiping out the places, the people, and eventually all the sweet things you buzz around. And it sucks having to watch them go.
I'm going to miss the Borders they're closing in Westbury. It is better than Tim Riley's bar. It is close. It is convenient. It is comforting. It's where I spent time watching my son grow up from reading picture books to young adult vampire novels. It's where, after Tower Records crashed, my next favorite magazine place--before Borders downsized the racks--kept me coming back for new issues, fresh coffee, and stale pastries. It's where my family goes a few times each month to browse, to lounge, to explore. To be a family.
You remember browsing, don't you? It's a quaint ritual--not the same as web surfing--a little bitty thing, where you make time stand still on purpose, and directionless, so you can peek and prod around the usually hidden edges of may-be-interesting.
Catch my drift? Catch my key action word here? I don't think Borders did. In time it became too often that too few books and magazines were there to browse. Too often I was told the bookstore could order it for me, and I'll see it in a few days. Why bother? I can order online and get it faster.
I'm kind of sad, kind of annoyed. Bookstores are like libraries. There's something reassuring in being able to walk up and down their aisles, directionless, timeless, without a search query based on what somebody else thinks I'm looking for pointing the way. And when you've done it for a time in the same place, you start feeling like that guy in They're Tearing Down Tim Riley's Bar, even if you only drink coffee, and even though they're just books after all, when it goes away.