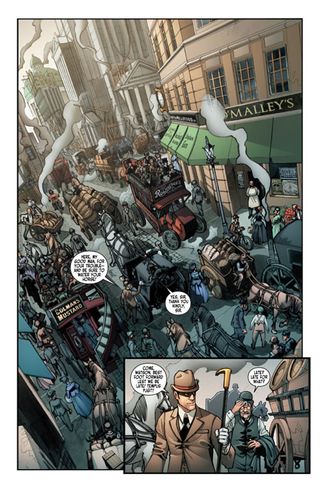 Zombos Says: Good
After defeating Professor Moriarty's army of zombies in Victorian Undead, Holmes and Watson are confronted with the puzzle of what happened to the Demeter's ill-fated crew. Called on by Lloyd's of London to investigate, the world's first consulting detective and his faithful Boswell will soon learn there are far worse things awaiting them than zombies.
Or will they?
While the story is crisply paced, with Ian Edginton carefully dropping period elements (like references to the Lutine Bell and Shank's pony) into his pages, his Holmes and Watson seem to be falling into a Basil Rathbone and Nigel Bruce relationship. I do love them in the Universal Studios' movie series (especially the cleverly updated ones), but it doesn't match the tone of what Sir Arthur Conan Doyle wrote and tends to undermine the strengths of both characters in this graphic novel format.
Tom Mandrake's single page depicting Dracula aboard ship stands out dramatically from Fabbri's smooth, tidy lines for London and therein lies another departure from the quintessential element of the Holmes' Canon: Victorian London's shadowy byways, cramped quarters, foggy and sooty streets, and colorful denizens. Fabbri puts everything through the dry cleaners instead, including Holmes.
Look at the splash page (click to enlarge) and you'll see a surprisingly neat and orderly crowd in the hustle and bustle. Doyle once remarked that London was "the great cesspool into which the loungers and the idlers are irresistibly drained." Granted much of that cesspool was raised by fire in the first volume of Victorian Undead, in an effort to stop the zombies, but Fabbri's penchant for commercial cleanliness throughout his panels spills over onto Holmes, whose "bohemian" habits and lifestyle, as Watson wrote, are nowhere to be seen.
Perhaps I'm overly spoiled by watching the Granada television series and Jeremy Brett's virtuoso eccentricities. Looking at Fabbri's opening splash page , I know he can muster more of that atmoshpheric energy across the next four issues.
Come on Fabbri, give us some foggy streets at least.