Zombos Says: Fair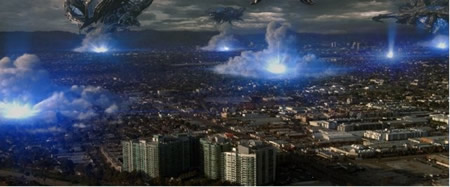 Here it is in a film cannister: if you've seen the trailer for Skyline, you've seen the most exciting part of this slimy-aliens-from-space pulp drama of Borg-like ( part machine, part organic, all regenerating),  Matrixy-looking, multi-tentacled creatures vacuuming up humanity through a sparkly blue light as easily as dust mites are sucked up an Oreck.
In this war of the worlds special effects opus of us losing against them big time, the kicker here is they want our brains, which they use like Energiser batteries to power either themselves or their machinery, or maybe it's both. I will, with difficulty, refrain from making any dead battery jokes just because they're attacking Los Angeles, but feel free to infer whatever you like, or even change the locale to suit your preference.
It looks like Independence Day, but it doesn't have that movie's patriotic enthusiasm or energetic characters; it looks like War of the Worlds (old and new versions), but it doesn't have either of those movies' overwhelming sense of decimation, growing futility, or soul-numbing despair; it even looks like 1954's Target Earth, whose hunting mechanoids scour the city's streets for survivors in hiding. With Skyline  mashing dramatic ingredients from many science fiction movies, the Brothers Strause fail to add any of their own sugar and spice to the familiar effects to make this more satisfying than the Coke and Reese's Pieces I had while watching it.
I will pin much of the blame on the dialog: it's stultifying.  None of the pretty people trapped in Terry's (Donald Faison) penthouse speak in their own words. They bicker, they yell, but in stock, one-line sentences. Pick any two people and switch the dialog around; there would be no difference. The ugly aliens have more personality and they don't talk.
As Los Angeles is vacuumed clean of residents, Terry's house guests hide from the invaders with the blinds drawn. His automatic window blinds reminded me of the house shields in Forbidden Planet. They weren't very effective either. There's Jarrod (Eric Balfour), his girlfriend Elaine (Scottie Thompson), Terry's girlfriend Candice (Brittany Daniel), and Terry's personal assistant (emphasis on personal) Denise (Crystal Reed).
They disagree on whether to stay or make a run for it. Eventually they reluctantly run, but a giant alien stomps on their escape. Oliver (David Zayas), the concierge, comes to their rescue. He and Jarrod disagree on whether to stay or make a run for it. Much of the movie seems to be spent on everyone disagreeing on what to do next. A possible tension-mounting relationship between Candice, Denise, and cheating Terry is quickly stomped on, too.
They watch as the military shoots nukes at the motherships--over Los Angeles--but the blown apart ships regenerate.  A few soldiers are dropped by helicopter to fight the maruading aliens, but they lose. Jarrod takes Elaine up to the roof, hoping they can escape by helicopter. The aliens intervene and they are captured. We get to see inside the mothership, how nasty the aliens are, and the groan-inducing potential for a sequel. However, I'll admit I do like the ending: it's hokey but pure pulp science fiction in tone.
Skyline is a straight to DVD movie that somehow got a lot more money to add a lot more fiery special effects. Now that's science fiction.