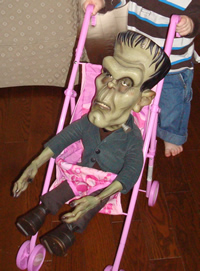 Many fans of horror, amateur and professional alike, have devoted themselves to blogging about the thrills, chills, and no-frills side of the genre as seen in cinema and print. In this ongoing series that highlights the writers behind the blogs, we meet the unique personalities and talents that make the online horror scene so engaging. Up close and personal.
In this installment, read all about the horror with Colum and Shelagh of KinderScares.
Horror has been an integral part of our family's life from the very beginning. Our first date was a horror movie. Our wedding favors were spoofs of the Texas Chainsaw Massacre movie poster, and we own a film collection that rivals the inventory of most smaller video stores.
Needless to say, our children were born into a world where Frankenstein's Monster makes a great playmate, a foot-tall Leatherface resides atop the bookshelf, monster lore makes its way into everyday conversation, and the Rue Morgue Festival of Fear is an event to look forward to every summer. But it wasn't until we stumbled upon Frankenstein Makes a Sandwich (by Adam Rex) when our oldest was a toddler that we realized there was a whole world out there of horror stuff for kids - you just have to look.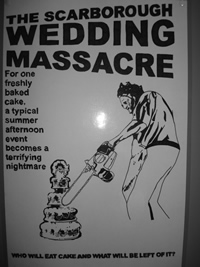 We've been looking ever since.
Our daughter had a Hallowe'en themed birthday party this past October, and it seemed only natural to display some of our spooky books with the rest of the decorations - and people loved them! The surprised delight of people flipping through our monstrous volumes made us realize we weren't the only people who were looking for this sort of thing...and that our years of scouring for the fun and creepy tales that would delight little monster lovers might be of use to someone other than ourselves. By November, KinderScares was born!
Writing about horror-themed children's literature has been a blast so far. It's like all of our favorite things rolled into one, and well worth the work it takes to post daily (a lengthy and oft-interrupted affair when you have your own pack of little monsters wanting your undivided attention!).
Whether you're a horror expert who wants to know every far-flung corner of the genre, a parent looking for something different to read to your kids, or a book enthusiast who gets excited by the strange and unusual, we're here to help you out. Mini monster-lovers and future horror fiends need great books too!