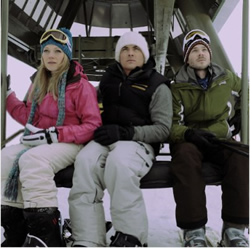 Zombos Says: Excellent
I noticed I was shivering when well into watching Frozen. Granted it was the first show of the day in a chilly theater (outside it was below freezing), but a few of those shivers came from my fear of heights and a persistent memory of the one time I rode a ski lift. I become uneasy every time I think back to that experience; how I kept wishing the long ride would end faster, how I gulped and closed my eyes each time the ground sloped farther away from me and silently cheered when it came closer, how that small seat and flimsy security bar made me wish, even harder, I'd staid back in the warm lodge nursing a hot chocolate like I'd wanted to.
Director and writer Adam Green fills the first half-hour with youthful banter and playfulness. Parker (Emma Bell), prodded on by Dan (Kevin Zegers) and Joe (Shawn Ashmore), convinces the ski lift operator with cash and a warm smile to let them ride without tickets. People are everywhere, the sun is shining, and Joe meets a girl and scores her phone number after her ex-boyfriend gets jealous and knocks him down.
They should have ended the day eating pizza and drinking hot chocolate in the lodge instead of going for one last run on the slopes, but Joe makes Parker and Dan feel guilty for wasting his time earlier keeping pace with Dan's girlfriend, Parker, who, being a beginner, fell down a lot. They hop onto the ski lift just as everyone else is finishing up or heading home. An all too plausible misjudgment leaves them stranded with a storm approaching. When the ride stops they complain. When the lights shut off, one by one, leaving them swinging in the cold wind, they realize the worst has happened: no one knows they're up their; and the resort will be closed for the week; and it's getting colder.
A closeup of the ski lift switch being pulled to turn off the ride and a long shot of those comfortingly bright lights slowly winking out in back of the three skiers, provide two of the most chilling moments in this minimalist horror. Parker, Joe, and Dan's decisions from this point on provide the rest.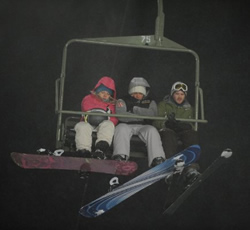 Minimalist horror movies, using their characters' poor judgment to stoke unfortunate situations from inconvenient to life-threatening, rely on events taking place in one location. In Wind Chill, it's the too easily forgotten bag of critical supplies that leaves a couple stranded on a deserted road; in Blair Witch it's the carelessly lost map that leaves people lost in the spooky woods; and in Paranormal Activity it's poor judgment that delays bringing in help before it's too late for a fearful couple dealing with a demonic presence in their home. While all of these movies also rely on an underlying tone of disrespect for one's potentially hostile environment to frame their events around, bad decisions provide the catalysts for heaping on the terror, despair, and desperation.
Parker, Joe, and Dan experience all three. As time passes, they acknowledge they're screwed big time. They can't wait for help; it won't be coming any time soon. They can't jump; they're too high above the ground. They can't climb to the nearest tower; the cable holding their gondala has sharp edges. And though their clothes are stylish, they are not good for keeping them warm in the freezing cold. First shock, then bickering and blame, and then desperation. Dan talks himself into jumping. He convinces himself that even if he gets hurt he can still slide down the slope for help. The other two don't dissuade him as much as they thought they should have afterward. I thought to myself he's not that stupid, he's too high up. He is and he was. Dan jumps. He gets hurt. Badly hurt. Gore-effects-showcase kind of hurt. He also finds out why we were briefly shown a missing skier notice posted in the now deserted lodge.
Their situation goes downhill from here. Dan needs to stop the bleeding. Parker needs to pry her ungloved hand off the steel security bar it freezes to. Joe needs to make a last effort at climbing the steel cable, even though the first time he tried it his gloves and hands were cut up badly. Frostbite is a serious problem and even if they make it to the ground, they still need to survive what waits patiently--and hungrily--for them. I'll leave it at that. I can't tell you much more without ruining the suspense for you (although I'm surprised some professional reviewers have).
This is one time you will not appreciate the pretty snowy scenery in the background.