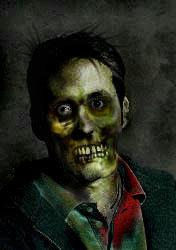 Many fans of horror, amateur and professional alike, have devoted themselves to blogging about the thrills, chills, and no-frills side of the genre as seen in cinema and print. In this ongoing series that highlights the writers behind the blogs, we meet the unique personalities and talents that make the online horror scene so engaging. Up close and personal.
In this installment, Hayes of Hayes Hudson's House of Horrors tells us how PG-13 saved his horror life.
My passion for horror began back in 1988. I was at my local video store. I was 12 years old. The household rule was when I went to get a movie, I could only get a PG or PG-13 rated movie, no R. I would always go straight to the Horror section to see all the great box art and dream of a day when I could view all these movies.
Then I saw it.....most all the stickers on the plastic slip cases were red with an R on them...but this one stuck out. It was an orange sticker with a PG-13 on it! Could this be? The film was EVIL DEAD 2: DEAD BY DAWN and had obviously been put in the wrong slip case. Probably by some teenager working at the video store who didn't watch what he was doing.....or just didn't care!
I had never heard of or saw, of course, the first EVIL DEAD film, but that didn't matter. I showed my mom the sequel had a PG-13 sticker on it so it was fair game. She rented the film for me and I was never the same. It was unlike any film I had ever seen and remains my favorite Horror film to this day. From then on I was hooked on Horror and remain a loyal fan of the genre.
Earlier in the year, I was watching more and more horror films, but didn't have anyone to share the joys of these films with. My wife HATES horror movies, and most of my friends really aren't into them (except a select few), so I decided creating my own horror blog would be a great way to discuss news items and movies I watched...even if it was just to a small group of people. It has been fun to watch the blog steadily grow and I hope it continues to grow and become one of the best horror blogs on the net! I try to update it daily, so there is always a reason to check it often!
I hope you all enjoy it!