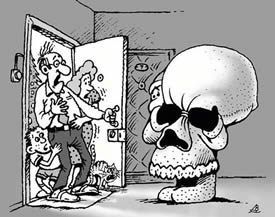 Here is a list of gift ideas for that comic book fan in your life. You know, the nephew you thought would love Peanuts and Calvin and Hobbes because that helpful patron in Borders--the one who thought Myra Breckinridge was a cook book author--insisted he would. Now you know better.

No need to check over this list twice; every book is a surefire winner that will light up the holiday for any devout comic book reader, especially the horror-minded ones.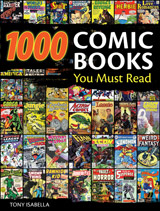 1000 Comic Books You Must Read
by Tony Isabella
Starting briefly with Superman in the 1930's, then into the Fighting Forties, Tony Isabella provides cover shots and brief synopses of many notable issues categorized by decade up to the present. Archie and Millie the Model, super heroes and horror mix it up in a sumptuous memory lane experience for older fans (like me) and a wonderful, if-you're-so-smart-what-about-that-issue, reading list for younger ones (like me, too). Some older issues will, of course, be harder to find by themselves, but with so much of historical and reading interest being reprinted today in archived volumes, it's becoming easier to catch up on all this sequential art goodness.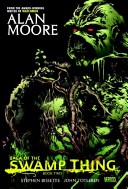 Saga of the Swamp Thing, Books 1 and 2
by Vertigo and DC Comics
Horror never had it so good until Alan Moore decided to explore its elements in Swamp Thing. I recently received Book 2 from DC Comics for review. With Moore's depth of storyline and penchant for bringing in familiar DC characters, and Stephen Bissette and John Totleben's expressive illustration gallivanting across panels--and printing it all on superbly non-slick, dull, pulpy paper to retain the original sense of coloration and tactile nuance, this hardcover edition, along with Book 1, is essential reading for any horror comic fan.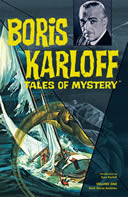 Boris Karloff Tales of Mystery, Vol. 1
by Dark Horse Archives
This hardcover archive collects the first four issues of Boris Karloff Thriller retitled to Boris Karloff Tales of Mystery. Sara Karloff provides a brief introduction and bios of the creative people involved are included. Confined to static panels, five per page, the artwork is a tidy balance between adequate story-telling and heavy-inked momentum. The stories come with morals or little twists of fate. Boris the Uncanny introduces each one and sums up the lesson afterward. Not overly scary or expressively artistic, this volume will either bring back delightful memories for older fans or provide a good example of what bread and butter comic art and story are all about for others.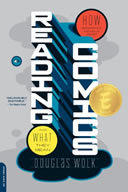 Reading Comics: How Graphic Novels Work and What They Mean
by Douglas Wolk
For the hardcore comics fan who's not squeamish about exploring what lies under the panels, Wolk's book will irritate, infuriate, and possibly elucidate. Agree or not, you will find plenty of reading-list material here, many thoughts to ponder or pummel, and inspiration to delve more deeply between the lines or write that great American graphic novel and put Alan Moore to shame.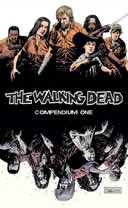 The Walking Dead Compendium, Vol. 1
by Image Comics
Run, don't walk, to add this baby to your comic fan's Christmas stocking or gift basket. Just measure the stocking or basket first; this book is big, heavy, and filled with enough zombie mayhem, soap opera nuance, and humanity to keep anyone up all night. Without color and tights, it's amazing how much power and terror Robert Kirkman, Charlie Adlard, Cliff Rathburn, and Tony Moore can quietly generate in this us-against-them-and-us series. Volume One collects the first 48 issues in a hefty softcover format that's easy to read and retains the gory black and white illustration in all its glory. Larger formats and hardcovers are available, but having all these issues in one book is a reading pleasure and a great way to introduce someone, who is not familiar with the series, to The Walking Dead.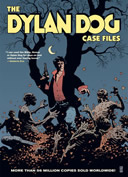 The Dylan Dog Case Files
by Dark Horse Comics
Seven stories in digest-sized format fill close to 700 pages in this compendium of Italy's supernatural detective Dylan Dog (though he lives in London). Written by Tiziano Sclavi and illustrated by various artists, anyone who has seen the movie Cemetery Man already has a sense of the surrealism and classic horror Sclavi brings to the comic. Being Italian, Dylan Dog is a romantic, although he can never seem to hold onto any of the women he meets from story to story. Maybe it's the annoying screaming doorbell to his flat on Craven Road that keeps them away. The black and white art rarely strays beyond the 5 or 6-panel pages, but it's crisp and vibrant; and filled with Dylan Dog's phobias, untidy habits (though he does play a mean licorice stick), and monsters.