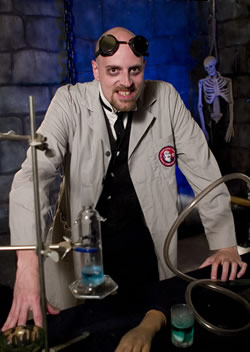 Many fans of horror, amateur and professional alike, have devoted themselves to blogging about the thrills, chills, and no-frills side of the genre as seen in cinema and print. In this ongoing series that highlights the writers behind the blogs, we meet the unique personalities and talents that make the online horror scene so engaging. Up close and personal.
As a special treat for Thanksgiving, noted horror host Dr. Gangrene of Tales From the Lab mixes up a wonderful formula of weirdness with all the dressings.

It's hard to say exactly when the horror bug bit me. For as long as I can remember I just always seemed drawn in that direction. I know for a while I worried my parents. I seemed obsessed with the dark side of life. If I went to the library I came home with books on ghosts, or Poe, or the supernatural. If there was a Horror or Science-Fiction movie on TV I always wanted to watch it. My best friends were comic books and cartoons. I just wasn't "normal." But then who is, really?
Thinking back on it, the biggest influences on me were things that I encountered in my youth. When I was a kid I was in Boy Scouts (this was in the early seventies). At one Scouting event we met local Nashville horror host Sir Cecil Creape. I have some vague memories of this (I was probably around 7 or 8 years old at the time (1st or 2nd grade). Everyone there received a patch that said "Sir Cecil's Ghoul Patrol." I still have that patch to this day, and in fact the first thing I did when I started my own horror host program was to sew that patch onto my lab coat in homage to Sir Cecil Creape. But I'm getting ahead of myself…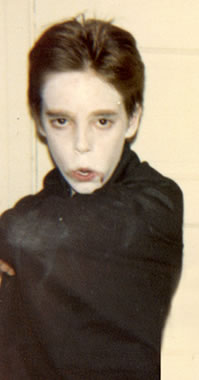 The Munsters, The Addams Family, The Twilight Zone, Gilligan's Island, Spider-Man… These were some of the biggest influences on my love of horror and sci-fi. I have to credit my Grandmother here. I stayed at her house after school, until my parents picked me up, and she would let me watch all these great programs. There was a show on weekdays in Nashville back then called "The Big Show." They showed all the Universal monster movies, and this is where I got my first exposure to all the classics – Frankenstein, The Wolf Man, The Creature from the Black Lagoon. I was in heaven.
Halloween was and still is a glorious time of year. I have a few pictures of me as a kid, almost always in some sort of horror costume. I remember dressing as Dracula, Frankenstein, a dead guy… I loved dressing up. Makeup, masks, costumes – I loved em' all.
The best costumes were always the home made ones, but I remember the Ben cooper costumes too. I have fond memories of going to a Woolco's and picking out my costume, what I wanted to "be" that year. I still have a couple of pictures of me wearing those, too - my favorite and the one I remember best was a skeleton costume. But my favorite picture of me as a kid is one where I'm grinning up at a pumpkin lamp with a look of sheer joy on my face. The look on my face embodies the Halloween spirit.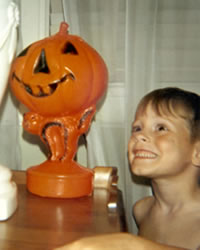 I've always been a huge comic book nut. Again I have my Grandmother to thank for starting the ball rolling here. I stayed with her in the summers while my parents were at work, and I remember one day her washing machine was broken and she took me with her to a laundry mat to do some clothes. I was probably bored and driving her crazy, because she bought my first comic books for me from a convenience store next door (no doubt to give me something to do). I picked two comics - Hot Stuff the Little Devil and Spider-Man. I was hooked from that point on. I started saving my allowance and walking to the local Seven Eleven to spend it all on comics and candy. The Marvel horror comics of the seventies were a HUGE influence on me - Chamber of Chills, Tower of Shadows, Tomb of Dracula - I bought them when I could find them, and thought they were the coolest thing I had ever seen. In later years I mowed lawns to support my habit – one summer I cut seven yards weekly, and most of that money went toward comic books.

Comics led to my next love – art. I became obsessed with drawing. I remember laying the comic books out on the bed and tracing the pictures until I became skilled enough to draw on my own. I would draw pictures at school, doodling on the borders of my books. Other kids noticed and started asking me to draw things for them. I became known as the kid who could draw well – I had an identity!
One day I found a stack of my Uncle's cassette tapes. Among these were Kiss' Hotter than Hell and Alice Cooper's Welcome to my Nightmare. My mind was blown – Just look at these guys! Makeup, costumes, guitars! Wow! Alice looks like a monster, wears makeup and sings about spiders and nightmares and dead people… Oh my god! And best of all, on one song appears none other than Vincent Price, the guy I had seen in so many monster movie matinees. I had come home. I would go on to collect every Cooper album and this would lead me to other horror bands and music such as Screaming Jay Hawkins, Bobby Boris Pickett, and the Misfits.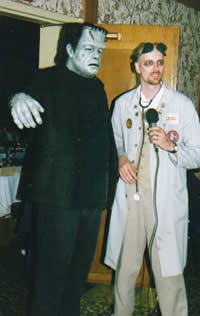 All of these influences percolated just below the surface throughout my college years (as an art major) as I turned my attention toward other things (girls). But you can't keep a good ghoul down, and this bubbling concoction of horror comics, b-movies, rock n' roll and monsters all came together and eventually escaped their shackles, forcing me to do their bidding! Shortly after college I started working in comics, both writing and drawing them. I did a little freelance work at first and then together with my good friend Chuck Angell we started our own comic book company called "Out of the Cellar Comics." Our first book was a horror anthology called "Monkey Stew." We followed that up with more books, mostly horror, including my own homage to Frankenstein (and Bride of Frankenstein) called "Tombstone Blues or Dead Girls Need Love Too."
I eventually decided it was time for a change in direction, creatively speaking, and an opportunity arose to start a show on cable access television. I thought about what type show I wanted to do, but the only thing that interested me was doing a horror host show. It had been years since anyone had a show in this area like Sir Cecil Creape's, and I decided I wanted to give kids of today the type of program I grew up with. We started shooting in July 1999, and here we are more than a decade later still going strong.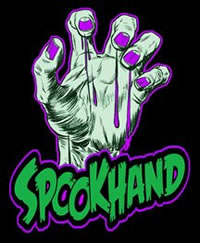 All these influences came full circle this past year when I started my own horror band. It is called Spookhand, and I'm the singer. Much like my idol, Alice, we're singing about monsters and gore, and I've even incorporated a few shock rock antics into our live shows. And yeah, I've been known to wear makeup from time to time, too.
I started the blog a couple of years ago as a place to give updates about the show and what all is going on with it. I later decided to split it into two separate blogs.
One for the show http://drgangrene.blogspot.com and another for me and Larry, (here I can write about things outside of Chiller Cinema/Dr. Gangrene) at http://the11thtier.blogspot.com (taken from a line in Poe's "The Cask of Amontillado")
My motto on my show is "Where its Halloween all Year Long" and that's exactly what I aim to do, with my show, my art, my blog and my life – live like its Halloween all year long.