It was a truly classic performance--the monster was no monster, but a pathetic, confused creature caught in a situation it couldn't comprehend. Karloff portrayed all this with marvelous pantomime, restricted as he was to a series of grunts and despite the handicaps of his heavy costume. "Whale and I both saw the character as an innocent one," he later said, "and I tried to play it that way. The most heart-rending aspect of the creature's life, for us, was his ultimate desertion by his creator. It was as though man, in his blundering, searching attempts to improve himself, was to find himself deserted by his God" (John Brosnan, The Horror People).
As I thought about what I would write for Frankensteinia's Boris Karloff Blogathon, I found myself reading through the titles in my library for inspiration in choosing a subject worthy of such a momentous project. Perhaps I would review one of Karloff's important films? I thought. I've only scratched the surface of his noteworthy acting career with my reviews of Frankenstein, Bride of Frankenstein, Son of Frankenstein, and The Mummy. Then I thought maybe I would examine  Karloff's extensive work for television, which would include, of course, Thriller, the anthology series of horror and suspense I still vividly recall scaring the bejesus out of me, and its spin-off into comic book format as Boris Karloff's Tales of Mystery (recently reissued by Dark Horse Comics). As I thought about it some more, I realized the books I paged through, the ones I often pull from the shelf when I am thinking about Karloff or classic horror, in preparation for writing a review, might be noteworthy to mention.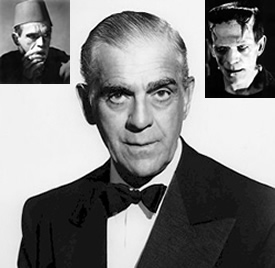 John Brosnan's The Horror People is a favorite of mine, especially the Lugosi and Karloff chapter.Citing news clippings and quotes from Karloff and Forrest J. Ackerman among his sources, Brosnan gives a concise but revealing history of Karloff on screen. Pairing Karloff's triumphs and trials with Bela Lugosi's trials and tribulations in the same chapter is more than just a comparative exercise. Both men were forced to share a career-defining professional relationship brought about by their iconic status as the faces of classic horror, but it was Karloff's geniality and charm that kept him in the spotlight to make the best of it.
Gary J. and Susan Svehla's anthology, Midnight Marquee Actors Series: Boris Karloff, covers over thirty of Karloff's movies up to Targets (and Karloff's successful stage appearance in Arsenic and Old Lace). Various authors bring their critical opinions and observations to films that showed Karloff's versatility, even though he was pegged mostly into the horror genre. The creative and production circumstances surrounding each film, as discussed by each author, provide inestimable insight into not only Karloff's acting prowess, but the circumstances that helped to shape them and move his career forward.
Gordon B. Shriver's Boris Karloff, The Man Remembered covers the extensive radio, stage, and early television work that Karloff excelled in, providing interesting background, from those who knew Karloff, to his performances on stage in Peter Pan and Arsenic and Old Lace, his chill-inducing voice for Inner Sanctum Mysteries and Lights Out over the radio, and his live television dramas and series including Suspense, The Veil, and Thriller. Shriver also provides a complete rundown on the filmography, discography (remember those wonderful Caedmon records?), radio show appearances, commercials, stage plays, and television appearances Karloff continued to do even as his health deteriorated.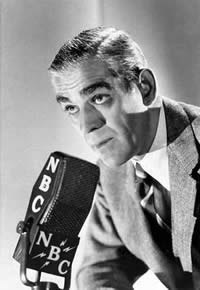 Calvin Thomas Beck in Heroes of the Horrors is a comprehensive good read highlighting Karloff's movie, television, and stage roles by using numerous quotes from Karloff to provide clarity and depth. The Roger Corman movies and television work (including Karloff's eye-popping funny Mother Muffin role, done in drag, for The Girl From U.N.C.L.E) provides a portrait of a consummate artist who reveled in each and every role, high or low. This quote from Peter Bogdanovich, which appears at the end of the Karloff chapter, sums it best:
One scene in Targets required him to tell a two-minute fable--a great many words to learn--and I wanted it done without cuts, which meant he would have to say it all straight through. Everybody was tired by the time we got to it--after midnight--but when the camera rolled, he did it in one take. Spontaneous applause broke out, which you could see moved him.
Mark Clark's Smirk, Sneer and Scream devotes a chapter to Karloff's "carefully crafted persona, mostly unchanged from film to film" that made Karloff a household name for horror. Clark dissects the acting mechanics employed by Karloff in his more notable roles. In my interview with Clark, he explained why Karloff remains his favorite horror actor:
I love Bela Lugosi and Vincent Price. But my favorite is definitely Karloff. He was just such a master. At the top of his game, his performances could be tremendously subtle and moving. He could scare the hell out of you, or he could break your heart. I don't think any other horror star has a filmography as full of varied, three-dimensional characters as Karloff, and I don't think any other star had as significant an impact on the development of the horror film. For decades, he was the face of the genre, the same way John Wayne personified the Western.
There are many more books devoted to Boris Karloff and his films, of course, but I recommend these in case you have not read them yet. Karloff once remarked that he was lucky to have been given the role of the Frankenstein Monster. That it brought him stardom. He was wrong. It was Boris Karloff who brought stardom to the Frankenstein Monster. Karloff the Uncanny did the impossible; he created a legacy of classy horror, which influenced the genre for decades (and still does), by being the nicest monster you would ever want to be scared by.