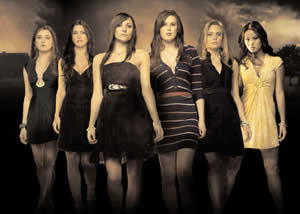 "When five sorority sisters of Theta Pi cause the death of one of their own during a foolish prank gone wrong, they conspire to discard the evidence and never speak of the nightmare again. But when a mysterious killer targets the group a year later with a series of bizarre attacks, the women find themselves fighting for their own lives amidst the revelry of an out of control graduation party.
"Based on the original screenplay, Seven Sisters, this modern tale of revenge served icily cold echoes the original's mix of horror and humor while creating a fresh take on terror uniquely its own."
Download Sorority Row_Pressbook
See more movie pressbooks From Zombos' Closet.