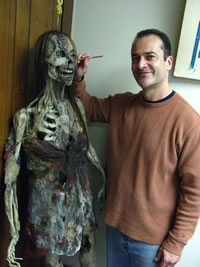 by Scott Essman
When you conjure images of the sets of classic horrors such as Lon Chaney's Phantom of the Opera, Jack Pierce's The Wolf Man with Lon Chaney, Jr. or Frankenstein's Monster with Boris Karloff, and Wally Westmore's Mr. Hyde with Fredric March, you picture the lone makeup artist creating magical character concepts inside a cramped makeup studio, then arriving with his makeup kit to the set of his movie alone to realize the character for film. Such was the case with Gino Crognale on the new horror picture Sorority Row.
Like many in makeup effects, Crognale originally paid his dues in the trenches of makeup effects studios Los Angeles. "I'm originally from Philadelphia and I lived in LA from 1983 to 2001," he said. "I left for a good place to raise my kids. I had enough years under my belt so that I could leave and do my thing."
Heading for Pittsburgh, Crognale had a job teaching makeup at Tom Savini's school for 8-9 months. "It was a good gig to come back to, but I had to get back to what I really love," Crognale said of creating makeup effects for movies. "We were in Austin shooting Sin City and Greg Nicotero [of KNB EFX Group, who Crognale has known since 1985] said that they were shooting George Romero's mega-zombie Land of the Dead movie in Pittsburgh. But George couldn't get Pittsburgh, so George packed up and went to Toronto and shot it there."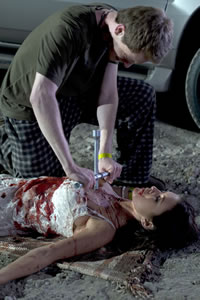 Later, Crognale returned to Pittsburgh to work in the business when he was offered
Sorority Row
via the producer on another film, Bill Bannerman. "He thought he had a show that I could knock out myself," said Crognale. "I got the script and did a breakdown and got the gig. Bill knew the town, and I was the guy. I was working for Bob Kurtzman from KNB on this movie that shot in India. I literally wrapped on his show on September 10 and Bill called me on September 11 for
Sorority Row
.
After doing a rudimentary makeup effects breakdown by circling everything in the script that would be part of his department, Crognale put together a budget and "build list" for all of his makeups and effects gags based on a schedule of when production was shooting his work. "We had to hit the ground running with this," he said. "I built the whole show out of my garage. It was old school, like [makeup legend] Dick Smith building in his basement. All of the artwork, sculptures, and molding were done here in my garage and some finishing things at Bob Kurtzman's. It was a wonderful experience for me after years of doing things. We were treating it like we were 19!"
In all, Crognale executed 11 gags – he was hired September 12, 2008 and started shooting October 5. With a short schedule and working all alone, Crognale drew on his years of experience to create makeups and gags that were both impressive on film and delivered in a timely manner. "When you are pressed for time, you don't have the luxury of time or R&D," he said. "I had nobody assisting me in the lab or on set. I had a runner that production gave me to do my supply runs. Pittsburgh has a good plaster place and fiberglass place plus chain stores that have the paints we use."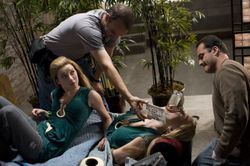 Diving into the show, first up for Crognale on the
Sorority Row
schedule was the creation of the fake head and upper torso to resemble Margo Harshman for her death scene playing the character of Chugs. "It was a complete sculpture all the way," Crognale said for his initial foray into the effects work. "I had three weeks to crank that out in addition to getting everything else ready. I hadn't seen Margo Harshman to that point. I had a buddy in LA lifecast Margo's face and it was shipped to me, but it was totally destroyed. The cast wasn't great, so I had to do a silicone mold on that and reproduce it from the ground up getting photos from production and online. I finally got it done and took it to set."
Given his limited time on the build, the Chugs head is a remarkable achievement as even in closeup photos, it is identical to Harshman in every way. "It was made out of silicone and heavily plasticized," said Crognale of a prop which would have a glass bottle stuck into its mouth. "I had sculpted it a little smaller than the bottle. The fiberglass underskull would give it that stretch of the mouth going open, filling that vacancy in the throat."
On location, Crognale delivered the Chugs head for filming, becoming one of the best gags in the film. "We had that lock on the location on the north side of Pittsburgh and we only had it for two nights in mid-October," he explained of the shoot. "Everybody was happy with it and we shot it a lot and got everything we needed. Later in the show, we were shooting in this old film lab place where we did a couple more inserts with the Chugs head with the bottle going down her throat.The director Stewart Hendler wanted a couple of different angles. It was fun being put to that test."
While preparing the Chugs head, Crognale simultaneously had to get the makeup ready for Jamie Chung whose character gets a flare shot into her mouth for another grisly kill. Crognale explained the evolution of the makeup effects on the performers, such as with Chung's death. "Once I had all of the gags written out, I sat down with Stewart," he said. "Those are the best meetings. I have a list of stuff to build and he tells me what they need to see. With Jamie, he still wanted to see her eyes – just make her mouth and neck bubbly."
Unbelievably, because Crognale had no access to Chung until the actress arrived in Pittsburgh, he unconventionally had to build her whole makeup generically. "I pulled an old lifecast of a female, and sculpted it on her; I didn't know how it was going to lay down on Jamie until the night we shot it," he said, revealing some makeup tricks. "I tested it the night we shot it, flying by the seat of your paints. Because I have enough years in, I was able to do it. She got a kick out of it. She had the foam latex makeup on her in an hour and fifteen minutes."
One key to Chung's makeup was hiding a wire that the practical special effects team needed to rig a gag with the makeup. "We had to conceal this wire along the side of her face and underneath the prosthetic and glue that bubbling skin over the wire," Crognale described. "It was a big challenge getting that wire to lay down and blend the makeup off over the wire. The makeup was not bloody – just sore and blistery. We shot it that way, then added some black and did a few more takes."
Another major task on Sorority Row was creating a full body appliance for the death scene of Audrina Patridge. "I had to build a whole fake chest of Audrina that would bleed," Crognale stated. "The blood was squirting out but they didn't use [much of] it the movie. How they edit it and cut it wasn't as good as what we shot. It was a basic rubber body with a nice paint job on the finish which sold it."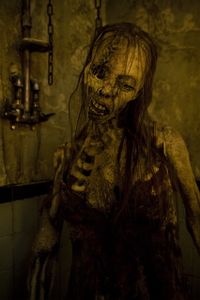 For scenes taking place long after Patridge's death in the story, Crognale also had to create a full Audrina corpse. "I kept e-mailing Stewart asking how long she had been dead in that well," Crognale said of the development stages. "He said, 'anywhere between a year and a year and a half, but you still have to have some skin.' I thought it would look cool with hair – old school horror stuff. I did a light hair job and hand punched some around the front and kept doing that with her whole body, mixing and matching skin and bone. When I finally had it done, Stewart just lost it. You know when you hit a homer with these guys when they really enjoy it."
After weeks of development, the finished Audrina corpse was made out of polyfoam and latex and took an 8-10 hour day painting it to make it look "cool and decayed." Of the finished look of the corpse, Crognale noted that the paint job was essential, as is the case for many special makeup effects. "It all came together in the paint," he said.
Another memorable gag was Leah Pipes' death scene by a "pimped-out tire iron" which she gets right in the mouth. "I had to get a teeth cast of Leah and built these upper and lower dentures that only locked into the back of her mouth – an H-shaped solid piece," Crognale explained. "The top molars were locked in and bottom molars locked in – I made a dental apparatus that opened her mouth wide and the tire iron centered into. She would feel a little bit of pressure of the weight of it. Then, I poured blood in her mouth with this whole thing anchored in her mouth. I also built a piece behind her hair for an exit piece – but you can't even see it in the movie."
For the Pipes gag, Crognale noted its simplicity and how he had to figure out the angle of attack. "Stewart would ask me to change it another 1/8 inch," he said. "While she was acting on another stage, I would ask for her and get it into the right angle. It went really well the night we did it – it was her last shot on the movie – getting stabbed in the mouth, and I pulled it out, and they wrapped her!
Other gags included an apparatus for another tire iron in the head, a pair of legs set to break with appliance of a bone coming out through a pair of pants, and slashed wrists on a character which are so bloody that you can't even make them out. For Carrie Fisher, Crognale built a bleeding rig harness for the actress that went over her left breast. It had an exit piece of the tire iron and a piece comes through the front of her that she leaned into.
If doing his scheduled work was not enough, Crognale noted that production later "threw a couple of different ones at me. They wanted an actor to get hit in the back of the head with an ax." With no prep time and a full plate already in place, Crognale improvised. "I dug through my molds and found an old lifecast. I rigged a whole gag where the guy gets an ax in the back of the head and there is this blood explosion, then he is lying there with the ax handle in his head. I rigged it with paint job and wardrobe. We shot it on an insert stage with four-five takes where I would repack the blood bags. I built a fiberglass plate that he wore in the back of his head. It was a nice camera angle that sells it."
Looking back nearly a year from production schedule to the September 2009 release of the film, Crognale took stock of his achievements on Sorority Row. "Bill [Bannerman] gave me this challenge, and I didn't want to let him down, but I knew that I couldn't have made any mistakes," Crognale summarized. "It's a great feeling when you see the light at the end of the tunnel and knew that you could pull it off. It was a challenge personally and professionally, and I just wanted to do right by these guys – they put their faith in me. There were nights where I kept working [long into the night], but it was fine. When it's all on you, you've got to come through. I hope we do another one!"