I did not expect Rob Zombie to surprise me with Halloween II. Beyond his unavoidably repetitious metal-rockers, hippie-hillbillies, and tattoo-punkstering of Laurie Strode and Haddonfield Illinois' social set, miring Halloween II in a seedy glaze of grunge, strip joints, and Alice Cooper and Frank Zappa posters, he surprised me.
Probably many horror fans are surprised, too, and will be dismayed or downright violently annoyed with this bold mashing of J-horror's quintessential rage-filled imagery into Myers' endless angst-driven slashing ouevre.
In this brilliantly audacious diversion from John Carpenter's classic bogeyman, Michael Myers (the towering Tyler Mane) becomes a deadly juggernaut guided by a mysterious other embodied in the white gossamer spectre of his dead mother and her majestic white stallion. But to what purpose? Is she a vision of Shiva the Destroyer? Or is she a demonic chaos seeking succor? Or is she simply a confabulation in Myers' tortured mind? Zombie builds mystery by confounding us with this and an unexpected folly a deux between Myers and his sister, which now takes the Halloween franchise into a strikingly new direction.
My surprise comes from how Zombie's bizarre imagery grates against my expectations (and probably those of most of the audience): a mad-hatter's kind of tea party in Hell; Myers' adult skeleton--its skull wearing his scarecrow-like mask--eerily hanging in the background as young Michael and spectral mommy chat about the future of the Myers family; and then the final jarring image that completely displaces Halloween II from its slasher underpinning by invoking the psychologically terrifying hallmarks of Samara from The Ring and The Grudge's unstoppable curse of violence. I am more than surprised: I did not think Rob Zombie capable of such creative impudence.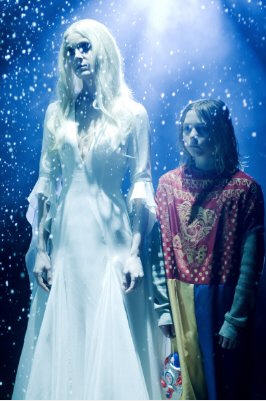 Teasing with a beginning that makes us believe he is comfortably rehashing the hospital mayhem from 1981's Halloween II, Zombie instead drops us off in Haddonfield a year later. Laurie Strode (Scout Taylor-Compton) now lives with long-haired--and burned-out--Sheriff Brackett (Brad Dourif) and his short-haired, more healthy-eating, daughter Annie (Danielle Harris). Laurie suffers from horrific nightmares and attends therapy sessions. She is a wreck physically and mentally, and cannot get her life--after that night Michael came home--jump-started again. Meanwhile, Dr. Loomis (Malcolm McDowell) is doing smashingly well. He is promoting his succcessful book on Myers. Zombie alternates between showing Laurie's ongoing struggle with her trauma and Loomis' unsympathetic attitude to the fallout from Myers' serial-killing as he tours the book-signing circuit. More and more, the limelight reveals Loomis' callousness in contrast to Laurie's growing despair when she cannot find forgetfulness in the shadows.
There is no suspense generated from this shifting focus between Laurie, Loomis, and Myers' continuing killing spree, even after Zombie gives Myers a shiny new knife, one Jim Bowie would be proud of, and sends him off, guided by his visions, to bring Laurie home. I wondered how all this carnage leading up to another Halloween night with Michael Myers could leave no room for suspense. I will pin it on Zombie paying greater attention to his imagery, which is wonderfully macabre and wicked and filled with malevolent long-haired spectres (although in a Zombie movie just about everyone has long hair), to the detriment of his more perfunctory treatment of Myers. He is big, he is bad, he is unstoppable; yes, we get that. Having Myers kill and eat a dog, uncooked, also seems a gratuitous gorehound moment, which Zombie seems to relish. Missing from this Halloween movie is the signiture music, which only comes into play at the end for the revelation that, ironically, changes everything. Carpenter's music would have been out of place here anyway. This is no longer Carpenter's classic vision: it is Zombie's.
There is a sad flashback involving young Michael at the sanitarium. Michael wants to know when he can go home, while we know he can never go home; making him a lost soul who will stay lost. The gift of a toy white horse figures prominently in adult Michael's visions. But the ultimate meaning and significance of those visions will have to wait until Halloween III.
Which leads me to another surprise: I never thought I would be eager to see a new Rob Zombie movie. If he directs Halloween III, I will be. Hopefully he can put the suspense back into the next one.