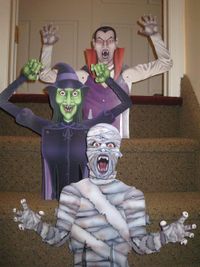 I found these irresistible table toppers at Dollar Tree for one dollar each (click the image to enlarge). A bargain indeed for these fairly large and stylish paper decorations that don't play it cuddly cute, yet don't overly traumatize with terror, either.
Just look at those faces! The witch actually leers like a creepy wicked witch should for Halloween. And both the mummy and the vampire look like they want to scare the hell out of you with their ominously gaping mouths filled with sharp teeth.
While perusing the slim offerings on the shelves (this year it looks like every store is cutting back on inventory), a little girl in the next isle over--I'd say no older than five--told her mommy to hurry up because she wanted "to see Halloween."
She ran over to the display of decorations, taking in everything with glee. She seemed most fascinated by the life-size, plastic, dismembered feet dangling in pairs from the hooks. I was going to mention they were fake, since her mother seemed not to think it important enough to tell her,  but decided not to after I saw she was not frightened at all. Just mesmerized.
I am sure most of you will recall that feeling. Why spoil it?