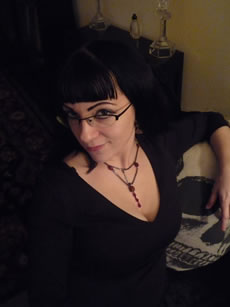 Many fans of horror, amateur and professional alike, have devoted themselves to blogging about the thrills, chills, and no-frills side of the genre as seen in cinema and print. In this ongoing series that highlights the writers behind the blogs, we meet the unique personalities and talents that make the online horror scene so engaging. Up close and personal.
In this installment, League of Tana Tea Drinkers' member Tenebrous Kate of Love Train for the Tenebrous Empire tells us about her love for the unusual. Hop aboard!

Between my Halloween-themed birthday parties, early interest in the creepiest fairy tales, and exposure to my Dad's incredible impersonation of Bela Lugosi's Dracula, I was pretty much fated from infancy to be some flavor of spooky. My youthful dreams of earning a living as a vampire hunter were squashed (I read pretty much every book filed under the Parapsychology & Occult section of my local library), so by the time I was fourteen, I began delving into the wild world of horror cinema in earnest.
Applying the same sort of tenacity to my movie-viewing that I'd put into my childhood reading, I methodically worked my way through the "Horror" category at a number of video rental stores. Unlike a lot of my horror-loving colleagues, I entirely missed out on the slasher flick craze due to parental protectiveness and a notoriously weak stomach for on-screen depictions of blood-and-guts. After dipping a toe in the waters of explicit fright films with "Suspiria" (I'd read laudatory words about this movie most likely in an issue of "Cinefantastique" or "Video Watchdog"), my love affair with off-the-wall exploitation epics was born.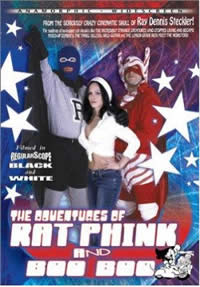 At some point during high school, I was banhammered from selecting films for movie nights with pals (I think it was "Rat Pfink and Boo Boo" that finally did it) and I found myself desperately in need of a community of like-minded geeks. Thank goodness for the horror convention circuit and the internet, both of which gave me an appropriate outlet for my fandom. In the intervening years, I've formed good friendships and have had exploitation film articles published by my pals at "Ultra Violent Magazine."
As is the case with comedy, a viewer's reaction to horror is deeply personal, leading to the kind of impassioned opinions and debates that characterize the horror blogosphere. For me, a good piece of horror entertainment is immensely satisfying--blending strangeness, provocation, and vivid imagery with escapism and (dare I say it!) fun. I'm in touch with the fact that my appetite for sexually-charged, wildly-politically-incorrect, severely-bizarre horror is outside of the norm in a scene that's already outside of the norm. Acknowledging this, it only seems natural that I should employ my own voice when writing about that kind of material. My blogging is a form of autobiography through my interactions with a very specific slice of the pop cultural pie. I find that having an interactive platform where I can discuss my joys, disappointments, and fascinations enhances my experience of horror entertainment--this is a pretty amazing side effect to a hobby I took up simply for fun!
Love Train for the Tenebrous Empire: Lurid, Weird, Fantastique