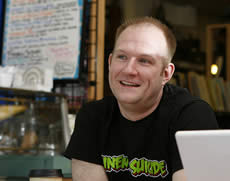 Many fans of horror, amateur and professional alike, have devoted themselves to blogging about the thrills, chills, and no-frills side of the genre as seen in cinema and print. In this ongoing series that highlights the writers behind the blogs, we meet the unique personalities and talents that make the online horror scene so engaging. Up close and personal.
In this installment, League of Tana Tea Drinkers' member Bryan White of Cinema Suicide tells us how he leveraged his love of horror into free stuff, a successful blog, and a lifelong passion.
My family picked up stakes when I was seven years old and moved us from Binghamton, New York, to the Lovecraftian seaside of Marblehead, Massachusetts. It took me no time at all to seek out the channels with the best cartoons and in the process of this Saturday morning exploration, I found something that Binghamton didn't have. At least not to my knowledge. This morbid discovery also managed to silently change my life in ways I wouldn't understand until I was well into my 20's.
The Creature Double Feature on WLVI was your classic afternoon monster matinee on TV. Bookended by an echoplex voice-over set to Emerson, Lake and Palmer, The Creature Double Feature introduced me to vampires with British accents, men in rubber monster suits stomping on models of Japanese cities and more pie plates decked out to look like flying saucers than you could possibly ever conceive of. It was all in good fun and just shocking enough to scare the crap out of a 7 year old; enough to keep me coming back week after week in hopes of seeing Karloff, Price, and Lee again.

It didn't end there, either. The magic of UHF television was that everything was broadcast with a devil may care attitude and tight budgets meant broadcasting only the cheapest crap. Dollar rental video stores a few years later, paired with way too much free time on my hands, meant nights spent cataloging the most brazen garbage the action and horror sections had to offer. I spent a solid majority of my life up to this point swimming in a sea of NTSC filth looking for new shocks, evangelizing movies most people have dismissed; but it wasn't until the internet came along that I found more people like me and even bigger repositories of information and fandom.
An incidental collection of bootlegs and factory prerecords led to bootleg trades and to accompany this, a website listing my haves and wants. A general necessity to write HTML led to actually working in the web development field, which led to a coworker asking me why I didn't, at least, have a personal blog, which eventually became Cinema Suicide.
Cinema Suicide led to lots of free stuff from people selling movies. It also led to becoming the go-to horror movie guy for New Hampshire Public Radio's show, Word of Mouth, a nod in the last round of Rondo Hatton Classic Horror Awards, and a ton of journalists asking me what I watch when Halloween rolls around. It's quite remarkable the things that knowing a lot of useless information can bring you.
But my love for the genre has nothing to do with marginal regional infamy or free stuff. Horror old and new gave me a place to go when I was the new kid in town, a mantle I wore more than few times, even if that place was the family den where we kept the television. I grew up every bit the spooky kid in my class and when I felt like no one understood me, I always had a place to go that was comfortable, even when it involved zombies tearing a bunch of bikers limb from limb and eating their intestines. Say what you will but some of my longest friendships have names like Dawn of the Dead, Vincent Price, and Roger Corman. I give back as much as they gave me by leveraging my questionable writing skills on their behalf in hopes that, even among waves of remakes and a genre in its death throes, I'll somehow influence someone to take another look at some movie that they dismissed because it looked cheesy.
And for the record, my favorite movie of all time is Escape From New York, a factoid that Adrienne Barbeau, herself, found hard to believe.
Cinema Suicide: A Celebration of Cheap Thrills