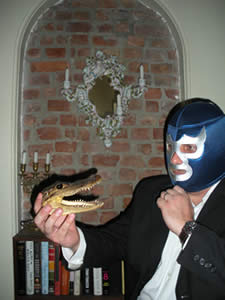 Many fans of horror, amateur and professional alike, have devoted themselves to blogging about the thrills, chills, and no-frills side of the genre as seen in cinema and print. In this ongoing series that highlights the writers behind the blogs, we meet the unique personalities and talents that make the online horror scene so engaging. Up close and personal.
In this installment, CRwM from And Now the Screaming Starts proves that horror fans do not need a lifetime of experience to share in the fun that comes from terror onscreen.
I'm a pretty lame horror fan. I say this because I lack the long involvement that is a hallmark of most fan bios.
I came late to the whole horror thing. Or, rather, I started out as a sort of "monster kid," fell out of love with the genre in the important teen years, and then returned after more than a decade of resistance.
It all started out classically enough. When I was a little kid, I had this pact with my pops. If I waited until my mom went to sleep, then I was unofficially approved to "sneak" out of my room and hang with him. We'd catch old monster movies on the local channel. I remember Tarantula specifically.
As I grew up, I got dissatisfied with horror in general. I was familiar with the classics and they were a regular source of pleasure, but I found the late 1970s and 1980s, with its dreary emphasis on slasher flicks, a major let down. Even as a teenager, I found these formulaic stalk-and-stab films poorly made, tediously predictable, and insultingly stupid. To this day I still do not understand the affection horror fandom holds for these films.
Sure, there were several horror landmarks from that era: The Shining, The Thing, American Werewolf in London, Henry: Portrait of a Serial Killer, and others; but these high points of the era were either outliers in otherwise less-than-stellar careers or the work of directors who excelled in multiple genres. The lesson I learned from 1980s horror was that talented filmmakers could do interesting work in any genre, but genre-specific "artists" tended to churn out derivative, franchise-driven, LCD crap.
Worse, there was an illogical but damning causality in my young mind that made me conclude that classic horror, if it naturally led to stuff like My Bloody Valentine, must have some profound internal flaw. Like a detrimental genetic mutation that expresses itself in later generations, there must have been, within those old films, some hidden drive towards being crap that I missed.
So, I pretty much quit watching horror flicks.
If I wanted to watch dark, challenging, frightening films, I found everything I needed in the works of directors who existed on the fringes of genre filmmaking. Flicks like Dead Ringers, Blue Velvet, White Dog, Apartment Zero, Manhunter, Frantic, Body Double, Tetsuo, and similar genre-mutant fair, gave me the off-kilter, horrifying, transgressive, challenging thrills that I once expected from horror.
Which brings us to the much-reviled 1990s. Though many horror fans hold that the last decade of the 20th Century was a vast wasteland for horror, I think that's only true if your definition of horror clung to the rapidly deteriorating corpse of sequel-driven, post-slasher '80s horror. For me, the 1990s was when you could get a steady dose of horror without having to check your brain at the door. The decade opened with The Reflecting Skin and Jacob's Ladder, and ended with The Blair Witch Project and Audition. Even the slasher genre, the millstone around the neck of modern horror cinema, got a desperately needed injection of disrespectful irony.
What I saw in the best horror of this era was drama elevated to the highest stakes - life and death - with the safety net pulled out.
Though the '90s had their share of crap, too, the best of the lot was enough to interest me in the genre again.
And that's how horror and I got on speaking terms again.
I'm still, I think, not much of a horror fan by most folks' standards. But I think I'm okay with that. I like to think that I had a sort of horror Rumspringa and that I came to the genre not out of nostalgia or habit, but rather because I chose it as an adult.
And Now the Screaming Starts