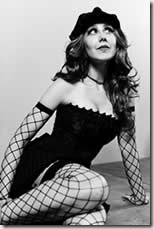 Helena, Hussy of Horror has launched her new monthly web series with Drinks with the Swamp Thing, a brief look at finding the perfect cocktail for your spring party as well as a review of the 1982 cult classic, Swamp Thing.
Originally done as a one shot for last fall's Miss Horrorfest contest, Helena soon found new life by shooting an introduction for the festival run of the upcoming Anthem Pictures DVD release, Deadlands 2, Trapped. New Videos will be posted monthly. On the docket are shows about the original Friday the 13th and Jaws 3.
For more go to www.HussyOfHorror.com.