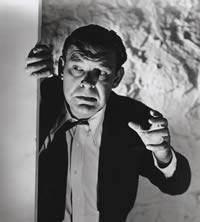 Beware! Once again, the archives have been unburied, and the hideous horrors unleashed! For your entertainment and edification pleasure, of course. Members of the League of Tana Tea Drinkers dig six feet deep to find their past misdeeds...and reveal them to you, one post at a time!
Vault of Horror and Day of the Woman team up to send us the 20 Hottest Women in Horror. Tonight we're talking about the women of horror, so who better to bring on board than the mastermind behind Day of the Woman herself, the irrepressible and irresistible BJ-C? She and myself worked long and hard to compile the following list of the most beautiful female characters in horror history, and I now leave it to BJ-C to bring it to you in her own inimitable style... 
...don't touch that dial...there's more!

Uranium Cafe dares to slime us with Unbelievable Terror and Rubber Monsters From Beyond the Stars in The Green Slime. It is a co-production between the US, Japan and Italy, headed by Japan's Toei and America's MGM. There seems to be real and borderline talent involved with the film. Director Kinji Fukasaku is more widely known for his human drama and crime films than rubber monster movies. The completely freaked out theme song was composed by Charles Fox who scored Barbarella and The Incident. The supporting cast is made of foreigners living in Japan at the time, for example, stationed military personal. There is not an Asian face to be found in the entire cast.
Evil on Two Legs shows us some strange and bizarre horror collectibles. You may or may not desire to own these, but with items like the Texas Chainsaw Massacre Christmas Tree Lights and the Freddy Krueger Yo-Yo, each should surprise you simply by their very existence.
Horrors Not Dead digs up The Borrowers...is one of the smartest, most accomplished creature features to come out of America in years.  Set in 1879, Petty blends genres to transport the viewer to the sparse expanse that is the Dakota Territories, narrowing in on a small band of men who set out to track the Indians who sieged the homestead of main character Coffey (Karl Geary), kidnapping those not killed in the process. Of course, thanks to the opening a scene, we the viewer know that no man took those women.
Dinner With Max Jenke dishes up Werewolf's Big Break; As the horror classics of yesteryear are reintroduced to new generations of fans courtesy of slick, well-monied (if not always well-considered) remakes, I'm still waiting impatiently for someone to pony up the cash for one of the few films that really needs attention, 1974's The Beast Must Die.
Zombos' Closet of Horror (that's us), asks the burning question When the dead don't stay dead, will they want MySpace pages, too? in our review of Diary of the Dead. Only George Romero can mix the insatiable appetites of zombies and mass media into visually and emotionally pleasing, melt-in-your-mouth flavors of terror borne from helplessness and an uncertain future.
This week's photo courtesy of Dr. Macro's High Quality Movie Scans.