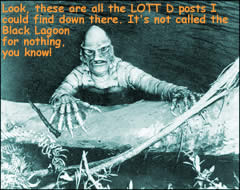 Beware! The archives have been unburied, and the hideous horrors released! For your entertainment and edification pleasure, of course. Members of the League of Tana Tea Drinkers dig deep to find their past misdeeds...and reveal them to you!
Will Reflections on Film and TV Let the Right One In? You be the judge. At first blush, the snow seems beautiful, but on closer reckoning you see it for what it is: a blanket of cold despair, covering everything, raining down. Endlessly down.
Billy Loves Stu parties with the all singing, all dancing, all slashing The Fan; a strange film that blends the typical slasher flick with a backstage fable about an older glamor gal attempting to reclaim her place at the top of the heap by agreeing to be in a musical. Imagine All About Eve meets He Knows Your Alone, or something like that.
There's More!
The Vault of Horror goes all Part 2 in their never ending kaiju quest for Showa-era Godzilla (did they mean showering with Godzilla?). In case you missed it, here's the first part of my loving dissection of Godzilla's original cinematic exploits, wherein I spotlighted the first, and best, of them all, 1954's Gojira. Now let's pick things up with the first sequel, and move on from there.
Igloo of the Uncanny isn't joking when it names British Comedy Greats doing horror! Comedy is easy, horror is hard.
Love Train for the Tenebrous Empire gets all hot and steamy for Emanuelle In America. (this naughty excerpt has been censored by the Committee for Decency and Prim and Proper Blogging Standards.)
Theofantastique reveals its love affair with the bloodsucking Brady bunch in Lost Boys. One of my favorite vampire films is a "cult" classic, Joel Schumacher's 1987 film The Lost Boys. I was therefore pleased to find a paper presented by Jeremy Tirrell at the national convention of the Popular Culture Association that deals with the film titled "The Bloodsucking Brady Bunch: Reforming the Family Unit in the The Lost Boys.
The Drunken Severed Head draws a complete picture around the art of Universal Monster Army's Linda Miller. She's also a natural wit, and a librarian by trade. Like me, she is a member of the Universal Monster Army. At the UMA she impresses everyone with her watercolor renderings of classic horror scenes.