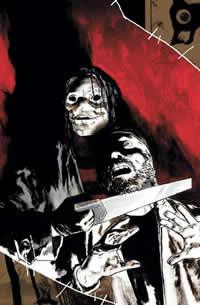 Lurks in Shadows. Hides in the park.
Simon. Simon. Simon Dark.
If you're good he'll stay away.
If you're bad he'll make you pay.
Lurks in Shadows. Hides in the park.
Simon. Simon. Simon Dark.
Zombos Says: Very Good
Simon Dark's first two graphic novels, What Simon Does (collecting issues 1 through 6) and Ashes (collecting issues 7 through 12), must be read together. The first sets up Simon's bizarre background and the second delivers the main storyline of Lovecraftian-styled witchcraft, which depends on that set up. Mixing fairly equal parts of mystery, occult science, and recognizable horror elements such as the Gothic, a creepy-looking sack-like mask, and conniving robed worshipers of demonic beings, Steve Niles builds an effectively darker Gotham City than even Batman deals with. This atmosphere is further enhanced through Niles' characters, those both good and evil, who either aid or hinder Simon Dark in his continuing battle with the dark side, and in his search to understand his ultimate purpose for being.
These characters are arrestingly drawn by Scott Hampton, who makes Simon's world properly Gothic, but perhaps a little too dark at times. His carefully stylized, foreground-heavy, panels flow across pages like single frames in a movie, creating images that are  static and posed, and lacking an internal dynamism. He reminds me of Al Williamson, although not as detailed when drawing background imagery. Hampton's unique faces are like portraits and they play an important role in his composition by generating emotional depth with their sober expressions; at first, this near photo-realistic approach is elegantly novel, but it can lead to confusion between the two heroines; a pathologist, Beth Granger, and Simon's soulmate, Rachel Dodds, when their features blur into similarity as dire events involving them unfold . Rereading clears up this confusion (along with clothing cues I missed initially), but more detail and less black in the scenes would have mitigated this.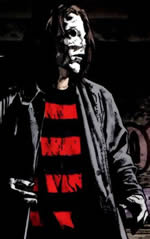 But the use of so much blackness does have its advantages; for instance, red text--you know, text, the actual reading part many comics today eschew in favor of the artist's vision--is strikingly used throughout to emphasize key action scenes. Especially in the grotesquely humorous "make a wish' series of frames between Simon Dark, an equally mysterious but helpful detective, and one very unlucky evil-doer, who is the 'rope' in their tug of war. Against the washed out gray coloration of the background, these three characters stand out, garnished with red highlights, to intensify the humorous yet grisly climax.
Niles builds the mystery surrounding Simon Dark well, but explains too much too soon; and then presents an often used duality-of-darkness-and-light apocalyptic denouement--here embellished with The Lady or the Tiger conundrum-- that disappoints as much as not being able to turn lead into gold. If you recall the nebulous talk between Neo and the Architect in Matrix Reloaded, you will experience deja vu here. But even with these disappointments, Simon Dark's strange world, and the characters populating it, provide a unique and enjoyable reading experience more deeply literate than the usual comics fare--shades of malcontent Alan Moore--made so by the nifty little creative touches sprinkled throughout the writing and the artwork.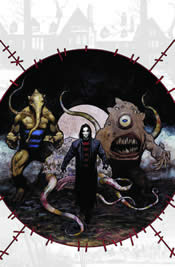 What Simon Does introduces the mysterious and childlike loner, Simon Dark, who's name children sing in a nursery rhyme as they skip rope. Wearing a badly stitched-together mask and living with his only friend, a black cat, beneath the burned out Sacred Martyr Church, Simon protects the people around him, in an area of Gotham City known as the Village.
Unfortunately for the bad guys, he tends to play very rough indeed and beheads one assailant, believing his head can be sewn back on later. When Simon is eventually told stitching dead people back together does not bring them back to life he becomes distraught, realizing he's been killing when he only wanted to protect the innocent.
But how would Simon know? He's a Frankensteinian patchwork quilt of body parts himself. Quickly and haphazardly sewn together from many different bodies, and heads, he was given life through occult science. But why? This intriguing nature of Simon's origin is a fascinating puzzle. If Niles did not have Simon start remembering his "birth" so early in the series run, the larger mystery may have added more ongoing suspense and intrigue. An echo of Wolverine's  search for his origin comes to mind here, although Wolverine is the product of comic book science, not test tubes and tentacles and pentagrams encircled with heads.
This amalgam of unholy science, serial-killing cultists fostering demonic destruction, Simon's far seeing ability (otherwise known as second sight) and Simon's growth in character from innocence to certainty, comes to a head in Ashes, where he battles to stop world destruction. Niles and Hampton provide a few unexpected twists as monsters become fast friends and Simon meets his darker half, who reveals to him the identity of his father.
While the ultimate reason for Simon's purpose is left a mystery, hopefully that will keep us in suspense waiting for the deeper explanation. I know I will keep reading to find out what that purpose is.