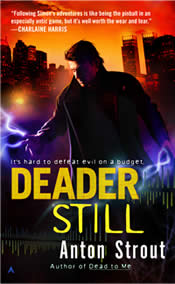 It was around midnight when author Anton Strout left the Penguin Group offices. Hustle and bustle, bustle and hustle, had filled his day, and now he was heading to the Cafe Borgia on Bleecker Street to coax a little more bustle from his tired brain, hoping to finish book three of his four book contract for Simon Canderous, the Department of Extraordinary Affairs' lone psychometrist, and his series of urban fantasy adventures.
With thoughts of Earl Grey, Oolong, and perhaps even--would he be so adventurous?--green tea buzzing around his gray cells as he briskly walked through the streets of Greenwich Village, he did not notice one of his shoelaces had come undone; that is, until he tripped head first onto the pavement. As he regained his composure and tied the lace with a tight double-knot, he noticed the edge of a bright gold disc sticking out from under his heel. He moved his foot, picked up the disc, and adjusted his glasses and his position to the street light to get a better view. Well I'll be...it's a gold coin, he thought, moving his lips as if he were about to whistle.
"Ow! Yer got me fer sure, that's the truth."
Anton Strout looked around, then down. A two-foot tall fellow looked up at him. He wore a bright green jogging suit, large Nike Air Zoom Dunkesto Blue sneakers--he had unusually large feet for such a small fellow--and a bright yellow cap covered his blazing red hair. Anton Strout re-adjusted his glasses, blinked his eyes a few times, and moved his lips in a soundless whistle again.
"If'n it's not Madoff makin' off with all me savin's, and this blasted recession puttin' the touch onta me investments, now I've gone an' spilled a coin of me precious realm and you's there at the wrongest of moments. Well, I spose you'll be wantin' me treasure, then? C'mon man, close yer mouth and exercise yer wits, I hain't got all night." The small fellow tapped his big right foot with impatience.
A cell phone started ringing. They looked at each other.
"Well, t'isn't mine. I got Flogging Molly's Black Friday Rule on mine, yer know."
"Oh, sorry." Anton Strout answered his cell phone. "Yes, this is he. Who? ILoz Zuc? What's that? Oh, you mean you're ILoz Zoc, Zombos's butler. What's that? Sorry, valet then. From where? Oh, I see, you want to do an interview? Sure, how about I call...what? You want to do the interview now? Well, I'm in the middle of…? Okay, look, give me a minute and I'll call you right back, ok? Okay, fine."
The small fellow stopped tapping his right foot and started tapping his big left foot. Faster.
"Now what's this about your treasure? Are we talking hundreds, thousands?" asked Anton Strout, putting his cell phone away. Thoughts of cool ocean breezes, frothy banana daiquiris, and sleep-filled nights joined to leisurely-paced days replaced those of teas and slushy piles.
"Now t'would a self-respectin' gentleman like me self, who's been round these parts fer many a summer, be frettin' o'er a measlin' thousands? Me fine young man, t'is the overflowin' pot o'gold you've tripped into, and wealth beyond yer beyondist dreams. Enough to keep yer in honey and clover, ten times ten times ten times over. And just me luck, too. I knew I should'a not been so stingy and taken a cab. Oh, well. But time's a wastin' and I got--"
Anton Strout's cell phone rang again. "Sorry." He answered it. "Hello? Oh, listen Ilzoc--sorry, Zoc then. I'm kind of busy right now and, what's that? You've sent the questions by text message? Alright. Alright, I'll take a look and get back to you." As he flipped the cell phone open to view the message, the gold coin slipped out of his hand. Before it could drop to the pavement, the little fellow snatched it away with a smile bigger than his feet. Like the Chesire Cat, that smile lingered a long moment after the rest of him vanished in a puff of smoke.
"Oh, dear," said Anton Strout to no one in particular.
His cell phone started ringing again. He looked down at the pavement one last time before continuing his walk to Cafe Borgia. When he got there, he ordered Earl Grey tea and poured lots of honey into it. It still tasted bitter. He answered the interview questions, worked some more on his third novel, and always kept his eyes glued to the pavement when he walked the long way home every night from then on.
How did a nice writer like you get caught up in urban fantasy? Why not write some nasty horror, or high-brow sci-fi epic?
I never set out with a goal in mind or even a genre-oriented thought. I just had an idea about a guy who had this power of psychometry, but he wasn't the best at controlling it. It's not the first thing I wrote, but it's probably my favorite and I was lucky when I finished because I looked at it and said, "Oh, huh! There's a genre called urban fantasy that this falls into… neat!" That, and I really missed Buffy, so I wanted to do some horror with humor.
What was Anton Strout like as a kid?
I was devilishly handsome and the star quarterback of the football team who made the winning touchdown at the state championship. Or not. I was an only child who loved watching those Americanized bad imports of Star Blazers and Battle of the Planets. I built Lego starships with the two other nerd kids in my hometown. Around ten my friend introduced me to my now lifelong love affair with Dungeons and Dragons. We were the kind of kids who would put on motorcycle helmets to beat on each other with fake swords we made behind the teacher's back in woodshop. We'd get together with friends and shoot Roman Candles at each other's cardboard armor, casting "Magic Missile." Good times… it's amazing I don't have more scar tissue. Warning: Kids, don't try this at home! Everyone else, don't do it either… apparently--and this is a little known fact--cardboard is VERY flammable!
Writing is a tough job. How do you keep up your motivation and your energy?
I have these things called deadlines and they pay me money for turning my books in. Those are pretty good motivators… that and the fact that since my day job is in publishing, my editor happens to be just down the hall and will come kill me if I don't deliver. Also, it's a tough job, but it's a job I love to do. It would be like paying me to play D&D for a living. And there's also the reward of sharing my stories and having discussions with people about them… it's a very driving force.
That said, there are days I just tell myself to sit the hell down and write cuz ya gotta. But more often than not, I'm happy to be doing it and feel lucky that I get to share the stories in my brain meat with others.
As an editor, can you give us some insight into the pitfalls a newbie should watch out for when writing that great first novel? And also some advice from your author's side?
I'm only an editor when I'm working on my own books to turn them in in a writer's capacity. My day job is in paperback sales.. but here's some advice to the newbie.
Your brain hates you. It will go to great lengths to try and stop you from writing with many a distraction. Tough. Sit your ass down and write. It doesn't have to be perfect, or even close to perfect, as long as it gets down on the page. It's a lot easier to edit and rewrite 300 pages of something than it is 0 pages of nothing. It's okay to suck when you're writing your book. It's called a FIRST draft for a reason, implying many other drafts to follow. So go get your suck on!
Where do you see the book publishing field in ten years, given the Internet, ebooks, and the print on demand aspects of our modern age?
I think paper books will always be around. I think there's something about the tactile sensation of holding a book in your hands that just won't go away. We see magazines going only digital because of production and distribution costs, but I think books are safe for now. My day job is in the sales department at Penguin Group, and I see the industry as a whole looking at ways to expand into the digital markets. It's a slow build because it's uncharted water for a lot of them, but I think certain formats will hold. Kindle, Sony Reader, iPhone apps… also, with the current economy, the mass market price point is looking really good to people right now who had declared its death knell in the face of abundant trade paperbacks.
Who are your favorite authors and how have they influenced your writing?
I think my humorous writing style is a blend of my love of Douglas Adams, Robert Asprin, and Joss Whedon. I'm also a huge Lovecraft and Stephen King fan, which I think explains the darker side of what I write in urban fantasy. I think if I saw any of the horrors in those books in real life, I'd have to quip and make fun of them to keep my own sanity, which is what a lot of my characters do to keep from the darkness.
Tell us about your blog.
There's two, really. One is my Livejournal, under the cryptic moniker antonstrout, which people often wonder why Anton's Trout has a blog. I assure you, he does not. That's my dumping ground for all things personal and professional, with a bit of helpful writer advice thrown in ever so sparingly now and again. The other blog is The League of Reluctant Adults, a group blog with about 17 other genre writers. There's drinking, swearing, poop jokes… that's where more of the authorial shenanigans come out. I encourage everyone to stop by.
What's the one question you would love to be asked, and what's your answer?
Can we pay you enough so you can stop doing two jobs and just write for a living? My answer is: Where do I sign?