The mind is a poor host at times, bringing in uninvited nightmares when least expected and most unwanted. In this American remake of A Tale of Two Sisters, those uninvited, bake-eiga-styled nightmares haunt Anna's dreams and waking moments, whether in her darkened bedroom or in the sunlight-bright hallways of her nooks and crannies shorefront home. And while that may be disconcerting for Anna (Emily Browning), it certainly is a good thing for us. Directors Thomas and Charles Guard's The Uninvited is deftly handled with splendid and unexpected--for a horror movie-- photography, real acting, and suspenseful pacing that places it well above the usual horror affair of blood spatters, screams, and more bloody spatters. This is classy horror at its best.
Mystery surrounds Anna's release from a psychiatric hospital. Ten months earlier her invalid mother died in a fiery explosion and Anna has no memory of that night, but she does have a recurring dream in which the spectre of a red-haired girl, very fresh-from-the-grave looking, tells her "not to go out." Her therapist, not entirely sure of what it all means, still considers Anna well enough to leave the hospital. While you already have an inkling this may not be the best therapeutic course of action for her, it does set up the frights when she returns home. (Hint: pay close attention to Anna's friend in the hospital who complains she will have no one to tell her stories to when Anna leaves.)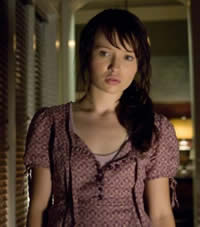 Anna's father Steven, played by David Strathairn, is infatuated with Rachel, the pretty nurse who took care of her mother, and both plan on marrying, much to Anna's disapproval. Strathairn does a wonderful job of keeping Steven earnest but annoyingly aloof at times, and Elizabeth Banks as Rachel carefully balances her sinister Stepford Wife domestic perfection with an open-arms patience for Anna's hostile dislike for her. Their portentous meeting, when Anna returns home, starts with Rachael's face obscured in darkness, then it is slowly revealed as she walks toward Anna and into the light, although the darkness still lingers around her forced smile. Alex (Arielle Kebel), Anna's sister, doesn't like their future stepmother either.  Alex is resentful that Anna did not answer her letters, but Anna explains she never got them, leading to a confrontation with her father.
Later that night, Anna is awakened by a spectral visitation crawling and gurgling along her bedroom floor, accompanied by the sound of a bell ringing. Her ill mother,  sequestered in the boathouse, which was used as a sickroom, kept a bell to call for help. The next day, Anna and Alex talk about their mother and Rachel by the waterside, and Matt (Jesse Moss), the boyfriend Anna last saw the night of her mother's death, delivers groceries by boat. He tells her he knows what happened that night, but Rachel sends him away immediately. Anna begins to suspect that her mother's death was not an accident, and after a stormy-night visit by her not-so-fresh-from-the-grave mother, who cries "murder" and points toward the house, Anna believes Rachel killed her. A few bleeding keyholes and shadows under doors later, Anna and Alex decide to investigate Rachel's background to find out who she really is.  But who is the ghostly red-haired girl Anna keeps seeing, and who are those two boys that follow her? If you have not seen A Tale of Two Sisters, the ending will be a surprise.
Suspense and fright in The Uninvited take their cue from the psychological tension caused by lost family relationships and unwanted new ones. Emily Browning's sullen face and frail-looking body contrast with Rachel's superficial cheer, athletic body,  and cold assuredness of her new position in the household.  The neutral, sometimes selfish, behavior of Anna's father sustains the tension as he refuses to believe her suspicion and sides with Rachel. Unlike most of today's horror movies, where camerawork involves gloomy mid to closer viewpoints, and shaky-bake,  queasiness-inducing movement as victims run helter-skelter, the more expansive photography, interior lighting, and PG-13 scares (though pushing the limit here in intensity)  are presented with sophistication and craft and patience. Unlike A Tale of Two Sisters, where the ambiguous ending leaves you guessing, this Americanized version leaves no doubt as to what happened the night Anna's mother died. And it will not be what you, or Anna, or Rachel expects.