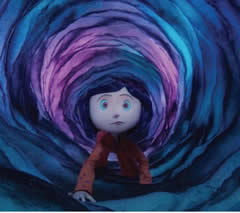 Zombos Says: Excellent 
The cat dropped the rat between its two front paws. "There are those," it said with a sigh, in tones as smooth as oiled silk, "who have suggested that the tendency of a cat to play with its prey is a merciful one--after all, it permits the occasional funny little running snack to escape, from time to time. How often does your dinner get to escape?" (Neil Gaiman in the novel Coraline)
Right after seeing Coraline, an urge to read the novel drove me straight to the bookstore. I needed to know more of Neil Gaiman's tale of Coraline Jones and the bizarre neighbors and ancient wickedness living in her new home. I needed to know how much of the literary story was captured in Henry Selick's stop-motion animated screenplay. With a dad-playing piano, glowing flowers and snapdragons that really snapped, and a peculiar room where giant bugs are the furniture, I was curious. Gaiman might be that odd individual with sleeping dust in his side-pockets, a razor-sharp, barely chipped axe in his hip pocket, and a candle flame floating to and fro behind his eyes, but the visual tone of Coraline, the movie, is dark but strikingly peppered with color, making it festive and morose and desolate and cheerful all at once. There is no brave little mouse, no fumbling robots, no dancing zoo animals to liven up culturally proscribed moral lessons because there are no moral lessons. Coraline, without the usual spoonful of sugary-animated, paternally medicinal Hollywood characters, is a Halloween treat in February that goes down smashingly well without the sweetness.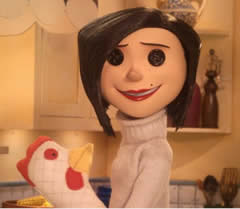 Then there is the curious use of the word beldam to describe the button-eyed other mom who craves Coraline. A beldam can be an old, evil-looking woman, of course (a witch?), but is Gaiman being playful here? Players of Paper Mario: The Thousand-Year Door know the name Beldam belongs to the thousand-year old demon with a nasty disposition and wielder of equally nasty magic. On the other hand, can beldam be an anagram for Bedlam? Bethlem Royal Hospital in London, or Bedlam as it was later called, is the institution that became synonymous with confusion and uproarious, bizarre behavior. Coraline's odd neighbors certainly act like they were former residents of Bedlam.
Downstairs live Miss Spink and Miss Forcible, two former thespians, with their Scottie dogs--the ones still living and those stuffed (time-saving double-use of the word here) onto shelves. While they are a little batty, they do come up with a special gift that Coraline will use later, when the terror and the button-eyed makeover is ominously close at hand. Upstairs lives Mr. Bobinsky, who trains his jumping mice with various samples of very smelly cheese he receives in the mail. Those mice tell him to warn Coraline she is in danger, but who listens to mice anyway?
Coraline's parents are constantly typing, typing, typing on their PC keyboards, bemoaning her constant interruptions of their important work. I was relieved they were working on a gardening catalog and not blogging or twittering, though I am not sure why. Her father tells her to go count various things in the house and tally the numbers on her notepad; and leave him alone. Her parents are not very loving or much interested in her world. Perhaps that is why she likes the other one she finds through the small door. In this other world she meets her other parents and other neighbors and the other Wybie. There's the black cat, too, but aside from his being able to talk to her, he's the same one. He just knows all the right places to travel between both places.
Wybie is not in Gaiman's novel. The boy's name comes from the consternation surrounding his birth--"why be born?"--as he explains it to Coraline, and he is something of a question mark in both worlds. Perhaps Selick wanted to give Coraline an equally neglected friend to make her family situation appear more normal than it really ought to be? Evil things happen to the other Wybie, and to all those other fabricated, twisted copies of dad and the neighbors, made by her chocolate bug-munching other mother, the beldam, but both Wybies and the talking black cat help Coraline when she needs it most.
Like dropping a golden slice of toast, all buttered and jammed, face down onto the floor, Coraline's hopes for her other family are soon replaced with disgust. Her disgust turns to fear when she is locked in a mirror and meets three ghostly children her other mom tired of and murdered, taking their souls. They tell her of the trickery of the beldam, and ask her to find their souls so they can  pass on. A contest begins as Coraline rushes to save her real parents, find the stolen souls, and keep all buttons firmly planted on her clothes and not in her eyes.
In both Coraline the movie and Coraline the novel, you will smell the scent of dandelion wine rising with the enshrouding mist of the October Country, and hear the scuttling of IT  against the faint tune of Cooger and Dark's calliope playing in the distance. In a rare and daring departure from the usual Hollywood animated movie, Coraline is a not so subtle blend of the sinister and the bitter; and it is pleasantly surprising how sweet that can be.