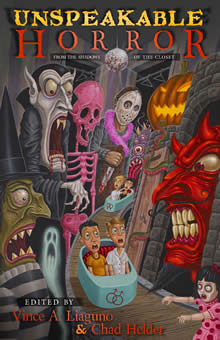 No place is darker than in the shadows of our closets...
And on each self, and in each corner, rests shoes, and clothes, and unspeakable horrors...

Editors Vince Liaguno and Chad Helder step into Zombos' closet for a chat about their upcoming horror anthology that dares to open the creaking doors to those most personal, untidy closets we all share, where the light bulb is always dark, and the space is always pressing. And where fear is always piled deep in the farthest, darkest, corner.
How did Unspeakable Horror: From the Shadows of the Closet come about?
Chad Helder: In 2006, I started a website called Unspeakable Horror [http://unspeakablehorror.com] that explored the intersections between the horror genre and queer theory. Early on, I heard from Vince who was about to publish his first novel. We quickly became friends. At some point, Vince came up with the idea of publishing an anthology of gay horror stories. As a lover of short fiction, I was really excited about the prospect. That's how it all began. Vince launched Dark Scribe Press, and the project began.