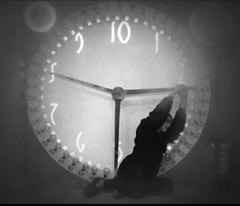 Perusing the Wall Street Journal I came across this disturbing trend in the retail sales industry. There is something oddly similar here to the perfunctory roles victims in horror films play, where, more often than not, character-driven actions are replaced with expedient, redundant, superficial actions dictated by a script writer to fit his by the numbers use of hackneyed terror mise-en-scène. Leaving an audience with a sense of quantity importance, not quality importance, dissatisfaction.
In the article Retailers Reprogram Workers In Efficiency Push, by Vanessa O'Connell, she reports "Retailers have a new tool to turn up the heat on their salespeople: computer programs that dictate which employees should work when, and for how long."
Cue Midnight Syndicate's ominous music to play in the background as you continue reading.
Ann Taylor Stores Corp. installed a system last year. When saleswoman Nyla Houser types her code number into a cash register at the Ann Taylor store here at the Oxford Valley Mall, it displays her "performance metrics": average sales per hour, units sold, and dollars per transaction. The system schedules the most productive sellers to work the busiest hours.
Contrary to Number Six's (Patrick McGoohan) "I am not a number, I am a free man!" defiant outcry in The Prisoner, it appears the retail industry is hellbent on doing just that: quantifying a person's work life into a series of statistical numbers to bolster the bottom line. Only the Village by the sea, where Number Six is held captive, has become the mall, and the determined Number Two, always looking for ways to force Number Six into submission, is now your typical retail chain determined to squeeze every cent of productivity out of its employees. To be fair to retailers, with spiraling costs associated with acquiring and distributing merchandise to sell, and the shrinking average shopper's budget for spending, they are looking toward workforce-management systems to improve productivity and cut payroll costs. On the negative side of all this, the word quality is not a buzzword associated with this initiative; quality of life and a reasonably stress-free working environment are not great expectations here either.
Some employees aren't happy about the trend. They say the systems leave them with shorter shifts, make it difficult to schedule their lives, and unleash Darwinian forces on the sales floor that damage morale.
The buzzword here is Darwinian. The article goes on to cite instances of people stealing sales away from other employees at one retail store, and the establishment of standards specifying how long it should take to greet a shopper (3 seconds), how long to help someone trying on clothing (2 minutes), and how long to fold a sweater (32 seconds). Employees are also ranked by their sales quota, which could have negative consequences for weekly pay and hours worked. In a closing note, the system could be used to more efficiently schedule managers, too. Well, what's good for the goose is good for the gander, I suppose.
So much for the notion of a rewarding work experience. This sounds like an upcoming Joe Hill novel.