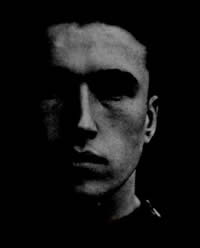 Many bitch that we don't read anymore, but I don't think that's true. I think many are just waiting for the novel to catch up with their expectations of entertainment. There will always be a place for word on paper, but what DeadBooks.com represents is where the novel may be headed: what its true potential can be once it's ripped free from the wood.--Hasso Wuerslin, author of The Deadbooks.
It is close to 10:00 PM on a Sunday night and I am reading, watching, and listening to The Deadbooks, Hasso Wuerslin's self-termed hyper-serialization of the unpublished science-fiction and horror novels in his Deadbooks series. Chapter One had me thinking he needs to work on his Flash skills more. By Chapter Two, I started getting into the mysterious town of Landsgate, Vermont, and the greatly confused Will Lant, who is not sure why he is where he is, or what the dreadful mistake is he thinks he's made. Those 'Missing Person Will Lant' posters he keeps coming across don't cheer him much either, especially when everyone else is missing in the small town. By Chapter Three, I wanted to learn more about the home of Eddie Ranch--'who looked bug-shit crazy'--and what was in the cellar. The Deadbooks hyper-serialization, in spite of the loading...loading...loading message that pulsed between pagescreens, began to intrigue me and my interest in the story grew from chapter to chapter.
Maybe Wuerslin is on to something here. It's rough around the edges, sure, and sometimes the voiceovers grate on your ears, but given where printed media, audiobooks, gaming, and the Internet are poised in this digital age, Wuerslin may be a pioneer in creating a novel experience by immersing the hyper-reader into his bizarre world of Landsgate, Vermont. This hints at other applications beyond the Internet. I recently visited my local Borders book store and stood amazed at the 75th Anniversary issue of Esquire Magazine with it's electronic ink (e-Ink) cover. It was primitive, true, but I was giddy all the same. Within a few years, we will be reading, listening, and interacting with our electronic paper magazines and books in ways that will combine what we do separately now in various mediums. Who says wireless reading devices like the Kindle cannot be used more creatively with multimedia-stylized novels--something short of a game but more than a printed novel, in much the same way that Wuerslin is e-Publishing his stories now.
According to Wuerslin, The Deadbooks encompasses 150 chapters, involves 100 actors (okay, his friends and family I am sure), and the cutting-edge sounds of musical artists worldwide to provide a mash-up of story-telling techniques. You can experience the first seven chapters, then pay a small amount to read the rest.
I asked Wuerslin to step into the closet for a brief chat about his work.

What led you to hyper-serialize your novels, The Deadbooks?
I had nothing to lose. I was in a place of dead ends, with no end in site. I had been struggling to find success in acting and screenplays out in LA, then SF/Horror novels in VT; nothing was catching. Lots of agents and managers trying their best, nothing succeeding. I had a lousy job and children racing towards me from the future. And perhaps even worse, back in '99, I could feel the coming wave of creative content that was going to inundate the Net. Whatever field you were in, it was no longer just about competing for attention from the establishment – example, publishing houses - it was about competing with every content creator in the world who did what you did – which,back then for me, was writing SF/Horror novels. I remember going to a self-publishing site and seeing the hundreds and hundreds of horror novels available for sale. Impossible to breathe. So I decided to kill something – my books. And that led to a rebirth.
Zoc Note: I just heard the collective sigh of every writer, including me, nodding in somber agreement with what you just said.
How much time and effort does it take to mash-up a typical chapter, and how do you come up with the graphics for it?
It depends on how much you want to give and what your skill sets are: Flash, Photoshop, Soundforge, etc. I always recommend to people that they think of each page as its own moving canvas. There is a layer of words that can shift and change. And sweeping in and under like the wind, comes the voice-overs, the SFXs, the music. It's a dance of our two major story-telling methods: film and novel (though there's a point in Deadbooks where I tip my hat to first-person-shooters, me being a fan of).
Sometimes the novel leads because a novel's great gift is its ability to let us walk deep within a character's thoughts. Sometimes film will lead, because there are times when image and sound are far more important then another thousand words. And sometimes… they both come at you at once, and
that's where things get interesting.
A Hyper-Serialization can be as simple as words with an image – for instance a gardening book for zombies. As you read, various plants fade in an out, suggesting planting methods, time of night to water, etc. Or you can complicate things by showing the zombie moving about his garden, reading the directions, playing with his hoe. Or even more, adding the zombie's growls as his hand falls off into the hole he was just about to put a tomato plant in.


How did you get the actors involved in this project? What motivates them to contribute to it?
I went after natural actors. Most of us know people like this. They just have a way of using their face, voice, body to get their point across. Most had never done "formal" acting but all were open to it. And the people I chose already looked in many ways like the characters – type casting. A number of people had to be bad guys, and I'd find myself saying to them, "I know you're not a jerk like this in real life, but I need you to act like you are."
So for these actors, probably the most difficult part of the shoot was the separation of voice and body. Most people don't realize how much they use their body to help get their point across when they talk… or scream. This shoot went like this: one day was all images, from all aspects of their scenes. Followed the next day by voice-over work. So yesterday, as they were crying their lines in hopeful despair, all I was doing was catching their image of that moment. Now 24 hours later (or sometimes weeks later), they need to put that hopeful despair back into their voice without really using their body and knocking over the Mic. A hell of a challenge for anyone.
You have musicians from all over contributing their talents to each chapter, too. How did you get them on board and how is the music chosen?
Right after 911, I started looking for the music. At that time, there was a great outpouring in the world about helping us, all getting together, standing as one, breaking down barriers between people, that sort of thing. And to me music has always exemplified that noble trait in humans. So I decided I wanted as many countries contributing music as I could find. I stopped at about 40 because that was enough, though if you had told me then that I would eventually use close to 140 songs in this project, I would have scoffed.
As many of you may have noticed there are many song styles. The choice of the songs was always dependent on what has happening in the chapter. Chapters are mood-shifters. One moment they're sad, then excited, then scared, etc. Each song is picked for the mood at that moment in the story.
What's the one question you would like to be asked, and what's your answer?
Did you intend to have a Blair-witchy feel about the DeadBooks Project? Yes, I'd like everyone to realize that I'm not big media; I don't have 40 million to spend. I'm an underground content producer. I'm Blair –witchy – rough around the edges at times but damn cool in content (at least in my humble opinion). And yes, that was a back massager! And yes I did want you to recognize it.
I could have photoshopped it to all hell, but I didn't want to. That back massager makes a great repair Bot, and I wanted you to spot that, and then I wanted you to laugh!
Do you see your hyper-serialization extending to other delivery platforms--the Kindle is one that comes to mind?
I sure do. As time passes, I'm not really sure if Deadbooks.com changes what the novel can be, or is really more about combining story telling-techniques into a new form of entertainment. Probably it's both. But if we're just talking about the novel, then I think the novel's getting ready to morph, just like music videos morphed out of the song. And just like music, both forms will coexist side by side. Just think of all the nonfiction books that could explode off the page if they were Hyper-Serialized! The Kindle's going to change to handle this new form of book. Actually if they're smart, they're already working on it.