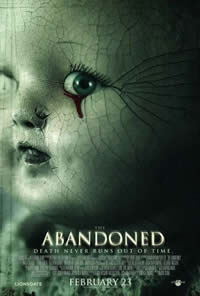 Zombos Says: Good
Russian horror movies are a lot like those matryoshka wooden nesting dolls: the horror is nested deep within cultural metaphors that quickly open up, again and again, to reveal an allegory at its heart. I'm not very good with allegory. Looking over my notes for the The Abandoned I have 'Why?' jotted down a few times. That's not to say these are bad in this case. It just means I'm not good with allegory—or metaphors for that matter.
Even if you're not good with metaphor and allegory either, director Nacho Cerda and writer Karim Hussain unfold an intricate and unrelenting story that looks like a ghost story until it opens to reveal something else. Inside this ghost story is another story about a wicked house deep in a dark, evil forest surrounded by water—looks like a metaphor to me. Inside the evil house are creepy, white-eyed ghosts—heavy on the metaphors, maybe toss in a little allegory here also. There is also a locked door in the flooded basement. Something waits behind it to be freed at the stroke of midnight on her birthday. But what is it and why?
"It is not a Russian horror movie," said Zombos, derailing the caboose in my train of thought.
"What?"
"Director and co-writer, Nacho Cerda, that's not a Russian name. Cerda is a Spanish director. Did that controversial movie, Aftermath, back in 94." Zombos flipped to the next page in his magazine and crossed his legs.
"But it was shown in—"
"In Bulgaria, not Russia." He turned another page.
"Even so," I thought out loud, "there are Russian actors, art directors, production and second unit directors involved. And Spanish horror often is filled with metaphors and allegory. Just look at Del Toro's The Devil's Backbone, or even Pan's Labyrinth. I think my use of the matryoska dolls simile is still valid."
Zombos looked up at me. "And those insufferable Higglytown Heroes are matryoska dolls, too. Why not use them, then?" He crossed his legs in reverse and flipped another page.
I was beginning to hate multi-nationally produced horror movies.
As I pondered where I was going with all this, I watched the rain spatter across the library's windows. My mind filled with images of Twinkle and Eubie being chased by ghosts in a dark and decrepit Higglytown Town Hall. Perhaps I should tackle this review using a different perspective?
That's it! Perspective!
From the perspective of Marie (Anastasia Hille), who travels to her family home after forty years of not knowing anything about it or her biological parents, this soon becomes a journey of frightening discoveries. The opening scenes, filled with rolling camera views, close-ups of frightened faces, and beautiful, but ominous storm-filled landscapes, show the bloody tragedy leading to her adoption.
Now she returns to Russia, reluctantly looking for answers about her past, and not fully sure why she's bothering to find out. She heads to the countryside and hires transportation to take her to her family's home, deep in the woods. The only way to get to it is over a bridge as it's completely surrounded by water.
More metaphor, perhaps?
If that weren't foreboding enough, the superstitious country-folk also think the land is cursed. One blind old woman tries to keep her from going, tugging on her arm and pleading with her in Russian. I thought back to how Renfield ignored the same warning in Dracula and headed to his doom.
Anatoliy (Carlos Reig-Plaza), the truck driver taking her deep into the woods to "the island" where her parent's home quietly decays, is gruffly laconic and full of foreboding stares and glares. Driving for hours, he stops the truck in the dead of night, in the middle of nowhere, and leaves her alone as he disappears into the forest, mumbling something about going on ahead. Yes. Alone in that forest; the cursed one filled with eerie sounds and odd shadows darting in and out of her sight range. Of course Marie jumps out of the truck to go find the errant truck driver, in the dead of night in the middle of nowhere IN THAT SPOOKY FOREST and right after the truck radio DIES OUT; but not before playing something that sounds awfully like the words 'Satan will eat you alive' played backwards in a kind of freaky static choking way, ending in silence.
Using the flashlight she rummaged from the truck, she makes her way to the house. Once inside, the sounds of a child crying and odd rustling, beautifully enhanced by music, lead her upstairs. Someone keeps walking around, just out of her sight. She finds a zombie-like, blanched-eye doppelganger, dripping wet, who attacks her.
But why?
Water and fish metaphors abound as she's knocked senseless and wakes up to find another person, her brother, in the house.
As siblings are prone to do, she knocks him senseless, but when he comes to, they explore the house together, especially the locked door in the basement from which her brother, Nicolai (Karel Roden), heard moaning. Both realize they've been lured back to the family homestead by an evil presence. Why? Who or what is behind all this? And why does the house seem to be alive?
The Abandoned is a perplexing and demanding horror movie. The cinematography, acting, makeup, and special effects combine to create a surprising experience from a modestly budgeted movie. While the story lags a bit in the middle, as brother and sister explore their situation, the denouement is chilling. Like those nested wooden dolls, it looks like a horror movie on the outside, but when you start to open it up you will find a ghost story within a haunted house story within an evil in the forest primeval story. And even then, much remains unanswered, leaving you wondering why and perhaps a little scared, too.