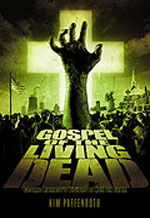 "Let's see," Zombos said, "he likes The Prisoner, Xena: Warrior Princess, and Robot Wars?"
"Check," I said.
"And his favorite joke is what?"
"Why did the monkey fall out of the tree?"
"Hmm. I don't know. Why?
"Because it was dead," I said.
"How sublimely Zen-like." Zombos put his hand on his chin. "Definitely, we must interview him."
"He loves cooking, too."
"Amazing," Zombos said. "What doesn't he do?"
"Not much, apparently," I said, shaking my head.
"And you say we don't need to click two pencils together?"
"No pencils needed," I said.
"Wonderful."
Kim Paffenroth — author, theology professor, zombie-film maven, and a man who knows a good Zen-like joke when he hears one — graciously consented to chat with us about his fascination with George Romero's zombie films.
In his thought-provoking book,the Gospel of the Living Dead: George Romero's Visions of Hell on Earth, Kim helps us put our scholarly thinking-caps on to discuss the underlying philosophy, sociology, and meaning so skillfully hidden under all that zombie — I-smell-a-buffet — horror, in an entertaining read that will make you a god among the chip-and-dip party circuit.
"Don't forget to mention the book has been nominated for the Bram Stoker Award for Superior Achievement in Non-Fiction," Zombos said.
"I won't."
What brought you to theology and the study of religion?
I was raised as an atheist. But even more importantly, my parents always drummed into me to think for myself, not to settle for someone else's answers. So, when I found that their atheism wasn't working for me, I investigated Christianity and found it a much better fit for my outlook on life. Of course, I still apply that skepticism and that inquisitive nature to my Christian beliefs, and I know a lot of Christians find that disconcerting. A lot of non-Christians find it unusual, too, as though being a Christian means just not questioning anything and being a passive, blind follower. It's a very unfortunate stereotype, to say the least.
How does a theology professor wind up writing a Bram Stoker Award nominated book about George Romero's zombie films?
Anything that people find beautiful, or meaningful, anything that sticks with them 20 some years after they leave the theater – I believe those kinds of works are worthy of analysis and examination, and for me that includes Romero's films.
You examine zombies, their victims, and the society they live in with a Christian perspective. Why is that important?
The Christian perspective? Well, I think Christians often dismiss everything out there in the popular culture, and don't think seriously about how it might inform their beliefs. That's a loss and impoverishment for them, and it threatens to make their beliefs narrow and simplistic. And ultimately, I believe, even for a non-Christian, they may find that there is much more overlap between the Christian and the humanist perspectives than they thought. We're not all homophobes who think that evolution is the devil's teaching. A lot of us have many of the same values and ethics as our neighbors. I hope I can get some of that across to readers and make them more tolerant and more open to dialogue, with anyone outside of their own community or group.
While horror cinema is usually castigated or denounced by the religious community in general, you choose to focus on it to explore theosophical and social themes. Why? And what can we all learn from this exploration?
There are many expressions of God's truth other than the Bible, and there are many truth-tellers out there who are not Christian, and yet from whom we can and should learn. And I would also say that, within the Bible or outside of it, there are some truths that are ugly or scary. The Book of Ezekiel is scarier than anything Romero will ever put on film. So is the Book of Job, or the end of the Gospel of Mark. For me, the most fundamental Christian teaching is that there is evil in the world, and that evil is so powerful and so ingrained in us, that we can't get rid of it on our own. If that's not a good foundation and perspective for watching and thinking about horror, then I don't know what is.
It would seem that early classic horror films dared to include God and Christian symbolism in their stories (1931's Frankenstein and Dracula come to mind). Much of today's horror eschews religious themes and symbols. Why do you think that is the case?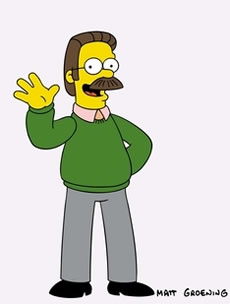 Besides the stereotype I first mentioned – that all Christians and all Christian beliefs are just stupid — there's a slightly different, slightly less insulting one. Let's call it the Flanders stereotype — the idea that anything or anyone who is Christian is "nice" in that sugary, naïve, annoying way that Flanders is. Not very scary, and not very capable of dealing with evil, either. Again, read the scary parts of the Bible, or read Dante, or Dostoevsky, or Flannery O'Connor, and I think it's clear these people knew what it was to be dark and edgy a lot better, a lot more deeply than most of us today. It's almost like a lot of horror today is just a matter of shock, of what would disgust or repulse your parents, rather than what I would call "disturbing," which is an adjective I'd use for all great literature or art — it's supposed to disturb you, shake you up, make you uneasy.
In chapter four of Gospel of the Living Dead, you discuss the 2004 version of Dawn of the Dead, and how it includes important elements of human life not present in the other films. What are those elements, and why are they important?
The movie's just more upbeat than Romero's, except possibly for his most recent, Land of the Dead, which ends on a pretty optimistic note. What I found striking in the Dawn remake was just how likeable and well-acted all the characters were. Other than Steve, everyone is really quite heroic in some way. And again, other than Steve, everyone grows and changes in the course of the film. I found that very moving and powerful. (This is NOT to say — as one very careless reviewer accused me of saying — that the remake is better than the original. I have never said or implied that, and I don't believe it.) And in terms of social criticism, I thought the remake lost almost all the consumerism spoofs, unfortunately, but added some really trenchant and hilarious digs at homophobia — that in the midst of hell on earth, with raging cannibal humanoids trying to eat you alive, that some men would still be more grossed-out by the existence of a gay man in their midst, than they are by the real terrors that surround them. That's good satire, in my opinion, and I hope it helps some people see how absurd they act about homosexuality.
Do any other horror sub-genres explore the same themes that are explored in Romero's zombie films?
I think any horror that includes a "monster" has to include or imply some consideration of how we ourselves are "monstrous" and evil. This is made more obvious when the monster is human at some level, as with vampires and werewolves, which are quite similar to Romero's zombies, but with their own little spins on evil.
What do you think future zombie movies will, or can, bring to the horror genre overall?
I think we're going to continue to see the zombies remind us of all the stuff in our own lives and societies that sickens us — the racism, violence, and hatred that will always tear us apart and eat us alive, just the way the undead do. We'll see zombies released because of ecological disaster, or warfare, and we'll see the survivors act just as brutally and inhumanly as we've seen them act throughout the Romero corpus, because that's the kind of animal that we are.
What future projects are you working on?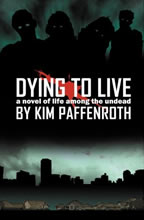 My first zombie novel, Dying to Live, will be out in April from Permuted Press. I'm working on the sequel to that, editing a collection of zombie short stories, and also writing my own short fiction. It's been a really good year, and I'm having a great time.
ZC Note: After seeing Ghost Rider, there was one scene that pushed another question to my mind; I thought Kim would be the best person to ask about it. Here's my question and his answer:
I know you've seen Ghost Rider. One scene, which is a common theme that runs through horror films dealing with the devil and his evil minions, places evil (in this case, Blackheart) in a holy place — here it's a church. Blackheart, the son of Mephistopheles, casually walks down the aisle and frightens the wits out of a priest.
In many horror films, while evil runs amuck, God and the angels are noticeably absent; instead, mortals are the ones fighting the evil, not heavenly hosts. I always found that to be an odd dichotomy: on the one hand, you have devils and demons shown freely wreaking mayhem with their powers, yet no one on the Heaven-side is ever shown aiding the usually overwhelmed mortals fighting those pesky evil beings. Am I missing something here?
Oh no, I think you've picked up on what the film makers want to convey. This is a pretty clear signal that organized religion is empty and impotent for them. And, after what we've seen in the Holocaust and other genocides, I hardly blame people for thinking that organized religion isn't going to save them in a crisis. What I find equally interesting, however, is that the hero almost inevitably turns to something very much like conventional, Christian morality. He practices self-sacrifice, restraint, discipline, and usually mercy. If, in order to defeat his evil foes, he turns to violence or revenge, then he is overwhelmed by it (e.g. Darth Vader, Venom) and destroyed.
You can keep up to date with Kim Paffenroth at his blog, and read more about his writings -- and love for 80's Metal Music --  at his Geocities homepage.  And the next time you watch a George Romero zombie movie, you'll certainly appreciate it even more.