In the upcoming film, Angel's Blade (2008) a young girl is possessed by Mayan spirits. When she dies, the spirits live on, haunting a lonely stretch of road. A man finds that the spirits are responsible for the death of his wife. Unfortunately, the spirits have followed him home - and are now after his young son's soul. Actor Jeb Toms steps into the closet to talk about himself and his role in Angel's Blade.
Tell us how you got involved with Angel's Blade, and about the character you portray.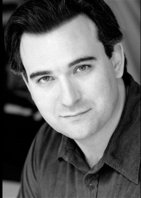 I auditioned for Angel's Blade last December after see the ad in Backstage.  After the holidays, I was called in to read for the role of Jeff and by the end of February, Robert Stock, the director/writer, offered me the role.
Jeff is the "everyman" in Angel's Blade.  He's a good guy, a normal guy, trying desperately to live a simple life.  He's in a failed marriage with an alcoholic and verbally abusive wife and a young son he adores. 
Jeff 's world is turned inside out after he encounters the title character, Angel, and her evil minions from the dark side.

What preparations did you make for the role?
Good question - Even though this is a horror movie and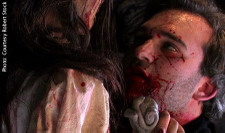 there are fantastical elements in it, the characters are real people with real emotions dealing with some incredible events. 
I read the script of course and familiarized myself with the story and then I turned my focus towards the character of Jeff.  I usually start with a few simple questions in building a character: what do I want? / what is preventing me from getting what I want? / what actions do I take to overcome my obstacles?
I usually try to build a character from the inside out.  Discovering who he is on the inside and then letting that grow to manifest itself in real human behavior, how he walks, how he talks, how he may carry himself under stress, etc.. 
What challenges, if any, did you face on the set during filming? And how did you overcome them?
My first day on set was in a snow storm in Massachusetts in the height of winter.  I was outside all day and well into the night wearing a Santa suit and carrying a corpse.  My second day of filming was in a cold studio covered in blood while being strangled and stabbed by a floating demon with long razorblade fingernails.  I'm still teasing the director, Robert Stock, about those first two days.  Though they were cold and bloody and long hours, I had the time of my life!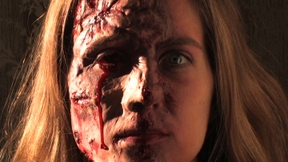 Who are you favorite actors and why?
Wow, so many to choose from and so many have influenced and inspired me.  Right now, my two favorites are Christian Bale and Anthony LaPaglia.  Bale is fantastic to watch as he really morphs into his characters.  I'm still amazed at the transformation he underwent from The Machinist to Batman Begins.  LaPaglia is extremely influential to watch because he is so simple and steady in his performances.
Can you share with us any tips or tricks with acting in general, and when acting in a horror film in particular?
I'm a firm believer of working from the inside out as I mentioned earlier.  Whether you're playing a role on stage or in front of the camera and whether it is a real person or a fantasy creature/monster/madman, there will be real feelings and emotions driven by real desires. 
Every character wants and needs something and every character has some kind of obstacle preventing him from getting what he wants.  The journey in overcoming those obstacles is what the process is all about it.
And most importantly, when in front of the camera - Keep it real and keep it simple.
What led you into acting? And what keeps you acting?
Hmmm, well John, as cheesy as this may sound, here's where I come full circle considering you and I met at a Fangoria Weekend of Horrors event.  I was led into acting when I was 12 yrs old and walked past Fangoria issue number 56 sitting on the top shelf in a newsstand in North Carolina.  As soon as I saw that cover, I knew I wanted to be a monster in a horror movie.  It was the strongest "calling" I had ever felt and to this day, I can't top that single moment.  I knew this had to be my future.
I grew up reading Fangoria and watching horror movies and then somewhere along the way, I got side tracked into a Theatre degree and then a Masters degree in Acting and ended up performing the likes of Shakespeare, Moliere and Chekov.  It's only been in the last two years that I've started to switch gears and leave the theatre behind and focus on film. 
What keeps me in acting is the love of the process and that little kid in me that wants to play.  It's a tough field to make it in and every gig has the potential to be your last so I stay in it not for fame and fortune but honestly, because it's fun. 
What question would you like to be asked, and what is your answer?
I'd like to put the details of the Angel's Blade 2006 premiere below and invite any readers who may be interested to come out and see the film.  I'd also like to say thanks, John, for this interview and giving me the chance to babble on about acting and horror movies. 
Thank you Jeb.
And here's the lowdown on the upcoming showings at the Bellmore Movies Theater in Bellmore, New York.
2006 NY Theatrical Premiere of Angel's Blade
Location
The Bellmore Movies Theater
222 Pettit Avenue
Bellmore, NY 11710
Phone: 516-783-7200
Directions
By train: Penn Station, take LIRR to Bellmore Train Station (theater is directly across from station)
By car: from NYC – take LIE to Northern State Parkway to Meadowbrook Parkway South, exit Sunrise Hwy (27 eastbound), approx. 2 miles, take left on Bedford Ave., next left onto Pettit Ave.
Tickets
$8.50 per person
Premiere: October 27 at 7:30 pm - with cast and crew
If you can't make the premiere, the remaining show times are:

Friday, October 27:   9:30 pm
Saturday, October 28:   1 pm, 3:10 pm, 5:20 pm, 7:30 pm, 9:40 pm, Midnight
Sunday, October 29:   1 pm, 3:10 pm, 5:20 pm, 7:30 pm, 9:40 pm
Monday, October 30:   7:30 pm and 9:30 pm
Tuesday, October 31 (Halloween):   7:30 pm and 9:30 pm
Wednesday, Nov 1:   7:30 pm and 9:30 pm
Thursday, Nov 2:     7:30 pm and 9:30 pm