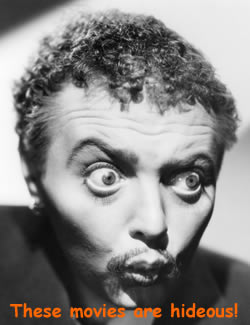 Beware! The members of the League of Tana Tea Drinkers dig six feet deep to uncover their favorite worst movies. Beware!
Final Girl goes all ugly over The Cavern!
...You know, if today's movie, The Cavern (2005), had arrived with its other title, WIthIN, plastered on it, I may have skipped watching it on principle and saved myself some pain.

Mad Mad Mad Mad Movies doesn't find pleasure in Goregasm!
...Think of a GWAR video, only without the showmanship, musical proficiency, and insightful social commentary. Think of a Troma movie without the high production values and delightfully cosmopolitan sense of humor. Think of all those dead baby jokes you and your friends used to tell in junior high, but without the rapier wit. Got it? Formed a picture of that movie in your head?
Evil on Two Legs couldn't run fast enough from End of Days!
...the first thing one notices is that this film is dark. i don't mean se7en dark, like in terms of "mood." i'm talking doom3 dark without the flashlight mod kind of dark. this is what happens when you let the director be his own dp… (pun alert) in light of this, i've taken the liberty of brightening up the screenshots so you can actually make out what's going on.
Love Train for the Tenebrous Empire wants its time back after Exterminator City!
...Disclaimer: The opinions reflected in this article are mine and mine alone and don't reflect the opinions of the fine, upstanding, and thoroughly delightful gentle people at "Ultra Violent Magazine." Even though those bastards sent me this movie and expected me to review it for their publication without any appropriate warning.
Continue reading "LOTT D: Pick a Post Sensation 17
Worst Horror Movies" »