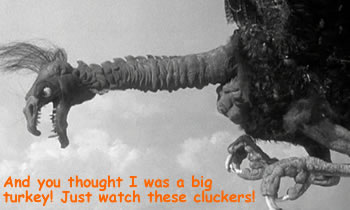 You're stuffed more than the turkey was, the parade is over, and your relatives are still picking, just not on the food. Fear not. The League of Tana Tea Drinkers delivers some cinematic gobblers to make you smile even as Uncle Lloyd tells that same old story that same old way yet again, and everybody leaves with leftovers, leaving you with the bones and the bill.
Reflections On Film and TV takes us Home Sweet Home, where the horror isn't:
Conveniently, it's both Thanksgiving-themed and a turkey. Advertised with the ad-line "The Bradleys won't be leaving home. Ever," Home Sweet Home(1981) is the not-so-riveting story of a deranged serial killer and his holiday rampage.
Evil On Two Legs dares Twilighters' rage with his roasting of Twilight:
my apologies to any twi-hards or hard-lights or whatever twilight fans are called… but wow, this movie is bad. in my mind, it's so horribly silly and overdone that it actually pushes the dial all the way around on the quality meter, breaking through to the other side… this is truly a movie deserving of the description "so bad, it's good."
Igloo of the Uncanny saves the drumstick and gives us The Giant Claw instead:
We don't have Thanksgiving in the UK ( or in Igloo Land) so I'd probably just nominate The Giant Claw as my Golden Turkey, which is rather apt because it's a big bird. I seem to recall that last Thanksgiving the classic Horror Film board had a banner of the Giant Claw served up as part of the feast.
Uranium Cafe spills gravy all over the carpet reaching for The Creeping Terror:
There is some evidence that the movie never even had a theatrical release. No reviews exist from 1964 nor are there any theatrical release dates recorded. It began showing up on Creature Feature type shows about 1976. I thought it was strange that no theater posters existed on the net to download.
Kindertrauma cleans their plate and then some with this list of horror movies:
With Thanksgiving you have to get creative and as always, being creative involves rejecting reality outright. None of the following movies actually revolve around Thanksgiving per se but, if you squint your eyes, stand on your head and drink plenty of moonshine, these ten films just might get you through the turkey of all holidays.
Cinema Suicide goes for thirds with Deafula, a horror movie done completely in sign-language. (And a voice-over is provided for those who do not understand sign-language!)
for every strange, Psychotronic flick I watch, there are a hundred more with even weirder themes and worse acting. However, with Deafula, I'm fairly certain that this is the real deal. I've never seen anything like it. Nothing. I'm also fairly certain that I'll never see anything like it again.
Lost Highway brings The Stuff for dessert:
In "The Stuff"people aren't so lucky to have passive dessert snacks. Instead some backwoods hillsman decided to taste something he sees bubbling up from the ground…because when you can't identify something it's always a good idea to taste it! Before you can say mass marketing, the yogurt like substance is on every shelf and in every refrigerator in America and appearing in lots of bad 80's commercials.
And last but not least, Zombos' Closet of Horror brings holiday cheer with Jack Frost:
While the script idea for a serial-killing snowman is a novel idea on paper, the execution of the story, which could have been on a par with Shaun of the Dead in its wit and visual humor, falls very short; and you can't blame it on low budget limitations either. In the hands of a Corman or a Troma sensibility, low budgets spark creative direction with the use of cheap but imaginative set pieces and crisp scripting. That didn't happen here.
Happy Thanksgiving!