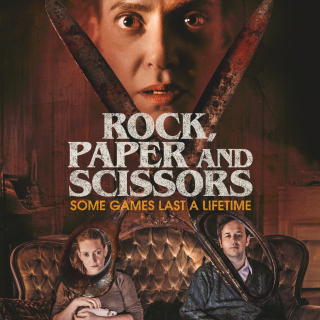 Zombos Says: Good (Though it unfolds like a slow pull on a rubber band that's suddenly let go).
Macarena Garcia Leniz and Martin Blousson's Rock, Paper and Scissors is a psychological horror movie. It unfolds like a long group session with a distracted therapist where little backstory tidbits play out in the current moments as the patients act up for attention, with both past and present thoughts mixed together as if they were one and the same. The pacing can be slow for Americans who are used to fast food cinema, but the performances razor-line on a mounting sense of odd behaviors, and the slow pull on a rubber band storyline builds the tension and guesswork as to who is being truthful and who isn't, then suddenly snaps when let go toward the end. Warning! One scene made me close my eyes. It happens with little forewarning. You may need to close your eyes, too. It brings new meaning to the saying "if the shoe fits."
In this story there are three patients: Jesus ( Pablo Sigal), Maria Jose (Valeria Giorcelli),  and Magdalena (Agustina Cervino), and their group session begins when Magdalena pays a visit after a long absence.  Unfortunately for Magdalena, she doesn't fully know what she's in for. Their father has died and she has come to put the estate in order and sell off shared assets like the house that Jesus and Maria have isolated themselves in. Of course, Magdalena's unexpected arrival is not really welcomed, but they smile and invite her in. The relationship between the three becomes more ominous and more convoluted the longer she stays: and worsens when she can't leave.
I saw the word "masterful" used in some of this movie's reviews I've glanced over. That's one word that really needs to be stricken from the lexicon of critics and reviewers. It has little meaning or weight anymore due to pandering misuse. The direction here is not masterful, it is carefully measured. So much so that you don't realize the subtle shifts going back and forth in the relationships between Magdalena and Jesus, Magdalena and Maria, and Jesus and Maria. Perhaps the oddest relationship is between Jesus and Maria, but it is disrupted as Magdalena struggles to find a way out of her suddenly dire situation as Jesus is helpful at first, but begins to fixate on his home movie. A weird movie that has Maria dressing up as Dorothy Gale and treating a little furry animal as Toto.
With the three of them wrapped tightly into this small world of rooms and eccentricities, the story relies heavily on their interactions, us inferring their intentions, and the sudden twists taking place as each struggles to remain the same or to escape. Oddball snippets of Jesus' movie  appear as the story develops along troubling moments. Maria is endlessly watching The Wizard of Oz, imagining herself to be Dorothy Gale, and even dressing up as that little girl from Kansas, waiting to be whisked away to Oz. Jesus fixates on making his version of the movie, but Magdalena's arrival and subsequent stay has him putting her into the movie too, much to Maria's annoyance. But is she annoyed? Is Jesus really the saner person in the house? Or perhaps a better question is who is the craziest?
A turn for the worse happens when Dorothy's ruby slippers are too small for Magdalena to wear as she is pushed into the role. I say Dorothy's slippers because the meaning behind them revolves around being able to leave the closed-off world of Jesus and Maria. A turn for the worse happens when Jesus pulls out a rifle, seemingly annoyed that his movie cannot be completed as he wants it to be when Maria rethinks her relationship with him and his movie and where her home really lies. 
For the story we see there is little backstory given, though it is implied from the long absence of Magdalena, the stifling home that Jesus and Maria have sequestered themselves in, and the death of their father. They may like to play games, but their preference had been for only two players. Having a third to contend with changes the rules of the game, making who wins a matter of life or death.