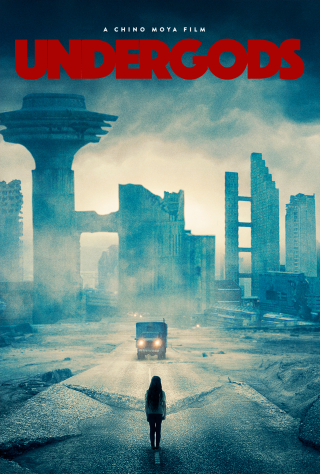 Zombos Says: Good for film students, arthouse audiences, and anyone looking to think about and question an intentionally deep and confusing movie.
IMDb lists Undergods by Chino Moya as a thriller and fantasy. That is misleading. Perhaps a clue to what Moya intended is found in the glimpse of a book by E.T.A Hoffman, being read by one of the characters. The movie's use of colors, pacing, and decay across the stories in this anthology also point to a tone and mood that leans to the gothic and horror. There is also the sci fi element that directs Moya's odd editing and intentional obfuscation as he bounces us back and forth in time between post-apocalypse and pre-apocalypse. This movie is not one you would normally want to watch but it is worth watching.
There is a lot buried in the stories here but this is not a mainstream film. I would expect it to be a cult favorite in due time, good for midnight viewings with more action-packed fare or a go-to film for student studies. Oh, and the thriller part of it is completely wrong: Undergods is neither thrilling or suspenseful; it merely lays out a narrative that could use some time-trimming from its 90 or so minutes run-time. You will probably lose attention at the 68 minute mark or thereabout, but stick with it. The direction and editing keep actions muted but the actors intense. Either Moya knows how to direct actors or knows how to stay out of their way, but the acting takes the foreground in every scene, usually overwhelming the dystopian facades it takes place in.  
"Wait a moment," said Zombos. I looked up from my review-writing.
"You are getting a bit long winded here with academic back alleys," he said.
This is why I hate writing movie reviews when he's around. He's a critic of the critic type of person. That can be very annoying.
I stood my ground. "I'm simply outlining my impressions of the movie. I had to sleep on this, you know, to figure out how to approach it when it uses final poster art that's not even about the movie. That girl standing in the decaying ruins of a post-apocalypse while a truck drives toward her is way off the mark. At least I think it is. Now you've got me all mixed up thinking about it. Can you let me get back to my review please?" 
Zombos sipped his Aberlour and squinted his eyes at me. I got the feeling he was mentally holding two fingers up in front of his eyes and squeezing my head between them. I shook that feeling aside and continued my review. Come to think of it, the male characters in Undergods were all being squeezed. I wonder if that was intentional too.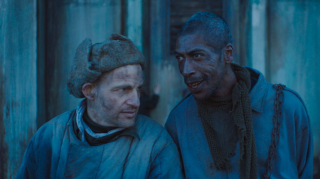 The time-shifting begins with two buddies (Johann Myers and Geza Rohrig) driving a grimy truck through an urban wasteland of decaying buildings and rotting bodies. They collect the bodies but why? Who is paying them? They also drink gasoline (unleaded I hope), so their mental acuity is questionable. With a lot of time on their hands, they chat, tell stories, share dreams. Cue the first story and time shift to, I'm guessing here, the recent past, to an apartment complex that's empty except for an older couple in one apartment and one tenant locked out of his apartment. Or so he said. Ned Dennehy (he played Scrooge in Dickensian 2015) is the locked out tenant. They invite him in. I would not invite him in. Dennehy has a look that is not inviting. As it turns out, not a good look for the tenants either. An elevator provides the transition to... 
...the next story, which involves a rich man (Eric Godon) who wants to become richer, a daughter (Tanya Reynolds) he adores, and a creepy genius (Jan Bivjoet) who wants to sell his architectural plans. Strangely, this story is told by a father telling his daughter a bedtime story, which is even more strangely being told by one of the questionable sanitation guys picking up bodies and drinking gasoline.  Again, I'm guessing here, but it would fit the fantasy element as Moya kicks around the point of view for us like an empty can. He definitely wants to play with us here, with timeframes, with the people in those timeframes, and the social malaise those people are swimming in. Is he saying these characters are why the apocalypse happened, in general? A society in decline? Or are we still inside the heads of those two buddies as they shoot the breeze?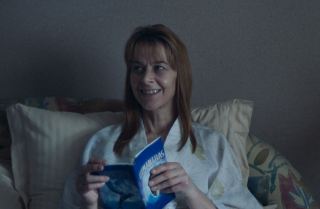 A door forced open later leads to a loopy time wrap from past to present to past, making for a very jarring entrance into those two buddies' world consisting of an endless and mostly dead cityscape of ruins. From there, the final story embraces a more colorful world but one of emotional emptiness for the people living in it. A perplexing return of a formerly "dead" husband (Sam Louwyck) makes it a problem for the current one (Adrian Rawlins). There's well-placed dark humor here, especially with the letters the disconnected and disaffected son puts on his bedroom wall, as if he had to be reminded of what those letters spell out. A karaoke rendition makes for a very uncomfortable scene and is the only heated one allowed in the movie. A deeply disturbing but telling (and darkly funny) visit to a social worker makes this story the most perplexing but inherently understandable one of the bunch.
And so the two buddies continue driving for bodies and fresh meat. I'll leave the fresh meat part of it up to you to discover. We may all fall into that category soon enough, but soylent green it ain't.
Zombos took the last sip of his Aberlour, looked down at my review, sighed, and left the room. A reaction, I'm sure, most viewers will have after this movie. But it is one hell of a ride, with emphasis on the hell. Oh, and the techno soundtrack is awesome.