And another press release of particular interest for spookophiles...like me.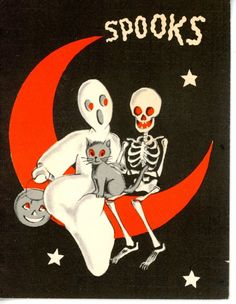 DESTINATION AMERICA LINES UP TRICKS AND TREATS
THROUGHOUT MONTH-LONG "GHOSTOBER" HALLOWEEN CELEBRATION
This October – make that GHOSTOBER! – it's Halloween all month long on Destination America with a celebration of all things that go bump in the night with premieres and extra content so spooky viewers will never want to leave the safety of their living rooms.
The all-new series TERROR IN THE WOODS premieres Tuesday, October 10 at 10/9c with stories from real people whose wilderness retreats were cut short by paranormal encounters. A special two-hour episode airs on Halloween: Tuesday, October 31 at 9/8c. Leading into Halloween is also the world premiere of the two-hour special HELLTOWN on Sunday, October 29 at 9/8c, revisiting the mysterious evacuation of a small Rockwell-esque town in 1974.
But first, kicking off GHOSTOBER are the season finale of HAUNTED TOWNS on Tuesday, October 3 at 10/9c, the return of fan favorite A HAUNTING for season 9 beginning Monday, October 9 at 10/9c, and ongoing new episodes of PARANORMAL WITNESS on Sundays at 10/9c.
"Destination America, delivers all the chills and thrills in October leading up to Halloween and serves up stories of the paranormal all month long on every platform," said Jane Latman, general manager of Destination America. "We are especially excited about our two new shows that are sure to elicit spine-tingling reactions, HELLTOWN and TERROR IN THE WOODS, tapping into nostalgic nightmares much like Stranger Things and It."
On air and off, Destination America has lined up a goody bag of ways to celebrate the scariest season of the year. For a daily dose of special digital extras, check TheHauntist.com, the online destination for paranormal investigation, entertainment and news about all things creepy, spooky, and odd.
Other ahhhh-inspiring activations throughout GHOSTOBER include:
Live webcam at the haunted Pennhurst Asylum gives fans the opportunity to ghost hunt from their armchairs while streaming live on The Hauntist's Facebook page.
Original web series on DestinationAmerica.com provide an extra dose of spooky, including "My Ghost Story," launching on

Saturday, October 7

, featuring real people sharing the scariest unexplainable experience they've ever had.
Fans are invited to watch Destination America's series and specials anywhere, anytime on DestinationAmerica.com. Download Destination America's TV Everywhere app on Android and IOS to see weekly sneak peeks of upcoming episodes and browse the network's entire library of paranormal content including MOUNTAIN MONSTERS, GHOSTS OF SHEPHERDSTOWN, HAUNTED TOWNS, GHOST BROTHERS,PARANORMAL LOCKDOWN, and GHOST ASYLUM.
On air, GHOSTOBER's programming lineup features all-new specials and ongoing paranormal premieres throughout the month, including:
NEW PROGRAMS
Two-Hour Special Premieres Sunday, October 29 from 9-11pm ET
Why did the federal government completely evacuate the small Rockwell-esque town of Boston, Ohio, in 1974? Theories have swirled for decades about what might have spurred the exodus including massive, mutation-causing chemical spills; a plague of paranormal activity; and the town being overrun by a satanic cult. It's because of these nefarious speculations that Boston is now referred to as "Helltown." Now, half a century later, this special investigates theories about the real reasons for the government's sudden seizure of the land.
New Series Premieres Tuesday, October 10 at 10/9c
They went to discover the great outdoors, but something discovered them first. TERROR IN THE WOODS features real stories of people who embarked on a wilderness adventure only to be scared out of the woods by unexplained phenomena. In the series premiere, James and Weste's car breaks down while traveling through Forks, Wash. They begrudgingly accept an offer to stay in an abandoned cabin in the woods, and a night of paranormal terror ensues. Then, Eric loves hiking and camping solo in the wilderness. His latest excursion seemed like every other until he finds himself fighting to survive a mysterious creature.
TERROR IN THE WOODS: HALLOWEEN FRIGHT NIGHT
Two-Hour Special Premieres Tuesday, October 31 from 9-11pm ET
This special Halloween edition of TERROR IN THE WOODS features three stories, including: in the deep woods of Red River Gorge, Ky., Bill and Charisse buy a vacation home where they hope to spend weekends communing with nature. But the cabin of their dreams soon becomes the stuff of nightmares. Images of strange apparitions are caught on the security camera, followed by unexplained bangs and thumps in the house. When the television mysteriously turns on and off, the couple decides they have paranormal company. After some research at the local library, they discover who it is.
RETURNING SERIES
Season 9 Premieres Monday, October 9 at 10/9c
Paranormal fan favorite A HAUNTING returns with all-new episodes showcasing some of the scariest stories of supernatural activity.In the season premiere, paranormal events begin happening in Linda Dravis' home after she returns from an overseas trip. Terrified to remain in the house, Linda and her daughter Kara turn to a clairvoyant in hope that she can reveal the truth of what they are experiencing and find a resolution to the haunting.
ONGOING SERIES
Season Finale Airs Tuesday, October 3 at 10/9c
Follow the Tennessee Wraith Chasers (TWC) ghost hunting team as they investigate America's most haunted towns to collect evidence of the paranormal and find truth – if any – in the legends that have shaped each town's paranormal notoriety. In the season finale, TWC investigates McDonough, Ga., where the Camp Creek train crash of 1900 left dozens of passengers dead.
Sundays at 10/9c
You may not want to watch Paranormal Witness alone if you're easily spooked. Through first-hand testimony, home videos and personal photos, this series brings to life the stories of people who claim to have survived paranormal experiences.