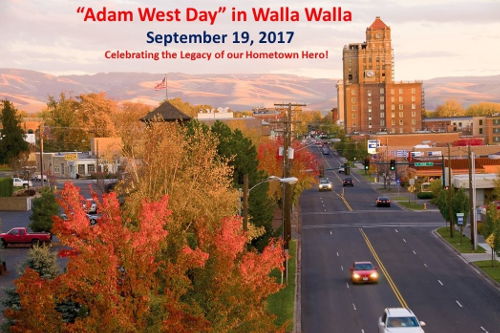 From my inbox...
HOLY CELEBRATION BATMAN! WALLA WALLA TO HONOR ACTOR AND FAVORITE SON ADAM WEST WITH DAY OF FESTIVITIES ON SEPT. 19
'Adam West Day' includes screening of West documentary,
Bat Signal lighting, Q&A panels, music, food, and more
(WALLA WALLA, Wash.) — Quick, to Walla Walla to honor legendary actor Adam West. Walla Walla is celebrating the life of its favorite son on Tuesday, Sept. 19 — known the world over as Batman and later the voice of Mayor Adam West on the show The Family Guy — in a way that only West's hometown can.
Held on West's birthday, as proclaimed in June by the City of Walla Walla, "Adam West Day" will include a day full of festivities. The event includes a showing of West documentary "Starring Adam West", a Q&A panel, music, food, contests, an official lighting of the Bat Signal, activities for kids, and much more.
Adam West died on June 9 in Los Angeles, but his Walla Walla roots run deep. He was born in 1928 in Walla Walla as William West Anderson. He grew up in what was then a tiny southeastern Washington farming community, before moving to Seattle at age 15. After graduating from high school, though, he returned to Walla Walla and graduated from Whitman College.
In 1959, he changed his name to Adam West and began his acting career, famously portraying Batman in the 1960s television version of the comic book hero. Though he moved away from Walla Walla, he returned frequently throughout his life. And it seems most every longtime Walla Walla resident has a personal Adam West story to share.
"Adam West is beloved in Walla Walla like few others, and it's not an exaggeration to say that he was Walla Walla's favorite son," said Ron Williams, executive director of Visit Walla Walla. "So it is only natural for the entire community to honor his life together. And in a way that befits the moniker, 'The town so nice they named it twice,' Walla Walla is inviting his fans from near and far to come join us in the celebration."
Walla Walla, the unofficial capital of Washington wine country with more than 120 wineries, knows how to throw a party. The Adam West Day events include:
Q&A panel at The Marcus Whitman Hotel & Conference Center in downtown Walla Walla with Ruben Procopio, an American animation and comic book artist, animator, and sculptor, who West once called his personal sculptor.

A showing of the documentary "Starring Adam West" at the Gesa Power House Theatre in downtown Walla Walla.

Official lighting of the Bat Signal in the evening.

Live music and kids activities in the downtown Walla Walla Plaza.

The Adam West Experience, a joint effort of downtown Walla Walla businesses. Each participating  business will display a bat sticker that indicates its involvement, which could include a special, a giveaway, or a drink or food item named in West's honor. An award will be given to the three downtown businesses wit the best decorations.
"This is a community joining together to honor someone who they love and that the residents of this city are quite proud of," said Jonathan Grant, front office manager at the Marcus Whitman Hotel & Conference Center and a co-organizer of the event.  "Frankly, it is something we should have done years ago, but I am excited that we are doing it now."
All net proceeds from the event will be donated to Camp Rainbow, a camp based in Idaho for children who are either cancer survivors or are undergoing treatment for blood-related cancer diseases. West was a supporter of the camp.