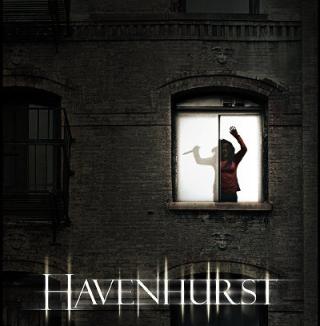 Zombos Says: Good (But an extreme gore effect is jarringly unexpected)
Movies about dwelling places holding dark secrets, hidden passageways, and maniacal intentions are the no-brainers of the horror genre. Just think of Crawlspace (1986), or The People Under the Stairs (1991), or Thir13en Ghosts (2001). Such places take on an horrific character all their own, and a good movie or book presents that character foremost in as many scenes or chapters as possible.
Of course, visually speaking, for a movie it's relatively easy. Just spend as much time as you can in the endless hallways, the old apartments, and that stifling basement you don't want to find yourself in. That will do the trick. Havenhurst has all of that, and old fixtures, the quiet rooms, the spooky closets, and the permanent and transitory residents one would need for the terrors to begin. And a very, very, slow elevator when your dying for speediness. And a dungeon-like basement waiting for you if you misbehave.
Jackie (Julie Benz) takes up residence at the stuffy and musty Havenhurst apartment building after her rehabilitation from her addiction to alcohol. She has been a neglectful and self-destructive mother (we learn that from her fitful nightmares), but she is aiming for a fresh start with the help of her detective friend, Tim (Josh Stamberg), and her counselor who referred her to Havenhurst (wink, wink; hard to say if he is on the up and up here, but I sense a sequel may address that).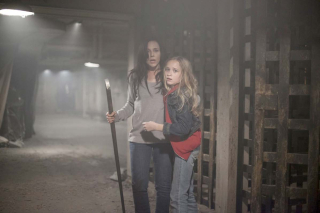 She takes up residence in her missing friend's spacious, but oddly suffocatingly close, apartment. Her friend, Danielle (Danielle Harris in a brief appearance before she disappears), has left all her photographs and antique cameras behind. Jackie suspects foul play. Jackie soon realizes Havenhurst is full of foul play. Cue the terror. Director and writer Andrew C. Erin, along with Daniel Farrands co-writing, are not too sure in how they play that foul terror, though. Not so much a mystery, not so much a slasher, not so much a gorehound delight, but a little bit of each moves the story along. Some of the movie posters show Jed (Douglas Tait), a mushroomy-skinned denizen of the hidden passageways, trapdoors, and sudden long drops to the basement, so not much mystery there. Hint! He is dressed a bit like a Hostel hosing-it-down man doing superintendent work in his spare time. So we know Jed's role in all of this right off the bat.
His brother, Ezra (Matt Lasky) is the building's handyman. He is good at cleaning up Jed's bloody messes. Both of them are dutiful sons to Eleanor (Fionnula Flannagan). She runs the building and decides who stays or gets evicted. After Jackie takes a drink too many, there is an understated scene where Eleanor goes to a large antique cabinet, opens it to reveal dozens of pegged apartment keys, and reverses the one to Jackie's apartment. That's when you notice a few other keys had already been flipped over, just like Jackie's. Needless to say, you don't want to be like Jackie, and those others, and have your key reversed in that big old cabinet.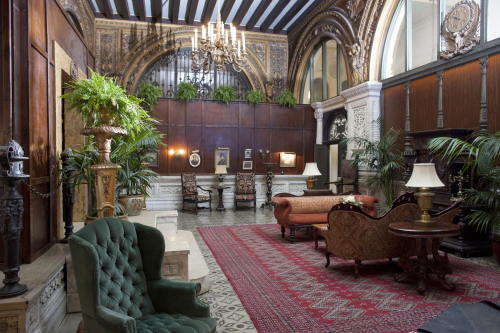 A hidden door in the laundry room (yes, me too! I hate creepy laundry rooms with hidden doors.) is revealed, as are the surprisingly versatile hallways and walls, in the photographs Danielle had left behind. Jackie investigates, get's her detective friend involved, and befriend's Sarah (Belle Shouse), a foster child who has her own secret room to hide from her foster parents. Sarah's parents eventually get evicted too, and that's where the gore kicks in. It seems out of place in this Gothic chiller and the camera stays too long admiring it. But soon the running away from Jed begins and the family that slays together is revealed, giving explanation to the building's unique luxury-to-die-for features.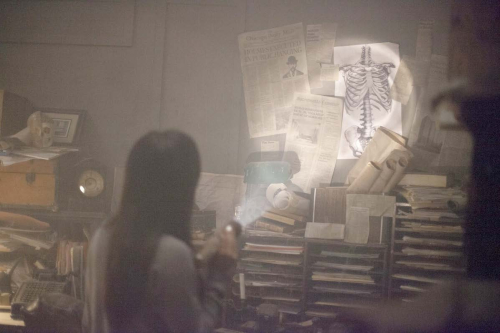 The ending is a bummer as it clearly is done to set up the franchise for Jed and the building's future apartment dwellers. But there is more to tell about Havenhurst, so hopefully we will see the sequel soon. That deadly family tradition needs further exploration and I'm very curious to know what Jed does in his spare time. When he's not butchering tenants.
A courtesy screening link was provided for this review.