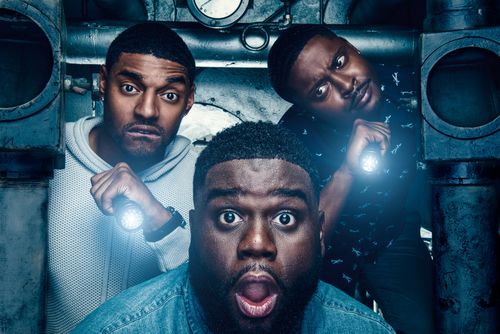 Premiering tonight on Destination America.
With the Syfy channel lessening its focus on paranormal programming, Destination America seems determined to bring on new shows with new approaches and new paranormal hosts. They apparently noticed there was a dearth of African-American hosts chasing ghosts. Not anymore. Filling the void, with a refreshing zest for humorous self-awareness of their nocturnal adventures, Juwan (the hunk), Marcus (the barber), and Dalen (the leader, more or less), head over to the Magnolia Plantation in their premier episode. Future visits will include Magnolia Hotel in Texas, Prospect Place in Ohio, Allen House in Arkansas, Delta Queen Steamboat in Louisiana, and the Fitzpatrick Hotel in Georgia. Unlike Paranormal Lockdown, the brothers hang around for only one night.
After a brief meeting in Marcus's barbershop, and talk of voodoo artifacts being found on the plantation by a Dr. Brown--while a patron is wrapped up with a hot towel waiting for his shave--they're soon on their way. Banter during the drive to Seguin, Texas, is lively and funny and off the wall, with talk of voodoo, what it may be good or bad for, and the 'mummy returns'.
Greeted by Dr. Brown, who's been conducting the excavation in Aunt Agnes's living quarters where the voodoo items were found, they enter and the camera starts going haywire when they mention her name. Quickly and wisely leaving the cabin, they meet up with park ranger Dustin, who explains how the hated overseer, Mr. Miller, was shot by Union troops, and gives them a quick lesson in French. Then they're met by Joe, who describes the apparition he had seen looking out the window of the overseer's cabin. Joe joins them on their nocturnal rounds.
When it's time to go ghost hunting, they pop the trunk and pull out a laser grid pen, IR cameras, a rem-pod, and smartphones loaded with EVP and thermal camera apps. Juwan pairs with Joe to explore the overseer's house while Dalen and Marcus head to the gin barn. A few EVPs, a flash of something dark in the barn, and Marcus's unique handling of a flashlight for when you don't want to see flashes of something ensue. Visits to Aunt Agnes's and the blacksmith's cabins provide more opportunities for odd noises and humorous commentary.
Finally, a ghost hunting show where the hosts are as scared and inexperienced as we are. Winning personalities and quick wits make Ghost Brothers a sound investment of your time, whether you believe or not.