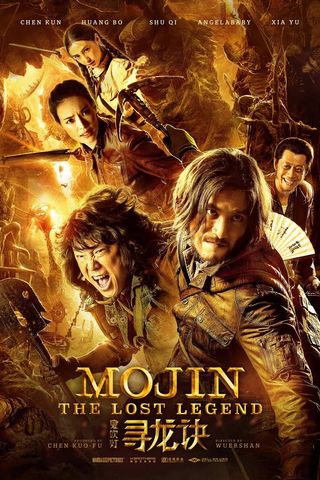 This news just in...if it's anything like Detective Dee: The Mystery of the Phantom Flame, I'm in!
Based on the #1 Bestselling series of novels and starring Shu Qi (The Assassin), Chen Kun (Young Detective Dee: Rise of the Sea Dragon), Angelababy (Tai Chi Hero), and Huang Bo (Legend of the Fist: The Return of Chen Zhen), MOJIN: THE LOST LEGEND debuts on Blu-ray™, DVD and Digital HD May 3 from Well Go USA Entertainment.
Directed by Wuershan (Painted Skin: The Resurrection), the action/adventure fantasy thriller follows three retired tomb raiders  lured back to their original vocation by a mysterious, businesswoman/cult leader who wants them to find the ancient tomb of a Mongolian princess. They eventually learn that what she really wants is to possess a famed artifact known as the Equinox Flower that allegedly has the power to raise the dead. Bonus materials include a making-of featurette and behind-the-scenes interviews with the Chen Kun and Huang Bo.
Synopsis:
Some people have a special gift. They're able to travel between the realms of the Living and the Dead ... and Tomb Raiding can mean Big Business. Welcome to the world of the Mojin. MOJIN: THE LOST LEGEND pits a trio of legendary grave robbers against scholars, rivals, and the law – until an offer from a mysterious stranger tempts them into one last heist…an adventure that will test their skills, their friendship, and ultimately – their mortal souls.
The Hollywood Reporter says:
Demonstrating that China can produce a lavish, mindless fantasy epic as effectively as Hollywood, Wuershan's (Painted Skin: The Resurrection) adaptation of a novel from a best-selling series should prove a blockbuster in its native country. Receiving a day-and-date release in the United States, Mojin: The Lost Legend should also appeal to American audiences raised on a diet of Indiana Jones and Lara Croft. Heck, there are even zombies, because really, what's a lavish, mindless fantasy epic without them?