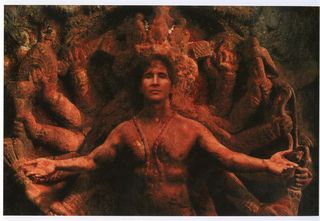 This looks interesting.
NEW YORK – FilmRise announced today that it has acquired U.S. distribution rights for the documentary, Holy Hell, which premiered at the 2016 Sundance Film Festival.
The film is an inside look at a secretive, spiritual cult formed in 1980s West Hollywood.
Director Will Allen joined the group just after graduating from film school and as he became more deeply involved, he began filming his experiences as the group's unofficial videographer.
The distributor will release the film theatrically on May 20, 2016.
It wasn't until after Allen left the cult that he understood the film he'd been making for over twenty years. Working with producers Alexandra Johnes and ex-cult member Tracey Harnish, Allen decided to use his footage to take others on his journey.
Holy Hell is executive produced by Michael C. Donaldson, Cheryl Sanders, Julian Goldstein and Academy Award®-winner Jared Leto, who describes the film as "relentless, haunting and unforgettable."
"Following its headline-making run at Sundance, we are elated to be bringing this gripping film to audiences come spring," said Danny Fisher, CEO of FilmRise. "Ultimately this is a remarkable film about the human condition, and I am confident that audiences will be engrossed by this captivating story, told by those who lived it."

"I am so happy that FilmRise will be releasing Holy Hell in theaters for communities to experience together," said filmmaker Will Allen. "This story is very personal but also universal, because it could have happened to anyone. And seeing how broadly it resonated at Sundance makes me excited to share it with the rest of the world."
The deal was negotiated between Fisher, FilmRise's VP of Acquisitions Max Einhorn representing the distributor with Donaldson Califf's Dean Cheley and Michael Donaldson representing the filmmakers along with Andrew Herwitz, President of The Film Sales Company. Herwitz noted that there is also substantial television interest in the film around the world.