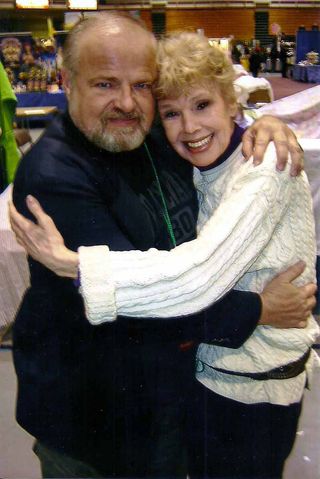 Betsy Palmer: Nov 1, 1926 - May 29, 2015
She was petite, very pretty, and had one of the most endearing smiles of anyone I had ever met.
We met during, for what turned out to be, the final time I was involved with I-Con (I-Con 27: Apr 4-6, 2008). I had managed to interest Betsy Palmer to be a guest. Early on the Friday that was the first day of I-Con I drove into Manhattan and picked her up at her apartment on West 85th Street. On the way back I was to pick up another I-Con guest: Will Hutchins (Sugarfoot in the Cheyenne television series). During the ride to his home in Nassau, Long Island, we chatted pleasantly.
My first, brief, encounter with her was at a trade/paper show in Manhattan a few years earlier. Not unexpectedly, she didn't remember our first meeting. During the ride we spoke of my earliest reminiscences of her as a guest panelist on TV's To Tell the Truth (1957 to 1965) and I've Got a Secret (1955 to 1967). We also touched upon the other well known films and TV shows she had appeared in, mainly those in the 1950s.
Off course, we got around to the role that she'd probably be best remembered for: Pamela Voorhees, Jason's unstable mother, in Friday the 13th (1980). Her appearance in this film was the reason for her attending a science fiction convention as a guest.
Discussing this film always made her wince. The main reason she accepted the part (after not appearing in a theatrical film since 1959) was because her car had broken down while driving on I-95 in Connecticut. Needless to say, this was one mega-unpleasant experience for her. She was desperately in need of a new car when her agent suggested she do the film. The original actress approached for the role was Estelle Parsons. Naturally, the part "wasn't right for her...too much violence." Nor, one suspects, did Parsons have a burning need for a new car.
When Betsy first looked over the script, she commented that it "was the worst piece of shit" she had ever read. After completing the film she continued to call the film..."a piece of shit." During our discussions, both during our car ride and with interested fans at I-Con, she steadfastly maintained that it was a "piece of shit." She was guaranteed $1000 per day and worked on the film for 10 days. Her on-screen time lasted for about (ironically, for real) 13 minutes. In the first 70 minutes of the film, her character was actually performed by a male stand-in. This worked because she was not supposed to be recognized.
To the I-Con fans she related the story of her car breakdown and agreeing to do the film for the $1000 per day. She said, "Nobody is ever going to see this. It will come and it will go. I was mostly interested in purchasing a Volkswagon Scirocco." One major fact I brought up and strongly dwelled upon with her was that whether or not she thought  Friday the 13th was truly "a piece of shit," the result of her involvement with it had made her a bonafide cult celebrity. I also made the point of how  that fact placed her miles ahead of many other performers who had appeared in other popular-- and probably-- 'piece of shit' films.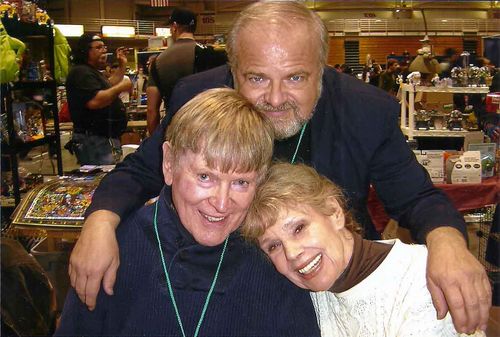 Professor Kinema standing over Will Hutchins and Betsy Palmer.
The original Friday the 13th was the one entry of the series she was actively involved with. However, when the sequel, Friday the 13th Part II (1981) was being lensed in Connecticut, she was hired for a one day shoot of a few scenes in front of a black screen--in California. Archival footage of her turned up in Friday the 13th Part III (1982), Friday the 13th: the Final Chapter (1984), Friday the 13th: No Man's Land (2010), and the TV documentary  Cinemassacre's Monster Madness (2007).
Betsy also appeared in the video documentary short A Friday the 13th Reunion in 2009. 2003's Freddy vs Jason featured Paula Shaw as Jason's mother. In the 8 minute fan film Voorhees (Born on a Friday) (2011), the role of Mrs. Voorhees was played by Monica DeNatale.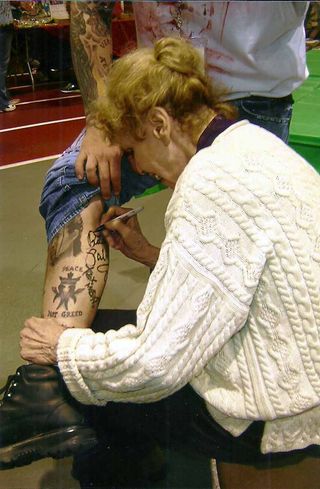 No matter her feelings about the film, the fans at I-Con who visited her table were enthusiastic. One fan even had her autograph his leg. The autograph was destined to become a tattoo.
My last contact with her was when she settled into the limo that would transport her back to her Manhattan Apartment. She leaned forward to say thanks and gave me a long goodbye kiss.
--Professor Kinema