This news release in my email caught my interest. Not a horror movie, but the off-the-safestream story here makes me want to see how the director and scripter handle it.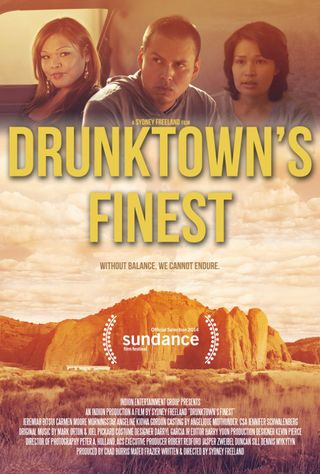 Sundance Hit Drunktown's Finest opens at New York's Quad Cinema ( 34 West 13th Street) on February 20, for a one-week run.

Drunktown's Finest premiered at the 2014 Sundance Film Festival and has since gone on to win a number of awards, including the Grand Jury Prize for Best Dramatic Narrative and HBO Best First Feature awards at Outfest 2014, as well as Best Film at the American Indian Film Festival in San Francisco. The film has screened at over 50 film festivals around the world, hailed by Twitch as "a compelling snapshot of contemporary Navajo life". Filmmaker Magazine lauded transgender Navajo American writer/director Freeland for her "authentic voice."  

The Story:

 

Drunktown's Finest is the coming-of-age story of three young Native Americans – a college-bound Christian girl raised by white parents, a rebellious and lost father-to-be, and a promiscuous yet gorgeous transsexual - as they struggle to escape the hardships of life on the Navajo reservation. This film portrays modern Native American youths struggling to find their place in the world, but, more importantly, reveals the same struggles that many young Americans face while growing up in small town U.S.A.