My Interview with John Moulder-Brown
By Jim Knüsch (Professor Kinema)
In the early 1970s, John Moulder-Brown made his mark in horror films with starring roles in Vampire Circus and The House That Screamed, in which he chopped up some school girls and pieced them back together. In the critically acclaimed Deep End, he was Mike, a sexually disturbed teenager who murders the girl of his dreams in a half-filled swimming pool. In King, Queen, Nave he had a memorable encounter with Gina Lollobrigida, who also wound up dead, and in Ludwig he portrayed the mad brother of the crazed titular king. He's played the handsome prince in Rumpelstiltskin and the concerned, and for once guiltless, husband in Agatha Christie's Sleeping Murder.
I had the opportunity to interview Mr. Brown and here it is.
First things first, what led you to acting?
JMB: My parents split up when I was four. My mother wanted me to go to boarding school, my father wanted me to stay with him. He sent me to a private school, which was literally just around the corner from where we lived. They had a strong concentration on drama and, as a result of that, I fell into acting. My father had an army background. He was a major, but I had always wanted to be an actor. Through the school I worked as a child actor.
What was your first professional appearance?
JMB: The first film I made was Room At the Top, with Lawrence Harvey. I played the little boy, when Harvey was beaten up and lying at the bomb site, I think, there are children playing around him. One little boy is playing with a toy car, and pushes the toy car toward him and looks rather sheepish. That was my debut as a film actor.
I remember, at that age, being very impressed by the trickery of film, and the fact that films were a telling of the truth, but through lies. Pushing the [toy] car toward him, the car wouldn't wheel properly. They attached a thin piece of wire, so that when I pushed it, it was pulled. That made an enormous impression on me. I don't know why, but I remember thinking this really is to do with telling people lies.
What time was this?
JMB: I was born in 1953, so I suppose that must have been 1957 or something like that. [Note: it was 1959.] It was a wonderful film. But to go to my adult career, my start as an adult actor, I did a film for American television, Heidi, with Sir Michael Redgrave, Maximilian Schell, Jean Simmons and Jenny Edwards, who is the daughter of Blake Edwards. I played [Peter] the geizenezpater, the goat boy who befriends Heidi in the mountains. Maximilian Schell was trying to produce and direct his own film called First Love, and at that time hadn't gotten the money together. I was 14. By the time he got the money together we met again in Spain where I was doing The House That Screamed with Lilli Palmer, and he was doing a swashbuckling thing within the same studios. Of course, I'd developed into an adolescent as opposed to a young teenage boy, and he said, "I'm coming to London to look for the boy to star in First Love. Let's meet when I get there." I think he had interviewed some 300 boys throughout Europe. He'd looked in Germany and Switzerland, and I came to a general audition and was asked to do a piece. Well I couldn't for the life of me remember any of my pieces. So I did a kind of improvisation, and, as a result of that, he gave me the part. That was really the beginning of my adult career.
Another early appearance came in the movie Deep End. In his Filmgoer's Companion, the late Leslie Halliwell lists your birth year as 1945, which would make you 25 at the time you played a 15 year old. You're not one of those actors who lies about his age, are you?
JMB: No, certainly not. I never lie professionally. Sometimes I lie personally (laughs). No, I made Deep End at the age of 17. I'd done First Love for Maximilian Schell, which had a very wide artistic acclaim, although it wasn't a box-office success. As a result of First Love the producers of Deep End suggested I play Michael, who in fact was 17 in the film. I'd done a film test; where in fact I'd met Jerzy Skolimowski, who went on to direct Deep End. At that time I was a terribly sophisticated, cigarette-smoking, rather suave, attempting at cool, young man. When we met, he didn't like me at all. He said I was entirely wrong for the part; I really didn't have the quality he was looking for. The producers insisted that I test, and when I did it was entirely different; he liked me immediately. So it was a direct result of Heidi which led to First Love and, as a result of that, to Deep End. That's how careers go, I think. It's a matter of fortune and chance.
What was it like to work with Jerzy Skolimowski on Deep End?
JMB: Well, Skolimowski was marvelous. I'd worked right from childhood so I was almost a professional by the time I arrived at Deep End. The thing that happened whilst doing First Love was that Maximilian stripped down, really, everything I'd learned through drama school and taught me a whole new way of film acting, which was very much allowing things to happen, as opposed to contriving them. Maximilian was a great trickster himself, a prankster, and one of the things he used to do was to film the rehearsals. The actors would be unaware, but the camera would be rolling. That, also, was an indication to me of what film acting was about. It was a lack of self-consciousness. So First Love was marvelous. Skolimowski I was also lucky with because it wasn't like making films. The script wasn't finalized. None of us knew what the ending was going to be. And we weren't held to dialogue. Scenes were literally improvised within the framework, within the structure of the scene. The camera was very unobtrusive. One of the most difficult things for actors, of course, is the repetition of scenes, where you do a scene in a master, you do it in a medium and then you do it in close-ups. Performances change and you have to bring it down when you're doing things in close-up. Skoli had a genius for allowing the actor to be unaware of the camera. The most important thing to him was the actors, and everything was geared toward them.
You worked with Skolimowski again on King, Queen, Nave. Are we correct in thinking the working relationship was a good one?
JMB: It was an excellent one. At the time of Deep End Skoli spoke English, but it wasn't a pidgin' English; that would be too insulting, it was a halting, stuttering English. We immediately had a rapport. Again you find yourself playing a character with a professional who allows you the license of believing that you are creating your ideas, but who in fact is implanting those ideas. Deep End was a small film, and had an enormous success. What went slightly wrong with King, Queen, Nave, with David Niven and Gina Lollobrigida, was that it had an enormous budget; there were really no restraints. In a situation with no restraints, we tend to go a little wild, and though I personally love King, Queen, Nave, to me it's a glorious film, it didn't have commercial success. I don't think it had an artistic success either.
In Deep End Mike progresses from being a rather shy, likable boy to one who is deeply, sexually troubled, and capable of killing. Did you find it difficult to show this progression?
JMB: No, I think that's an innate quality we all have. I think we are all capable of that passion. Mike's killing was not a calculated thing. It came out of sexual inadequacy, and a need not to feel rejected. Well, I don't think there's a man alive who hasn't gone through adolescence feeling that. The bad luck, for Mike, was that the circumstance existed within which he could kill. No, he was a very easy character for me. That explosive anger, I think, is within all of us. It's just a matter of how we temper and control it.
Jane Asher, whom many dismissed as merely Paul McCartney's girlfriend, is very good in Deep End.
JMB: She was wonderful. She'd just come to the end of the affair with McCartney, within the previous year or so. I felt very physically attracted toward her.
She was an attractive girl.
JMB: And is now an attractive woman. Working with her was lovely, adorable; we communicated very well. I suppose it was the feeling we had about each other that made the film work so well.
Former sex symbol Diana Dors shared one of Deep End's more memorable scenes with you, playing an overweight bathhouse client who indulges her sexual fantasies with Mike. Was the scene difficult to do?
JMB: She made it very easy. She was a consummate professional. She came in to do a cameo role, which is always difficult because you've got a whole group of people who know each other and have their little in-jokes.
Diana Dors was one of those blonde…
JMB: …Bombshells. Yes, that's right. Deep End was part of her letting go of that. I met her five minutes before we started rehearsals. We were filming in Munich, so she'd arrived and we were in the bathhouse that they'd taken over and redecorated. We rehearsed, which was a low-tempo, downbeat thing, and Skolimowski said, "So do we film this?" She wanted to film it, and I was quite happy to film it, so we did a scene that was far removed from anything we had rehearsed.
But it worked, fit the storyline?
JMB: Very much so. It was the scene where she reaches orgasm with the young boy by talking about football. Particularly Georgie Best. The scene starts by her saying, "Do you like football?" "Yes, I do like football." "Who's your favorite?" "Oh, Georgie Best is my favorite." Then she starts to caress herself and draw the boy to her. The boy tries to struggle away, and it's a big wrestle with her holding on, pulling his hair, pulling him down between her legs, and all the time talking about Georgie Georgie about to score, Georgie about to get the ball in. It's an analogy between the sex act and scoring a goal. Eventually she reaches orgasm and discards the boy, having made use of him. It was a marvelous scene! Afterwards I said to her, "My God! It was nothing like rehearsal." And she said, "Never give your all in rehearsal" (laughs).
Deep End is very much a part of the sexual revolution of the late 1960s and early 1970s. Was it difficult, as a young actor, to play numerous sex and nude scenes?
JMB: It wasn't difficult because it was within the context of the film. My nude scenes have changed, of course. The nude scenes I do now are very different from the nude scenes I did in Deep End. I'm playing an adult, now, whereas at that time I was playing a rather shy, inhibited young boy. As an actor, of course, you always expose yourself, and it's your degree of security as to how far you can expose yourself within any production.
There's one scene that wasn't shown in the film, it was a different ending. The end of the film has the boy kill the girl. The water comes into the pool and we leave the two of them, him holding the dead body and floating with it. Two naked bodies. That was the actual ending. The alternative ending was that, after killing her, the boy rushes out of the pool naked, jumps into her car, crashes the car and kills himself. The scene was particularly difficult, because it was filmed in a sort of rough East End area of London. We'd been filming during the day, and, of course, you gather a crowd around. During the day we had an enormous crowd, about two or three hundred people, and so, in order to disperse them every one got into their vans, drove off and had supper. We then drove back again.
The scene was this: I would appear from around the corner, running naked, jump into the car, drive the car across a deserted patch of ground, and crash the car into the wall. It was quite a long run, about two hundred yards. We set everything up and there weren't very many people there, but while setting up the crowd started gathering again. So we rehearsed it. I rehearsed it in a dressing gown. I ran 'round the corner, ran to the car, jumped in, didn't do the driving. Then the robe came off. They greased the whole of my body, 'cause I was meant to be coming out of the pool; I was covered in a glistening grease. I was surrounded by makeup and wardrobe people, and then I went whizzing 'round the corner. Of course, a great shout went up as this nude figure came whizzing 'round. Thank God I was running; I didn't have to stop and linger, and it was certainly an incentive to get into the car as quickly as possible (laughs). I'll never forget that shout going up - not abusive by any means, but remarks shouted to me as I was running completely naked through the streets of London. I guess, in a way, that was more difficult than the intimate sex scenes.
It's different nowadays.
JMB: That's right. You see it happening on cricket fields nowadays!
King Queen Nave, based on the novel by Vladimir Nabakov, had little, if any, play in the States. What can you tell us about it?
JMB: It was a black comedy. The original casting was David Niven and Sophia Loren. For some reason they couldn't get Loren, so we had Gina Lollobrigida. The story has a boy, orphaned as the result of an accident, in which both his parents died, going to live with his uncle and aunt, Niven and Lollobrigida. He has an affair with the aunt. The uncle's an industrialist and a very wealthy man, and they plot to murder him. Of course, it all goes wrong; the aunt is killed and the boy takes over from the uncle, who is bereft and mortified by the death of his wife.The last scene has the boy, having taken complete control, tearing up the love letters from the aunt.
So the boy wins out over everyone?
JMB: Well, the subplot is that the boy, who is staying in a rooming house, lives next to a mad professor who's invented a material akin to skin. He tries to develop it through his connection with the boy, so he's making mannequins that look and move like real people.
Cybernetic organisms?
JMB: That's right. The aunt, during her affair with the boy, visits him constantly, and the mad professor decides to model his prototype on the aunt. So when the boys has successfully taken over and is destroying the evidence, the professor arrives with the robot aunt, and the end is open as to whether all will come out or not. Black comedy. The character I played progressed through the film; he starts with round pebble glasses, spots, and a short cropped haircut. I had loosely based the character on Jerry Lewis. Completely inept; if he went to get up from the table he knocked the table over.
A nerd?
JMB: Exactly. And then gradually he progresses to a suave young man. We started filming in the south of France. Niven, of course, was marvelous, and I thank God for him. Lollobrigida wasn't so easy. When we first met, a couple of days before filming, it was fine. On the first day of filming she was suddenly confronted by this person with thick pebble glasses to the degree that I couldn't see out of them, with hair cut in a very strange fashion and pimples. She hated it. She loathed the idea of having a screen lover that, to her, looked like Pinocchio. She was so shocked that I threw her completely off balance. I think it changed her whole approach to the film, which was, in a way, to our benefit. She was constantly saying "How can I be seen making love to this idiot boy?" And she would name the people she'd had screen affairs with, so it was, "Lancaster and Sinatra this!" and, "Lancaster and Sinatra that!" Niven, who was a wonderful character and full of marvelous stories, treated the whole thing as a joke. He'd throw in remarks like, "Well, it's just as well we're not doing something serious, like crossing the road." It was a wonderful contrast, with both of them very musk stars, both of them wonderful talents, and yet approaching it from a completely different angle.
It's just that David Niven knew how to have fun with it.
JMB: It was fascinating to watch the politics involved; she had veto power, she could block any scenes she didn't like. What happened, of course, was that there grew a situation between 'Her' and 'Us.' It gave me, in a way, license for my character to behave in the most extraordinary fashion. We'd do scenes and Skoli would say to me "Look, let's do something that's slightly off when we're filming," so when we came to film I'd suddenly grab her breast and start squeezing it. She'd just continue with the scene; she didn't quite know what was going on. One particular scene, when she arrives at my room, was meant to be a passionate lovemaking scene: she arrives and takes off her clothes and we make love. Unusually for a set, we were filming within four walls. Normally on a set you lose two walls so the camera can move around, and then you put walls back for the other angles. In this scene it was a completely enclosed area, so it was just the two of us in the room. I was lying in bed and she took her clothes off; she was very light, a very tiny, diminutive figure. I grabbed her; we rolled on the bed; the mattress came off and we rolled onto the floor. There was a rocking chair in the room, and I took her onto the rocking chair. We rocked backwards and forwards and she became slightly anxious and hysterical. There was a table there; it was a running gag that you could take out a little spring and the table would go up and down with a kind of creaking, cranking noise. I placed her face down over this table as if I was making love from behind. Well, at that point, she became hysterical, and started screaming "Basta! Basta!"
Basta being Italian for enough.
JMB: Well, I knew I couldn't let go 'cause if I let go she'd probably beat the living daylights out of me, so every time she said "Basta!" I said "Faster!" Eventually I let go of her and hid behind the mattress. She wrecked the whole set; she threw everything within reach, and disappeared from the set and refused to come back. She did come back the following day, but she vetoed the scene.
Does the footage exist somewhere?
JMB: It must, because we watched it in rushes and had a great hoot about it. She's an extraordinary character.
In Vampire Circus you were the hero, and a rather young one for a Hammer film. Was the part written with an older actor in mind?
JMB: I think it must have been, because the boy was very young. The girl playing opposite was Lynne Frederick, with whom I've done two projects. We did Vampire Circus and then went on to do Collette: the Ripening Seed, which was a rather beautiful love story with Gayle Hunnicut. Vampire Circus was the first time I worked with Lynne; we were both very young and she looked angelic.
I was rather horrified at the idea of doing a Hammer horror. I'd just done this extraordinary art film, so it was a shock to me to come to the set of Vampire Circus; it was a completely different style of acting. I found it very, very difficult to take seriously. Of course, in order to do that sort of a film you have to take it terribly seriously, and it takes more hard work than doing a Deep End. I've seen some wonderful vampire films. To me, the Hammer vampire films are classics, but not because they necessarily involve or engage the audience in real characters or in a real threat.
What was the Hammer studio like?
JMB: We were working on the sets and at Black Heath, which is near where they did the Hammer films. We worked in the village that was built on their back lot; it appeared in many, if not all of their films.
Hammer Films had relatively small sets, and everything was done rather quickly. They weren't technicians so much as craftsmen
JMB: That's right; they were absolute craftsmen. For me, it was craft that was completely alien. I'd just come from First Love, thinking time, discovery process, discovery of character. I'd gone to Deep End: improvisation, time to find the nuances in everything different. You had very adept actors: Thorley Walters, for instance, who'd appeared in many of the Hammer horrors, and Lawrence Payne, who was a wonderful actor. You had very adept and professional actors in a genre they understood. For me it was playing against a style and type, what I thought acting was about.
Would you have preferred to play Emil, the lead vampire?
JMB: Funny enough, the vampire Emil was an actor I had seen in a television production when I was 14 years old. I thought he was a wonderful actor. I remember watching him on television and saying to my father "God, this young actor's fantastic." And suddenly to meet him! I thought he was marvelous as the vampire. Again, it was something extraordinary. I thought it was extraordinary that he'd adapted this wonderful style of acting to a vampire film. In a way he helped me, to see him going through that process. I always love and prefer to play the villain. Villains are great fun to play. Heroes are ghastly.
Especially in the Hammer films.
JMB: The young heroes were always rather wet, drippy, English types. You know, round faced, boyish yet manly, and really not much fun to play. Some of the dialogue was extraordinary to hear, but when done with belief and sincerity it worked entirely. I remember one particular scene: someone had to say "In the name of Jesus! Leave us!" Now that struck me as hilarious. I don't know why, but it tickled my funny bone. The only difference between Vampire Circus and other Hammer horrors was that it was directed by a very young director. I think that's why I was cast. He liked my performance in Deep End. His name was Robert Young. It was his first feature, although he'd directed, I think, shorts and also adverts. He cast Vampire Circus in an off-beat way. I wasn't really old enough to play the part, but it was his choice and his casting.
Tell us about your Vampire Circus co-stars, such as Adrienne Corri and Anthony Corlan.
JMB: Tony Corlan! Well, Tony Corlan was the young actor I had admired so much, and whom I thought was absolutely wonderful in the film. We became very good friends and remained friends for years. He's since changed his name to Anthony Higgins. He was in The Draughtsman's Contract and he's a marvelous actor as well as a very attractive young man. Stunning-looking, with a wonderful presence. Adrienne Corri was off the wall. She was slightly batty.
She appeared in A Clockwork Orange later. She played the woman raped by Malcolm MacDowell.
JMB: And his gang of Droogies, right? They were all so good in Vampire Circus. And that's what I missed. I didn't enjoy it as much as I could have done if I'd realized the quality of the acting and also the film. I think it was an excellent film of its type.
Another person in the film was Skip Martin, who played the dwarf. He was a lovely actor; we became friends for years and had a very close friendship. I actually lived with Christina Paul, one of the girls who was in Vampire Circus, as a result of making that film. She was in Deep End as well, She was a Polish actress and a friend of Skoli's, that's why she was in Deep End, and she appeared in Vampire Circus as one of the victims of the vampire. That film was responsible for a lot of things that happened in my life, in a way.
Who else can you tell us about?
JMB: Lala Ward, a very fine actress. I think it was her first film. Another boy, Robin Summerfield; it was his first film. He went on to marry Peter O'Toole's ex-wife, Sian Phillips. Lawrence Payne, who'd played Hamlet, had a glass eye as a result of the television series Sexton Blake, which featured a character similar to Sherlock Holmes. He'd lost his eye during a sword fight. He was a wonderful man; the youngest Hamlet of his time. It was an extraordinary cast. Robert Young had to get the film in within a six-week shooting schedule.
Wasn't that typical of Hammer?
JMB: That's right. And if he got it in on time he would be awarded a bonus. I remember there were scenes in which I was finding it very difficult to keep a straight face. I'd say at the end of the shoot "Can we do that again, because I think I was holding on by the seat of my pants?" And he'd say "No" and we'd go on to the next shot. So I learned very quickly that you had to get it right (usually on the first take), which is a way of acting I like. The other actors were very strict; you couldn't emote if they were giving their lines. It was almost an old style Hollywood type of acting, in which each actor does their bit and no other actor is allowed to move or emote or cough or interrupt what they're saying. So the whole process was difficult; I lost the fun of it. I lost the enjoyment of it, sadly. But I think I was absolutely lousy in the film. I think I was terrible; I should never have worked again after it. Luckily, I went on immediately to do King, Queen, Nave.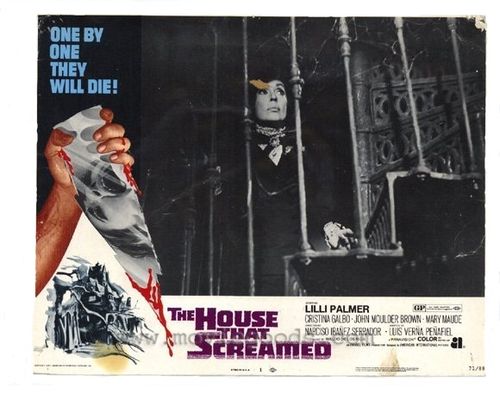 In addition to Mike in Deep End, you played the boy in The House That Screamed. Have you a special talent for playing sexually perverse adolescents? Did you carry that talent into…?
JMB: Into my private life (laughs)?
…into your adult life?
JMB: That Luis in The House That Screamed, he was a character, with the mother played by Lilli Palmer. That's the film I was doing when I met Maximilian Schell again in Madrid. It made more money than Gone With the Wind. They were literally queuing up 'round blocks to see it. It was done by the Spanish director who was considered the Hitchcock of Spain. He had gained his reputation through horror stories on television. Ibanez Serrador. He was a very strange character.
The House That Screamed is thought, by some, to be a stylish, under appreciated classic of Gothic horror, and by others to be trash.
JMB: I think beauty is in the eye of the beholder. Certainly at the time, as far as Spanish filmmaking was concerned, it was moving ahead in leaps and bounds. I think that's why it was such a success; partially because of the sexual repression in Spain during the Franco regime, and partially because of the horror aspect of it. It's a very formula film as one sees it now. You have your possible suspects, the red herrings, and it is the least likely suspect of all who is the perpetrator of the dastardly deeds. I loved playing the character. Any form of madness, or anything out of the norm, is wonderful to play and not at all difficult.
Have you carried that particular talent into your adult roles?
JMB: I suppose there's an element of everyone that's slightly unhinged, or can become unhinged in different situations. It's something I can easily tap into.
You wouldn't want to be typecast as this sort of character?
JMB: No. Typecasting is against all actors; no one would want to be typecast. It's great to experiment. Within every unhinged character there is a different element in being unhinged. Another mad character I played was Prince Otto in Ludwig; again, he was completely mad at the end of the film, having been sent off to the wars and having had a certain amount of inbreeding. He went completely bats. When they assassinated Ludwig, Otto became the figurehead on the throne of Bavaria. He was a completely mad character and great fun to play. Wonderful fun. I think everyone is unhinged.
Did The House That Screamed live up to expectations?
JMB: I thought it was slightly limited, but I can't quite put my finger on why. Maybe it was my own portrayal of the character. One's involvement in a film is oneself, therefore one scans the film in relation to one's own character. The House That Screamed was made so long ago, within all the constraints of Spanish cinema, but I think it fulfilled everything it possibly could.
Tell us, what was it like working with Lilli Palmer?
JMB: Lilli Palmer was marvelous, very elegant, very charming. A movie star, playing the movie star. She had enormous charm and was wonderful in the film. She was absolutely perfect casting. The communication we had was very civil and polite, and complimentary from her in an encouraging way. I was only 15 at the time. I've been extremely lucky in my career in that the people I've worked with have been very helpful. That, in a way, is the great blessing of anything I've done. It counts for a hell of a lot.
Was it difficult working with the French and Spanish actors?
JMB: Well, you'd have Spanish actors speaking their lines in Spanish, and you'd be speaking in English, but that's not especially difficult.
Tell us about the director, Narciso Ibanez Serrador. How did he work with his actors?
JMB: Ah! Serrador. Very intensely, with a very closed atmosphere, within which he found inspiration and created the atmosphere of the film. Intricate detail. Very intricate detail. A thing that a lot of continental filmmakers have, that the composition of their frames is terribly important. He had it worked out before we went anywhere near the film, which the genre dictates, because it's a matter of timing. He had a very clear picture in his mind's eye of exactly what he wanted. We worked through an interpreter; he didn't speak that much English. We would talk in a close, one-to-one atmosphere, and the interpreter was a 'voice-off' as it were.
Did you find it easier toward the end of the production? Did the interpreter become just a little less important?
JMB: Yes, I believe that's very true. Funny, Serrador was an actor himself, and that's wonderful to watch. Very often when a director cannot communicate through words he'll do a caricature, and an actor takes that caricature and tones it down into a personality.
Probably the best known director with whom you've worked is Luchino Visconti on Ludwig. What was he like?
JMB: Again, there was very little spoken communication between us. I think he was at the end of a very arduous schedule and very fatigued. A lot of his direction was conveyed through other people; he would sit within these vast sets and convey his messages to the actors, to the technical staff, to the camera staff, through various minions who would run around delivering these messages. The mad scene was much more intimate, there was a lot more communication going on between us. I think he was very fatigued and it might have precipitated his illness and death. The wonderful thing about Visconti's filming, again, was the unobtrusiveness of the cameras. He would film with three cameras, so he'd get his master, his medium, and his close-ups virtually within one take. It's a marvelous editing technique if you have the budget to allow you to do it. And it's also marvelous for the actors.
Note: Ludwig is considered part of a trilogy which included The Damned and Death in Venice. Visconti suffered a heart attack during the filming of Ludwig. He made two more films before dying in 1976: Conversation Piece and L'innocente.
Helmut Berger played King Ludwig. Was Berger, in your opinion, a good choice for the role?
JMB: I think he was an excellent choice. Again, it was one of those things, as with Anthony Corlan, where I'd seen Helmut in The Damned and was overwhelmed by his performance and by the way he looked. I thought he was an extraordinary looking man.
How were you cast in Ludwig?
JMB: I was meant to be doing The Triple Echo, with Glenda Jackson and Oliver Reed, but just before filming started I got run over and broke my leg. As a result, I couldn't do that film. Dominique Sanda, who had starred with me in First Love, did Garden of the Finzi-Continis with Helmut, and when they were looking for an actor to play Ludwig's brother, she suggested me to him. Helmut in turn suggested me to Visconti, and they accepted me sight unseen.
I didn't meet Visconti. I didn't audition for it. I didn't read for it or do a screen test. I even had a broken leg when they offered me the part, I was in plaster. The uncle of the girl I'd been living with was the limb-fitting specialist at Rohampton Hospital in England, which is the limb-fitting center of the world. I had missed The Triple Echo, and it looked as if I miss the Visconti film, but, through the good fortune of her connection with her limb-fitting uncle, they got me out of the plaster and created a contraption that fit into the heel of my shoe and supported my leg. I could therefore take the plaster off a month in advance and walk, with a stick and a slight limp, during the filming of Ludwig.
That's quite a story.
JMB: But I think Helmut was a wonderful actor. It was a very arduous program for him. They were filming for months on end. It was a massive part. He looked like Ludwig, and I think he was magnificent in the part. I think he's, maybe, a little bit lost since Visconti's death, but Helmut was an ideal actor for that particular moment in the cinema and for that particular director.
He has a reputation for temperament and outrageous behavior. Was this at all evident during the filming of Ludwig?
JMB: Certainly not during the course of filming. It was a very tough schedule. I don't think there was room for any temperament. I don't think he would have allowed himself temperament with Visconti anyway. Visconti was a patriarchal figure. I mean you felt this grand, great man was there. Helmut was looked after very well, which is kind of necessary when you're playing that kind of part. He was, at all times, charming to me. We went out together. The only outrageous behavior I ever witnessed was Helmut leaving nightclubs and screaming at photographers--the paparazzi. He was an absolute professional. I think, in a way, the kind of stuff he's done since has been so undemanding that he's had to spice things up with a bit of temperament.
You played Ludwig's brother, Prince Otto. Compared to Ludwig, did you find the role rather meatless?
JMB: A lot of the film was cut to pieces. It was cut down from four to two hours. As a consequence, a lot of my part disappeared in the cutting. It wasn't meatless to me at the time. The extras were gathered from all sorts of impoverished European aristocracy, so one spent a lot of time talking to these wonderful characters. They were bedecked in uniforms and jewelry and medals during the filming and, later, would get into old jeans and shirts to leave the studio. The whole of the filming of Ludwig was truly fascinating.
Did you find it a difficult transition from child to adult actor? Was there a period when it was hard to find work?
JMB: It wasn't difficult. Of course, I've never thought of myself as being an adult. I'm sure that one day I will be grown-up, but it hasn't hit me yet. In terms of acting roles, I suppose I am now an adult and a grown-up. But acting is the art of the child, really. It's the retaining of one's childhood; it's make-believe. It's allowing one's imagination to survive intact and give it free wing.
You appeared in Granada TV's Victorian Scandals.
JMB: I did indeed!
It never aired in the states.
JMB: Thank God!
What was it, exactly?
JMB: Victorian Scandals was a series of six programs made by Granada Television. Granada Television has an awful lot of money, and they have very good production values for their programs. They have money because they have a long-running soap series called Coronation Street, which has been running since my birth, if not before. Victorian Scandals was a series of six different stories about the true Victorian scandals. An actress called Maureen O'Brien starred with me. The story was about Wilfred Blunt, a young poet who went to work in the foreign office in Paris, and fell in love with the courtesan to the foreign minister. Courtesans were held very much in high regard. They weren't looked down on as prostitutes; they were protected and guarded by their benefactors and mentors. It was a great scandal in Blunt's life, the fact that this woman had been the courtesan of such a high-powered official in Paris.
But you don't feel too strongly about the program?
JMB: I was terrible in it. I was very, very bad in it. Within every actor's career, there are one or two productions that stand out as real clangers. I didn't get to grips with it at all.
Not you at your worst?
JMB: (Laughs) Well, me at the worst I would ever hope to be.
In the Miss Marple film Sleeping Murder, you were innocent of all wrongdoing. Did you find that a pleasant change, or is it more challenging to play the killer?
JMB: Funny enough, there's an enormous challenge in playing the innocent. It was a difficult production for me, inasmuch as I'd just came back from Israel, where I'd been filming Rumpelstiltskin with Amy Irving, directed by David Irving, her brother, for Cannon. There were horses, there were swords, there were grounds splitting apart. I'd had a wonderful time in Israel and enjoyed the filming immensely, and I came back to do Sleeping Murder.
It was a very sedate English setting. I found it difficult inasmuch as I kept wanting to spring up and draw my sword, and maybe fight away a few poltergeists. But, of course, all I had to do was pick up a cup of tea and have a sip, and look attentively at yet another actor giving a lot of information as to the plot. It was fun, in a way, because the locations were beautiful and I had to have a quality of still attentiveness. I met Jeremy Brett at a part not long after it had been shown, and he said "I saw you in the Miss Marple thing, and thought you were marvelous, 'cause you had nothing to do and you did it so well."
The challenge was to invent something for the character to do in each scene, so that I wasn't just sitting there and listening. I would find something to do, whether it would be stroking a pussycat, whether it would be that my collar was tight, whether it would be that I was trying to light a cigarette and couldn't get it lit. I tried to put in pieces of business that didn't interrupt, but somehow formed a definite person.
Was there any attempt to make Giles in Sleeping Murder a red herring?
JMB: None whatsoever on my part, and I don't think any intended by the author.
Are you an Agatha Christie fan?
JMB: I adore Agatha Christie and I like watching actors grapple with the content of Agatha Christie. It's highly entertaining and great fun.
What was it like working with Joan Hickson, who plays Miss Marple?
JMB: Lovely, absolutely adorable. We flirted the whole time, and I couldn't help but think, if she had been maybe 40 years younger, she was 80 at the time we made Sleeping Murder,that I would have proposed marriage to her. Wonderful, delightful, eccentric character.
Last question: Have you a favorite role or motion picture?
JMB: I suppose my favorite role would be in King, Queen, Nave, because of the offbeat madness of the character. I enjoy black comedy. My favorite film in which I didn't appear, is Entertaining Mr Sloane by Joe Orton. Marvelous film. There are so many elements to enjoying a film and it's not always because they're getting it right. Sometimes it's because you can see the process they're going through.