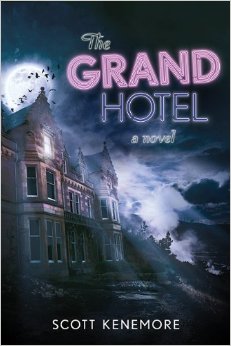 Zombos Says: Very Good
A supercilious host who manages the front desk, a group of tourists not sure where they are, and an ancient hotel, dimly lit and filled with boundless rooms, found at the end of a "desolate, mist-shrouded street," are the strange characters in Scott Kenemore's portmanteau novel, The Grand Hotel. And let's not ignore the disconcerting young red-haired girl, "perhaps 11 or 12."
Red-haired girls are always of particular interest in movies and novels (unless you're watching The Ring or some other Japanese Horror movie, of course, then it would be dark-haired girls instead). Anne of Green Gables had red hair, and so did Victoria in The Twilight Saga. Even Pippi Longstocking had red hair, with an attitude to match.
Kenemore's red-haired girl doesn't have a pet monkey or a horse like Pippi (I guess he didn't want to go after the young adult market), but she does have other things in common with Ms. Longstocking. Take her attitude for instance. It's as bright as her hair and attracts Vic's attention (but don't call him that, he hates that nickname). Vic is our reluctant front desk manager, oddly reluctant but still insistent tour guide, and the somewhat pompous narrator. He isn't loquacious, really. He leaves most of the talking to his charges, the hotel's regulars, who have been there perhaps too long--but are still welcomed. He also loves to use words that will have you scrambling for the dictionary. Pompous narrators like to do that.
Vic's tour begins with Mr. Pence, a very short visit to be sure since Mr. Pence is a corpse lying in bed, behind one room's stylish brass doorknob and keyhole. He still writes his little notes to Vic and pays his bills. Or so Vic insists as he leads the way to their next stop, the sunroom, where Mr. Orin spends much of his time. We listen, along with the small group of tourists, to Mr. Orin's encounter with a rather large fish in Northern Alaska, then we are hustled to the grand ballroom where Ms. Kvasov dances with her tuxedoed mannequins. She also has a tale to tell as does Detective Click, who they find, where he always is, on the large western balcony of the hotel. Each person encountered is a chapter to be told, and a lesson, perhaps, to explore. But only Vic and the red-haired girl are deathly interested in the right conclusions to be drawn. When Vic threatens to end their tour immediately should the girl not be able to provide him with satisfactory answers to his questions, the game is on, yet the mystery remains until the last visit is made.
Each visit becomes a short story in itself, of encounters with demons and other odd bumps in the night, allowing Kenemore room for variety in his deeper machinations (or a cool way to use some short stories he had collecting dust). His use of words like cruor, japery, kerfuffle, and acronychal, help set the time and place and demeanor of our host. Or confuse it, just like his guests become increasingly confused about Vic's ulterior purpose in bringing them on a tour of his grand hotel. But even the tourists aren't sure how they found the place to begin with. Neither is the red-haired girl.
The game Clue quickly comes to mind. There is indeed a mystery to be solved, but Kenemore, providing a hint in his author's note, states he was inspired by The Five and Twenty Tales of the Genie. I'm willing to bet, however, that he actually was lent a copy of Sivadasa's work by Miss Scarlet, in the library, on a dark and stormy night.