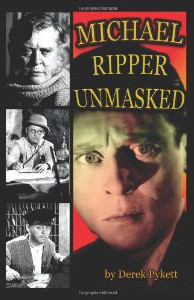 Zombos Says: Very Good
This review first appeared in We Belong Dead, issue 15, a stellar issue celebrating 15 years of Hammer Horror. 
You've seen him. You know his face. You've come to expect seeing him in every Hammer Horror you love. Derek Pykett in Michael Ripper Unmasked reveals the man behind that face, and the unforgettable character actor behind the horror. After reading about his career you will wish he had appeared more often. That's the greatest strength Pykett brings to this straightforward, uncomplicated biography of Ripper's career on stage, in movies, and, most importantly for us Hammer Horror fans, his involvement with those horrors. In 224 pages, which includes filmography, theatrical and television appearances, and letters from fans, Pykett briskly moves us through Ripper's entire career. Of course you probably want to know most about his work with Hammer so let's cut to the chase, shall we?
In Quatermass II, it was "bloody freezing" during filming and Ripper relates the adventure with Brian Donlevy—who did enjoy his whiskey—and Donlevy's toupee as it squared off against the wind machines. Brief comedic turns followed in other Hammer films such as Up the Creek and Further Up the Creek but the beefier parts in Camp on Blood Island and Secret of Blood Island are singled out. Ripper recalls Bernard Robinson's attention to set design and detail as being the real stars of the movies, and notes some incredulity at being cast as a Japanese officer with, as Bill Owen, who appeared alongside him in Secret of Blood Island, puts it, "a suitable North Finchley Japanese accent." Owen goes on to relate a funny observation made by Ripper to the director on the first day of shooting. While the extras playing the "other" POWs looked the part, the principal actors didn't. "Turning to the director he [Ripper] inquired, 'Please, what is my attitude towards these fat prisoners of war?'"
Such cheeky playfulness springs up again and again in Ripper's career, in his performances, and in his attitude to it all. Given his physical stature, his facial features—that roundish head and those expressive, roundish eyes—and his acting style honed through theatrical performances, this attitude proved immensely useful across his greater and lesser roles. Ripper recalls how Jimmy Sangster had him in mind and "was responsible for that lovely little part I played in The Mummy." The Mummy is the first movie to have Ripper appear with Peter Cushing and Christopher Lee. It's interesting that Ripper says of Lee "He always makes me laugh," and Lee says of Ripper, in the foreword, "He is the only actor who consistently made me laugh uncontrollably."
Given Ripper's unhappy childhood, due to his oddly belligerent but still supportive father, who alternated between thrashing him for reasons Ripper never understood while pushing him toward an acting career, one wonders how such a testy family dynamic shaped Ripper's talent, which was vetted through repertory, the Gate Theater, his hope then reluctance to test the Hollywood waters, and the conversations that Ripper would listen in on between his father and Alastair Sim, who visited often, helping to diffuse the tension between father and son if only for a brief time. There seems much more to be written here, and Pykett, being a close friend, may not have delved as deeply or asked more pointedly for explanations as he could or should have.
The wealth of Ripper's reminiscences and the coverage of his acting career easily make up for that. From his good reason for looking absolutely horrified when locked in the cell with Ollie Reed in The Curse of the Werewolf ("He was a very gutsy actor, and you were never quite sure what he would do next."), to a God awful scene in The Pirates of Blood River ("It was a swamp scene we were filming. Hell it was dreadful."), not once do you ever feel Ripper was not having a hell of a good time, or looking for any opportunity to cut up the production tedium through his humorous eye.
The most fascinating revelation for me comes when Ripper remembers Sammy Davis Jr's visit to The Pirates of Blood River set. You don't often hear about Sammy Davis Jr's monsterkid passion for Hammer Horror, or that he was a close friend of both Christopher Lee and Peter Cushing. Sadly, he died before he could realize his dream of playing Erik in the broadway production of Phantom of the Opera. Brook Williams, who played opposite Ripper in Plague of the Zombies recalls meeting Sammy Davis Jr on another set and how he could recite, line for line, everyone's dialog from Plague.
There's more of course, much more, about his movies and a lot more about his television roles when studios didn't seem all that interested and Hollywood was not all that appealing; but you can read it for yourself. Pykett and Ripper share a knack for making it seem all so practical and inevitable, but we know that, through it all, it takes more than just talent to be the face people remember, but just can't place the name. And while we may forget the name, we'll never forget his characters and the face of Michael Ripper, the man unmasked to the delight of the generations of horror fans to come.