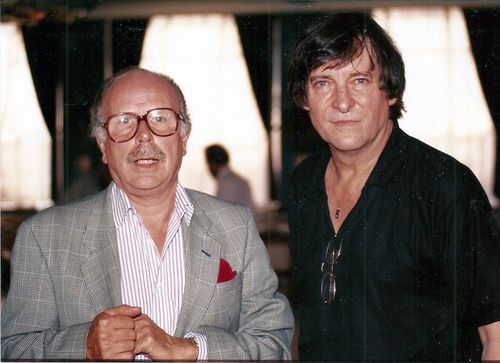 Edward Hardwicke and Jeremy Brett (photo by Jim Knusch)
Encounter with Sherlock Holmes and Doctor Watson
by Jim Knusch
In August of 1991 my girlfriend and travel companion, and I, were traveling abroad. Our itinerary for this particular trip was first a week in and around London, then on to a few other European locales. As a favor to some friends who were publishing a magazine named Scarlet Street, I agreed to get a few interviews. First up--the very afternoon of the day we arrived in London--were Jeremy Brett and Edward Hardwicke, Sherlock Holmes and Doctor Watson themselves.
Jeremy Brett started life as Peter Jeremy William Huggins. Because his father thought acting was a dubious profession he forbade him from using the family name on stage. So Jeremy took his stage name from the label of his first suit, 'Brett & Co.' On the screen he appeared with Audrey Hepburn in two major big budget films: as her brother Nikolai Rostov in War and Peace (1956), and later as her suitor Freddy Eynsford-Hill in My Fair Lady (1964).
Edward Hardwicke was from a totally different realm. He was born into a showbiz family, being the son of famed actor Sir Cedric Hardwicke. His first screen appearance was in 1943 in an unbilled appearance as a British Boy in A Guy Named Joe. At the time they were teamed as Holmes and Watson, Brett was just one year younger than Hardwicke.
With a portable cassette player, a notebook, and a 35mm camera in hand, I made my way to the Great Western Synagogue in London, where rehearsals for The Master Blackmailer were beginning. This wasn't 221B Baker Street (an actual address in London), but a certain thrill and magic for me were there just the same. My password for entry was Granada TV. I was brought into the room where the principal cast and director, Peter Hammond, were all seated at a table reading through the script. My host, who allowed me in, kindly told me to have a seat, pour a cup of tea, and be comfortable.
By this time, Granada TV had produced the series The Adventures of Sherlock Holmes which ran for 13 episodes (1984-85), The Return of Sherlock Holmes (1986-88), and two Sherlock Holmes TV movies: The Sign of Four (1987) and The Hound of the Baskervilles (1988). In between, Sherlock Holmes was turning up as part of the PBS Masterpiece Mystery (1987-88) in the USA. At the time of my interviews, the series was again in production by Granada as The Casebook of Sherlock Holmes (1991-93). The Master Blackmailer, based on the short story The Adventure of Charles Augustus Milverton, was to be a special two-hour episode. Being about the seventh of nine entries of the current series it was scheduled to air in England in January 1992.
Mixed into all of this was a theatrical adaptation, The Secret of Sherlock Holmes, by Jeremy Brett's friend, playwright Jeremy Paul. The production ran at Wyndham's Theatre in London's West End with Brett (as Holmes) and Edward Hardwicke (as Doctor Watson) during 1988 and 1989. The production subsequently toured. Research shows that it never made it to Broadway. If it did come to the USA, it must have had a limited touring schedule in select cities. Interestingly, Brett had previously played Doctor Watson on stage opposite Charlton Heston as Holmes in the 1980 Los Angeles production of The Crucifer of Blood, making him one of only four actors to play both Holmes and Watson professionally.
Since I had only occasionally caught an episode here and there of this now truly classic TV series, my friends at Scarlet Street magazine shipped VHS copies of all of the Sherlock Holmes shows they had available to the Kinema Archives. In the days before we planed off I managed to binge-watch them all (overdosing on them in the process) and jotted down many notes.
In the all-purpose room of the Great Western Synagogue the read-through was finished. I remember Mr. Brett saying something like, "Well, I guess that's it for today, except for our friend over here (pointing to me). Edward Hardwicke requested to be interviewed first, saying that he was dashing off to the theater. I managed to take a few photos, although, unfortunately, none with me posing with them. Eventually all departed, leaving me and Jeremy alone to have a nice, casual, interview and engage in light conversation.
My interview with Jeremy Brett
Has your approach to playing Sherlock Holmes changed over the years?
Brett: Yes, lots, insofar as I had to learn how to play him. Not that I've learned yet. But when I first started I was incredibly nervous about getting it wrong and I've relaxed a little bit.
You've been playing Sherlock Holmes for nine years now.
Brett: I started in '83 and I think I've learned a few things. Not many, but a few.
I presume you were aware of the stories and had formed an image in your mind of Sherlock Holmes?
Brett: Well I was very fortunate, because it was offered in '82 and then was cancelled. I went off to Canada to play Prospero in The Tempest and when I finished that, I had the Canon. So I had plenty of time to read. I'd read it when I was at school at university, but not as a part to play. So by the time Granada got back to me again, I was ready. I'm still aiming at the same thing, which is to get it right. It's much better read than to be actually seen.
Have you a favorite episode from the series?
Brett: I think the beginning of The Dancing Men, when I asked my director if I could actually lift it from the printed page. We realized we actually could do Doyle, undiluted. In that case, even unadapted. And that was exciting. Dangerous, but exciting. We were very low on confidence when we started, particularly me. Nobody really wanted to do it because everyone said it's been done. It was only after the first year and a half when we started to sell, I think, to 35 countries, that we began to take heart.
So this one particular episode struck a chord?
Brett: I began to think, my gosh, I might be able to play this part. The production standards, thanks to Granada Studios, have always been very, very high. And I've had two brilliant Watsons, which has been wonderful for me.
How would you compare David Burke and Edward Hardwicke as your two Watsons?
Brett: Well, they've very beautifully dovetailed each other. Quite remarkably, some people in Japan and now Russia have written saying how brilliant it was, the aging of Watson between The Final Problem and The Empty House. So, fortunately, thanks to the enormous tact of both of them - and David Burke's wife, who suggested Edward to take over, I've been very, very fortunate. You must remember the whole project was created by Michael Cox at Granada, to put posterity straight in regard to Watson. Thanks to those two marvelous actors, David Burke and Edward Hardwicke, It's been done.
Did your playing of Sherlock Holmes alter with the change in Watsons?
Brett: Oh yes, very much.
You're one of the few actors to play both Holmes and Watson. What was your approach to the character of the Doctor?
Brett: Well, I was fortunate being the son of a soldier. I have some military blood in my veins, I suppose. I played him with enormous enthusiasm and devotion to Holmes. With enormous respect although I got quite angry and upset--very upset--when Holmes abused himself. I would kill for him. That's how I played Watson.
Are there any predecessors in either role that you particularly admire?
Brett: I suppose my favorite one is James Mason; he's my favorite Watson. I guess my favorite Holmes will be Basil Rathbone forever. He seems to me to be the Paget drawings on the move--not having seen William Gillette, of course (laughs).
Have you ever seen Ellie Norwood as Holmes?
Brett: No, I haven't. I did start to see a few films before we started shooting, and I actually stopped because I got so overwhelmed and fearful. I thought, I really shouldn't be playing this part at all. So I stopped.
What was the most difficult episode to film?
Brett: Probably The Blue Carbuncle. That Sidney Pagent drawing is so marvelous, with Holmes lying sideways on the sofa. I had to actually be in that position for about a day and a half, so I could very nearly not stand up straight at the end of shooting the scene.
So it was physically, not mentally taxing?
Brett: It was an undiluted piece of brilliant deduction. And one so invariably gets it wrong. I remember thinking that was a particularly tough film.
Why did you decide to come back to Holmes with The Master Blackmailer, which is based on The Adventure of Charles Augustus Milverton?
Brett: Oh I rang up about March and said I was prepared to finish the Canon as long as they gave me gaps and took care of me.
I heard you were going to do three more.
Brett: No, we're finishing the Canon.
The entire Canon?
Brett: Last March I girded my loins and asked Granada what they'd say if I was willing to do it. They said you are our most successful series, you have our blessing. So I rang a very important person named Edward Hardwicke--we're joined at the hip--and asked if he'd come with me and the answer was yes. So we decided to go for the gold.
That's wonderful, but some of the short stories don't seem to lend themselves to screen adaptation.
Brett: They need a little help, yes, but we're getting better at that. We're kind of doing it in the Doylean way. For instance, The Adventure of Charles Augustus Milverton is one of his shortest stories. We've just completed a two-hour movie, and I think Dame Jean Conan Doyle read it and she's thrilled. I think we can do it if we're careful, but it's going to need a little work.
As a matter of fact, I read it too. In a roundabout way I did see a copy sent by Jeremy Paul.
Brett: You did? Were you pleased?
Very Pleased. It was wonderful.
Brett: What about Holmes being kissed when he becomes engaged to Milverton's maid, Agnes?
I think it all works beautifully.
Brett: Well I mean she kisses me. I don't do anything (laughs).
You've stated that you want the episodes to stay as faithful to the stories as possible.
Brett: That's true.
How is it possible with The Master Blackmailer, which was, as you said, a short story and has been given a two-hour format?
Brett: Blackmail seems to take that long. Luckily, Jeremy Paul, who did the play  The Secret of Sherlock Holmes for me, which I commissioned in 1987, has done a fine job. The book is there, but it comes at the end.
Is there a possibility that you might be bringing the play to the USA?
Brett: Yes, in '94.
Any remarks about your other co-stars? Rosalie Williams and, on occasion, Colin Jeavons?
Brett: Well, my Lastrade, my darling Colin who's with me in this, and my darling Rosalie who's with me in  The Master Blackmailer--I mean we've become family over the years. Every time Rosalie or Colin are in it I rejoice.
Have you been disappointed in any particular episode?
Brett: No. I haven't been too particularly thrilled, either. I think that maybe when you seek perfection you can't do anything else but fail. I feel I like little bits and pieces of me: 10 minutes, maybe, out of 32 hours. I'm not very good at looking at myself. I like it when I'm not speaking. What I can't believe is when I'm speaking. Sometimes when I'm doing physical things, I think, well, that's not bad. But I never feel like Holmes when I speak. I do when I'm doing it, but not when I see it.
George Bernard Holmes based Henry Higgins on Sherlock Holmes. Have you any desire to play Higgins?
Brett: No. I've just been offered Higgins.
Really? Perhaps there's a connection between them.
Brett: No, They're just two isolated men. I don't think there's any connection, really.
What are your immediate plans?
Brett: To complete this, have a gap, and then we'll see. I think they're preparing three already, for next year. And a further three, later, and we'll see how far we can go.
Thank you so much.
My interview with Edward Hardwicke
You come from an acting family. Were you encouraged to become an actor or discouraged?
Hardwicke: Well, they were very neutral about it. In think they were quite pleased, in a way. When I started it wasn't like today, when it's become such a fashion for acting families to continue. That certainly wasn't the case when I started.
Your father, Sir Cedric Hardwicke, once played Sherlock Holmes on radio, didn't he?
Hardwicke: Yes he did. I didn't even know that until a couple of years ago. Somebody sent me a tape of the vintage show that they somehow managed to get. I don't know how they got it, but I didn't realize that he had done that.
Was it difficult to step into David Burke's shows as Watson?
Hardwicke: In my mind it was difficult. It was made very easy by Granada and particularly by Jeremy and the team, the regular team of people who were putting the program on. They couldn't have been more helpful. Of course, there is a sort of physical image of these two characters. You think of Holmes in the black coat and Watson tends to have the bowler hat and the mustache, so in a sense you had all the guidelines, which helped.
What episode did you film first?
Hardwicke: The Abbey Grange, which was directed by Peter Hammond, who's doing The Master Blackmailer. That was the first one I did with them.
Do you see your Watson as being different from those of your predecessors?
Hardwicke: Well, inevitably it's different, because you're dealing with different actors. I think when you're dealing in film, you have to play very close to yourself. I don't mean to say that I'm remotely like Watson; I couldn't be a doctor to save my life (laughs).
That's a funny way of putting it. Not many people think of Dr. Watson as a professional man.
Hardwicke: Well, I do; that's a very important part of him. Being a detective is very much like being a doctor. Somebody comes to you in pain and asks what's wrong with me and you have to tell them. I think there's a huge similarity, and this analytical side of Holmes' detection appeals to Watson.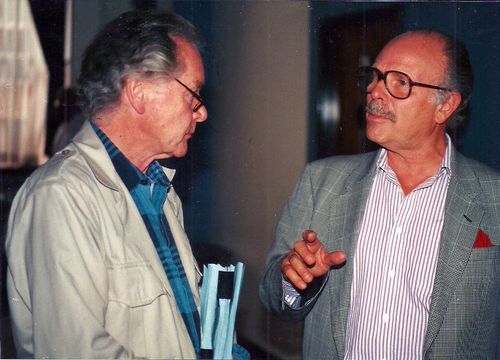 Roger Hammond (Jabez Wilson) and Edward Hardwicke
(photo by Jim Knusch)
Do you find yourself mimicking any previous Watsons?
Hardwicke: Not at all, no. I remember once in the National Theatre with Lawrence Olivier, when I took over a part in a play, Olivier's advice was "Pinch any bit of business that you like. I always have done that." And I think that's part of the theater tradition. The tradition of English acting is based on other actors, rather than people; I think it's a kind of house style, if you like.
Have you a favorite episode?
Hardwicke: No. There are two ways of looking at anything you do on film. The actual circumstances in which you film it, that is to say the cast and whether you get on with them, whether you have friends, and the conditions in which the film is made, the actual stories. If you read the stories I suppose one inevitably goes to the famous ones, which I was not involved in, like The Speckled Band. Of the ones we've done one is colored by the circumstances in which they were filmed. I've enjoyed a lot of them hugely. I mean there've been a number of great friends who've played parts, and that's given it a kind of enjoyment which is very special.
Is there an episode that didn't come off quite as you wanted it to?
Hardwicke: Well I think it would be impossible to say that any of them came off quite as I wanted them. That's difficult, again. I'm not dodging the question, but you have personal disappointments in things that you feel you would have liked to achieve in a particular episode. This is always true of acting; it's one of the penalties of seeing things on film. I always avoid going to rushes. Jeremy likes to do it, but I think that every actor has a different way of approaching these things. I don't go because I find that I'm always disappointed; I think I've done something and something quite different appears, but it may be the difference that's the interesting thing that you do. To go back to the question, yes, there are lots of moments when I felt that I haven't done what was in my head to do, and that's always a disappointment.
What's your opinion of The Hound of the Baskervilles, in which you had more screen time than Jeremy Brett?
Hardwicke: Well, that's the nature of the story, the way Doyle wrote it. The great thing is that Holmes lurks menacingly, if you like, to put it that way, throughout the whole story. Although you don't see him, one has the suspicion that he's around, which of course he is.
What's your overall opinion of The Hound?
Hardwicke: I think that's a great story. I suppose if one had to be pinned to a wall, that's the story most people associate with Sherlock Holmes. It's a terrific story, very difficult to put on film; I don't think we succeeded entirely with that one, but then I don't think you can. You're up against people's imaginations. You're dealing with a book, and people read it and every person who reads it has his own idea, so you're competing with millions of different versions of the same thing. You can't hope to please everybody.
Did you play Watson differently on stage in The Secret of Sherlock Holmes than you play him on film?
Hardwicke: Not consciously. I think you work the material you're provided with, really. The play was an interesting idea, and dealt very much with the relationship between the two men, and what happened when Holmes disappeared and the effect it had on Watson. And to that extent you play that. You pick up a script, you read it. You see how you can make that work.
In television, a weak performance can be made to look better through editing, and vice versa.
Hardwicke: Oh sure, sure.
And a powerful performance can be diluted by the way it's presented on the screen.
Hardwicke: Yes, that's absolutely right. You are, in the theater, your own master. Nobody is pulling the strings.
If Jeremy Brett is willing to continue with the series, are you?
Hardwicke: Well, at the moment, I don't know what will happen. We're doing this particular one. We thought--this was sort of a surprise, and a delightful one--we thought we'd finished. And then they decided to do this two hour special, which we are enjoying enormously. Beyond that, I really don't know.
I heard they're preparing at least three more.
Hardwicke: They've got to settle the question of television licenses and such.
One of the nice things about the series is the rapport that Watson has with Inspector Lestrade, particularly in The Empty House and The Six Napoleons. Did you work this out with Colin Jeavons or was it part of the script?
Hardwicke: Well it's very nice that you should have picked that up. It never occurred to me. I think that, if it's there, it was in the script, and we must have just found that and that's what happened. I think that probably is the case; certainly, in The Empty House, I remember we had quite a few scenes. In the end it's a question of whether you have scenes together: a relationship will develop of some sort.
What, besides The Secret of Sherlock Holmes have you been doing in the theater lately?
Hardwicke: I've done a little directing over the last couple of years, which I've enjoyed hugely. I would love to go back to do something on the theater, some farce or some comic stuff, which is my particular favorite. Beyond doing The Master Blackmailer I have no particular plans of any sort.
Thank you immensely. It's been a pleasure.
Ultimately another season of Sherlock Holmes Adventures was produced by Granada called The Memoirs of Sherlock Holmes (1994). The final episode featuring Jeremy Brett and Edward Hardwicke was The Cardboard Box.
Jeremy Brett wound up his 40 year career appearing in two films: Mad Dogs and Englishmen (1995) and Moll Flanders (1996). He passed away at age 61 in 1995 of iatrogenic congestive cardiac failure. Edward Hardwicke appeared as Sir Arthur Conan Doyle in a film released in 1997 titled Photographing Fairies. He appeared in one episode of Agatha Christie's Poirot television series as Sir Henry Angkatell titled The Hollow (2004). He wound up his almost 70 year career with a film appearance as Mr. Brownlow in Roman Polanski's Oliver Twist (2005). He passed away at age 71 in 2011 from cancer.