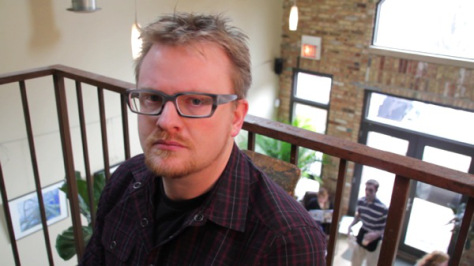 Five questions asked over a glowing Jack o'Lantern, under an Autumn moon obscured by passing clouds...in between mouthfuls of candy corn...with author Scott Kenemore.
Why is Halloween important to you?
Scott: I've been a horror fan since I was nine or ten, and I've always had a soft spot for Halloween. The word "important" is interesting. I'd say Halloween is important to me because it creates a kind of carnival atmosphere where people feel free to explore and engage with concepts and ideas that they might not usually entertain. You can use it to try out new costumes, yes, but also new personalities and ways of interacting with the world (if only for a night). I can't think of too many holidays with that component.
Describe your ideal Halloween.
Scott: I would be 10 years old again, enjoying the Headless Horseman Hayride at Conner Prairie in Indianapolis, and then jaunting off to a Halloween storytelling festival, probably followed by trick or treating. An ideal contemporary Halloween would be spent with interesting people who really give a damn about horror. And probably cocktails.
What Halloween collectibles do you cherish, or hate, or both?
Scott: I can't be the only reader of this blog who encounters this, but--being a "horror person"--the distinction between Halloween collectibles and horror collectibles feels more and more blurred all the time. That said, it is probably my Collector's Edition of Return of the Living Dead. This is one of my favorite horror films of all time, and has definitely been an important part of many good Halloweens.
When was your very first Halloween, the one where you really knew it was Halloween?
Scott: Zounds! This is hard. I have memories of picking pumpkins at a very PG-rated Halloween festival when we lived in upstate New York in the Binghamton/Endicott/Johnson City area when I was a little kid. I don't know if I had entirely wrapped my brain around the entire reason for the season, but I definitely was beginning to understand that something was "up." And that it was awesome.
What's the one Halloween question you want to be asked and what's your answer to it?
Scott: Ha! Maybe: "What's your favorite scary story to read on Halloween?" Lately, my answer has been The Last Feast of Harlequin by Ligotti. It is about the idea of dressing up for festivals, and is very, very scary to boot.
Scott Kenemore's latest novel is The Grand Hotel. 
And yes, the place is haunted by strange things that go bump in the night (or slither their tentacles in the night). Perfect for your October reading to prime you for a gloriously spooky Halloween. Stay tuned for my review, which will be invoked before the candy corn runs out.