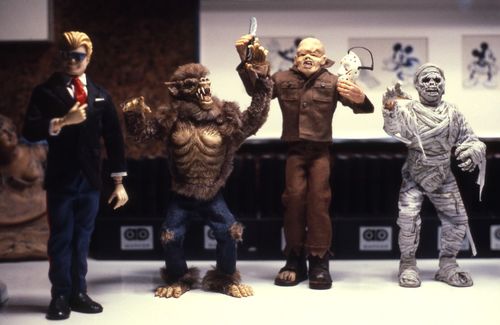 I recently downloaded the second issue of The Haunted Toybox and read this MAXx FX article reprinted here. MAXx FX was a fantastic toy idea that didn't survive the marketing monster. But now, with Face Off and the heightened interest in makeup and special effects, I think it's time to revisit Max Miracle, Master of Make-UP and Special Effects. Issue two also has articles on Monster 500 (which had me running off to Toys R Us to find them; and I did), and Rat Fink and Rad Rods (which made me drool). Johnny Lightning's Creepsters (wish TRU had continued that line) and a lot more is stuffed into the issue, too. With permission from the mad toymaniacs at The Haunted Toybox here's The Lost FX of MAXx FX.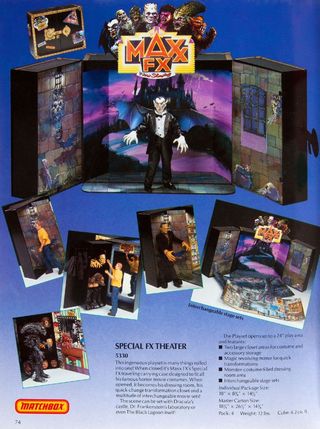 The word genius gets thrown around pretty easily nowadays but when someone comes along with a consistent set of original thoughts and ideas and can bring them to life, either by themselves or through the assistance of others you have to acknowledge that person as a genius. Mel Birnkrant is one of those people.
The creator of multiple toy lines ranging from the classic Outer Space Men to the Trash Bag Bunch, Mr. Birnkrant has proven to possess a mind that knows what monster kids want. We'll talk about the Outer Space Men in another issue but right now we're going to talk about MAXx FX, one of the greatest monster toy lines that never was.
MAXx FX started life as "Max Miracle… Master of Make-Up and Special Effects", a normal man who traveled from city to city in his special effects van fighting crime using the magical costumes that grant him the powers of the monsters he becomes. The toy line itself, an 11 ½" tall fully-articulated figure that through a series of unique snap-on accessories could transform into a number of both original and classic movie monsters, was an idea never tried before. A set of prototype figures were hand sculpted and dressed in clothing made from GI Joe and Ken dolls to create eight figures: Max Miracle in his everyday suit; the Howling styled Were-wolf; Jason Vorhees; the Mummy; Freddy Krueger; an alligator/human hybrid Swamp Creature; a Caveman;  and the evil robot henchman of Dr. Mad FX, Ultra FX. As you can see from the pictures, these figures looked fantastic and the line and concept were quickly bought by Matchbox.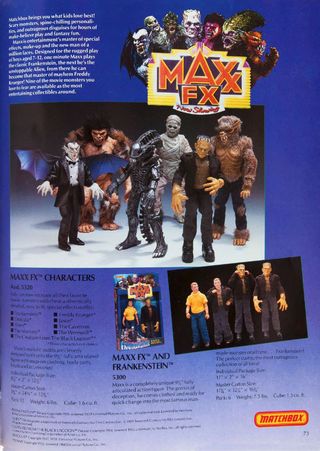 It was with Matchbox that things begin to go south. Deciding to save costs, the figures were reduced to 8 inch scale, and a fear of non-recognizable monsters resulted in characters being dropped. Matchbox licensed the rights to the Universal Monsters and the Alien license. A Karloff-styled Frankenstein Monster was sculpted along with a generic Vampire as the ongoing Lugosi family dispute kept a movie likeness out of the question. A scaled down version of the Howling style Werewolf and the Mummy were created, along with a Monster Squad style Creature and a Gieger Alien.
Again, these sculpts are all things of beauty and would have made a phenomenal line. But Matchbox fiddled with the designs and by the time the line reached Toy Fair only the Frankenstein Monster, Vampire, Alien, and Freddy Krueger were shown.
It's with the Freddy Krueger choice that the line finally crashed and burned. Matchbox had no idea who Freddy was or what the movies he came from were about so when sales reps asked why they weren't including the "hot" property of Freddy in the line they not only made him the monster costume the renamed initial MAXx FX boxed figure came with, they also rushed a talking Freddy doll into production. When these two toys hit shelves the parents and the religious groups protested the marketing of a toy based on an "R" rated movie serial-killer and like the original Alien movie toys, the line got the axe quickly.
The only released MAXx FX dolls quickly ended up in discount toy stores and can now be found on eBay. But the specter of what could have been and the monster figures that might have graced toy collectors' shelves is a grim one. Perhaps one day a company like Funko will do the ReAction trick and bring these figures to collectors. We can only hope.