By Jim Knüsch (Professor Kinema)
In the early 1990s I had researched background information for an article on the film Burn, Witch, Burn, which was to appear in FilmFax magazine. During my research I borrowed a 16mm print of the movie from film historian William K Everson. Everson and I got to talking about the specifics of the film and he suggested I get in touch with one of its screenwriters, George Baxt, who was, at the time, living in New York. His number was listed in the phone book. I called him and made an appointment to interview him. During two visits and a few follow-up phone calls we talked not only about Burn, Witch, Burn, but also touched upon the other genre films he was involved with. The article I eventually wrote regarding Burn, Witch, Burn ended up in Scarlet Street magazine instead of FilmFax.
My interview with this Edgar Award winning author turned into more of a general rap session where he shared his interesting insights and recollections for Circus of Horrors, Burn, Witch, Burn, Vampire Circus, The City of the Dead, and Shadow of the Cat. Within this article I've arranged Baxt's insights and recollections according to each relevant movie discussed.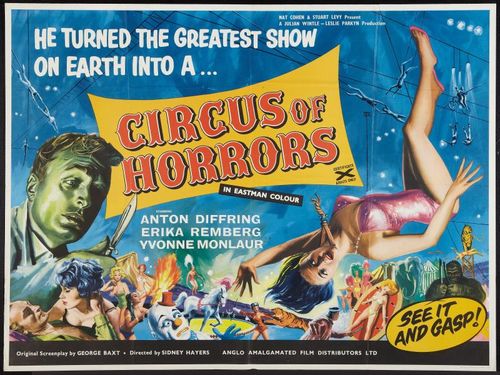 Circus of Horrors(1960)
Anglo-Amalgamated had success with The Horrors of the Black Museum, co-produced by American International films, and hoped to duplicate that success with Circus of Horrors. Heading the cast, Anton Diffring added just the right touch of diabolical class (as he always did) to the role of Dr. Schuler, a (mad?) plastic surgeon plying his trade in a circus. Since one of the key plot elements was for the circus to be a showcase of beauty, the women of the cast were to be beautiful, both in face (after plastic surgery) and body: Erika Remberg, Yvonne Monlaur, and Yvonne Romain fit their roles' requirements well.
Baxt: I first met Sidney Hayers [the director] in 1959. He had been working on films as a crew member, film editor (A Night to Remember) and in British and American television. His first two feature films as a director were Rebound and The White Trap, both B productions released in 1959. Circus of Horrors was Sidney Hayers third feature film as a director. This was my first original screenplay for a feature film. The film was shot in the order of which the story happens. The female lead, Erika Remberg, was director Hayers' girlfriend at the time. They later married. I recall that she kept a pet boa constrictor, which made a cameo appearance as the snake that was released into the shower, as a way of attempting to do her in as she was showering.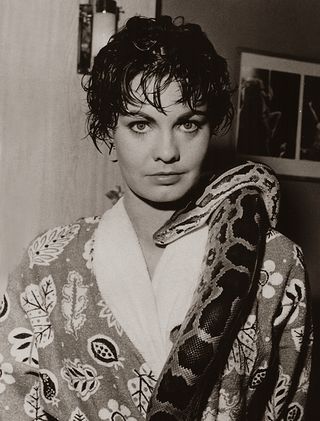 A few publicity shots of her handling the snake exist. In Famous Monsters of Filmland #8 a scene of Erika and her pet adorns page 10. Taking up page 11 is a scene of Donald Pleasance from the same film reacting in horror (presumably from being mauled by the dancing bear as in the film), with a caption added in Forry Ackerman-ese, naturally, stating "Yeow! Is that a boa constrictor around her neck? Wouldn't want to be her boa-friend!"
After Circus of Horrors George Baxt provided the original screenplay for the first film produced by Amicus Productions, The City of the Dead. At the time, Amicus was known as Vulcan Productions, which went on to become a serious rival to Hammer Films in the 1960s and 1970s. The story was by Milton Subotsky, who was also one of the executive producers. Its star was a staple of many a Hammer Film, before and since; Christopher Lee. In the USA this film was released as Horror Hotel, on a double bill with the German produced The Head.
 After The City of the Dead, George Baxt worked again with Sidney Hayers on I Promised to Pay (aka Payroll), based on the novel by Derek Bickerton. Baxt considered this particular film his best work. His next assignment was his first for Hammer Films; The Shadow of the Cat, directed by John Gilling and starred Andre Morel and Barbara Shelly.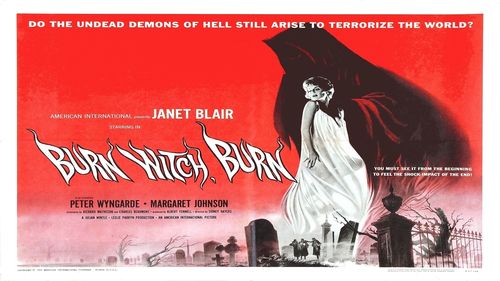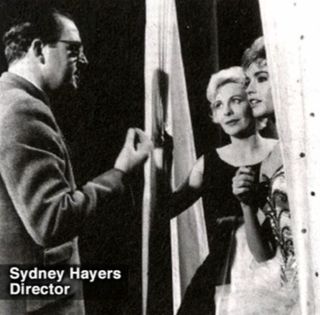 Burn, Witch, Burn (1962)
In London, two weeks before the cameras were to roll, writer George Baxt was handed a script written by Richard Matheson and Charles Beaumont based on Fritz Lieber's Conjure Wife. The story was first filmed by Universal as an Inner Sanctum mystery in 1944 titled Weird Woman. Its stars included Evelyn Ankers, Anne Gwynne, Lon Chaney, Jr and Ralph Morgan. Like director Reginald Le Borg almost two decades earlier, Baxt had not read Lieber's novel.
Baxt: It started with a call from an agent. I was living in London at the time. British director Sid Hayers had a script based on Fritz Leiber's Conjure Wife that was prepared by Charles Beaumont and Richard Matheson. Both writers--established, well-known authors and screenwriters--were paid five thousand dollars apiece by James H. Nicholson of AIP. However, they delivered an unfilmable script so the producer, Albert Fennell, hired me to doctor it. Additions to the script that I was responsible for were the sequence in the graveyard and Tarot-card-burning scene. The film's working title, I believe, was Conjure Wife, the title of Fritz Lieber's novel. The title of my script revision was Night of the Eagle. I previously [had] prepared the screenplay for Circus of Horrors, also directed by Sid. The association was a good one. I was given two weeks to deliver a product and, needless to say, I had to work quickly. I had never read Leiber's novel. Work on the script continued during principal photography with additional pages and revisions delivered to the set on a daily basis.
(Note: I still kick myself for not asking Baxt if Hayers or he had seen and were familiar with the Inner Sanctum film Weird Woman of 1944)
Baxt: The original actor chosen to play the lead was Peter Cushing. He, instead, went on to appear in Captain Clegg for Hammer. The original actress who was to play his bewitched/conjure wife, Tansy, was June Allyson. Because of personal problems she was dropped and replaced by Janet Blair. The male lead was then offered to Peter Finch. He turned it down, I believe, because of illness, so the part then ultimately went to Peter Wyngarde. Peter had a habit of stuffing rolled up tissue paper down the front of his already tight pants. Director Hayers occasionally had to shoot his sequences in either long shot or close-up. Some critics thought this unique framing was the director's way of suggesting an emotional off-balance, separating of the two main characters. Filming lasted six weeks.

Baxt: I thought the graveyard scene was handled well on the screen. Sid wanted me on the set throughout the shooting of the faculty bridge game. Margaret Johnston (Flora Carr) was the heavy of the story and it was important to the plot that she be positioned within the frame, appearing menacingly. Throughout she was constantly casting leery glances at Peter Wyngarde. The whole sequence was put on film in about an hour. I suggested at one point to place the camera behind the fireplace shooting out at the players [The Old Dark House-type of shot]. As far as the eagle pursuit sequence goes, I originally didn't like the way it was handled, looking phony. Now, I think it was impressive.

Baxt: Generally, I thought the film turned out well. It was given an A release. In Great Britain, as well in other parts of Europe, my name was included in the opening credits. When it was released in the USA my name wasn't to be found in the credits. It opened with the screen totally black with an announcer (Paul Frees) delivering an incantation designed to expel any and all bad spirits from the theater, apparently to put the audience in the correct frame of mind before the showing. These words [the incantation] were not written by me. I was also not responsible for the title superimposed over the final frames: "Do you believe?" I thought that Janet Blair was excellent as the concerned, bewitched wife. Margaret Johnson's diabolical look came naturally and she used it well. Peter Wyngarde was adequate.
The American International press book for the USA release titles the film Burn Witch, Burn and shows ad mats with Burn Witch Burn. The credits list includes Charles Beaumont and Richard Matheson as the only screenwriters. The TV series The Twilight Zone presented an episode titled The Jungle, which first aired in 1961. The script was by Charles Beaumont from his story. It contained many similarities to Conjure Wife. In 1980 a TV movie, Witches' Brew, was aired. It starred Teri Garr, Richard Benjamin and Lana Turner. Fritz Leiber's Conjure Wife was not credited (but it is in the IMDb listing). It's considered more a 'horror spoof' rather than a loose remake.
Vampire Circus (1972)
For the next few years, George Baxt worked on British and American films as well as a few forgettable features. By 1972 he was involved with another Hammer film in development. This film was to feature vampires, but the studio purposely wanted to get away from anything involving Dracula. Brain storming with the film's producer Wilbur Stark, Baxt came up with a few ideas.
Baxt: I thought that since the circus background used in Circus of Horrors worked well, a Circus of Vampires could work equally as well. Setting the story of vampires in the milieu of a circus, I must confess, was the major contribution of mine to Vampire Circus. I didn't work on the script, but did relate a few ideas to producer Wilbur Stark. The screenplay was prepared by Judson Kinberg. Wilbur Stark and I were not credited. At the time it was released critics were not too impressed with it. However, in time, it has achieved a sort of cult status. Some who have written about the film have even gone so far as to declare it "one of Hammer's greatest vampire films, and, possibly one of Hammer's greatest films of all."
Paperbacks of both Circus of Horrors and Burn, Witch, Burn have appeared and were offered for sale in Famous Monsters of Filmland magazine.  Reportedly, a novelization of Vampire Circus had appeared in 2012. George Baxt was not involved with any of them.
George Baxt passed away in New York City on June 28, 2003.